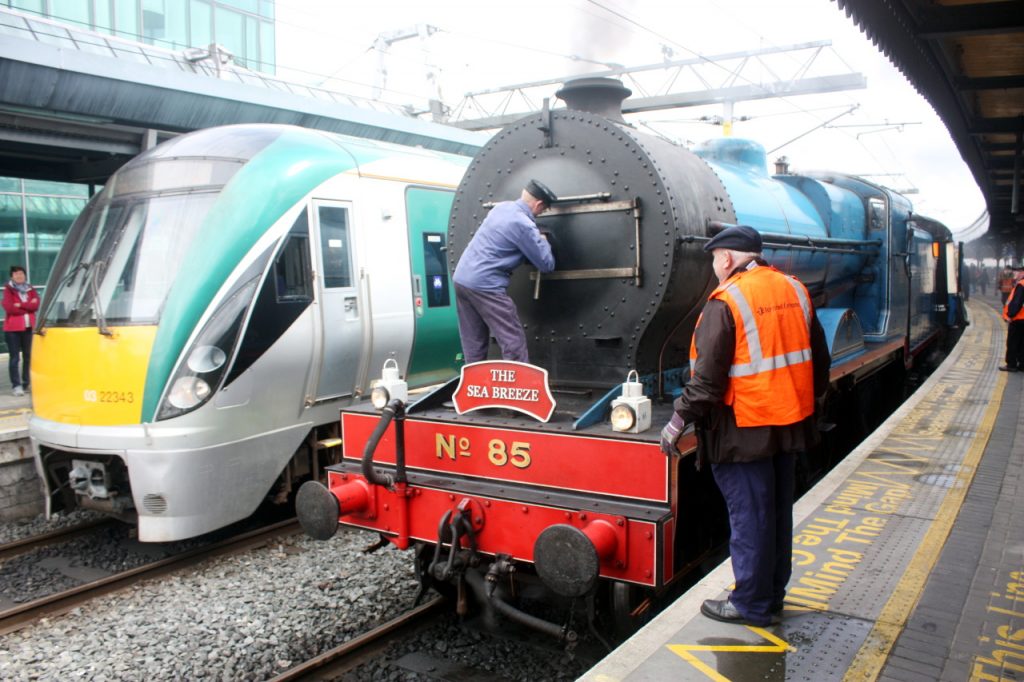 Ireland was once cris-crossed with railway lines connecting many isolated communities around the country. At it's height, there were over 3000 miles (5000km) of railway tracks.
Sadly. railways proved expensive to run and as better roads developed, many railway lines proved unviable and were closed. This was not helped by the partition of the island, especially when border crossings required customs checks, and all but one of the lines across the border have closed, and we're left with just over 1000 miles (1600km) of track on the island of Ireland.
The trains, of course, are also modern and efficient and generally run on time. They are a great way to see many parts of the country, including the fantastic service between Dublin and Belfast that shares its name with a famous spacecraft.
But sometimes it is nice to get a glimpse of the past, and one great way to do that is to take a trip on one of the special trains run by the Railway Preservation Society of Ireland (RPSI). They run historic steam locomotives to destinations around Ireland, and if you ever get a chance to take one, they are a fantastic experience.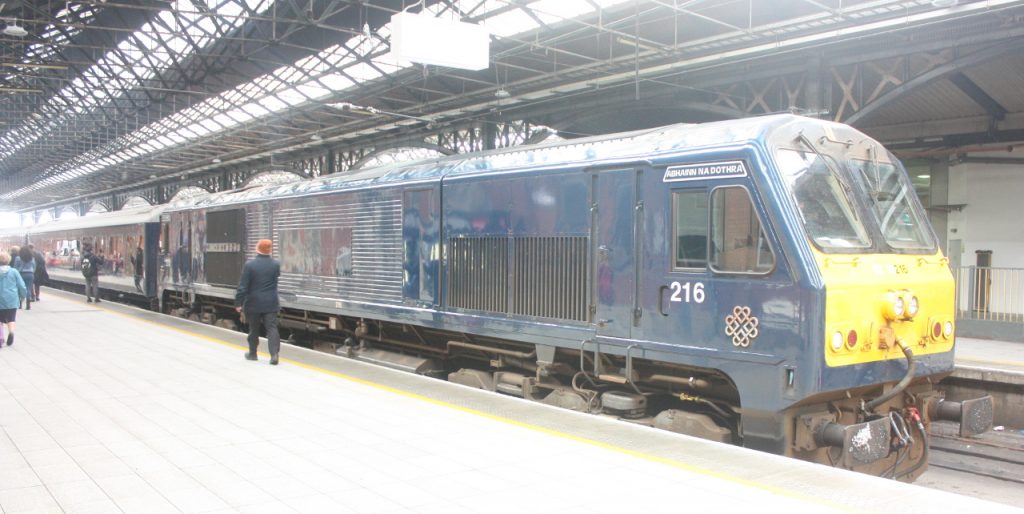 Arriving in Connolly Station, we first saw the "Belmond Grand Hibernian", a luxury rail tour service that started in the last few years with some refurbished Irish Rail coaches. It departed to the north, a few minutes before we headed south. We'd love to feature it in a future installment of Touring Tuesdays, but it may be a little out of our price range.
Our train was on the next platform over, or at least our coaches were. They were also refurbished Irish Rail stock, built by the Craven company in 1963, and are the oldest coaches considered safe for the mainlines. They are now painted in blue and cream, the colours of the old Great Northern (Ireland) railway, and really look the part, even if they are 30 years younger than the locomotive pulling them.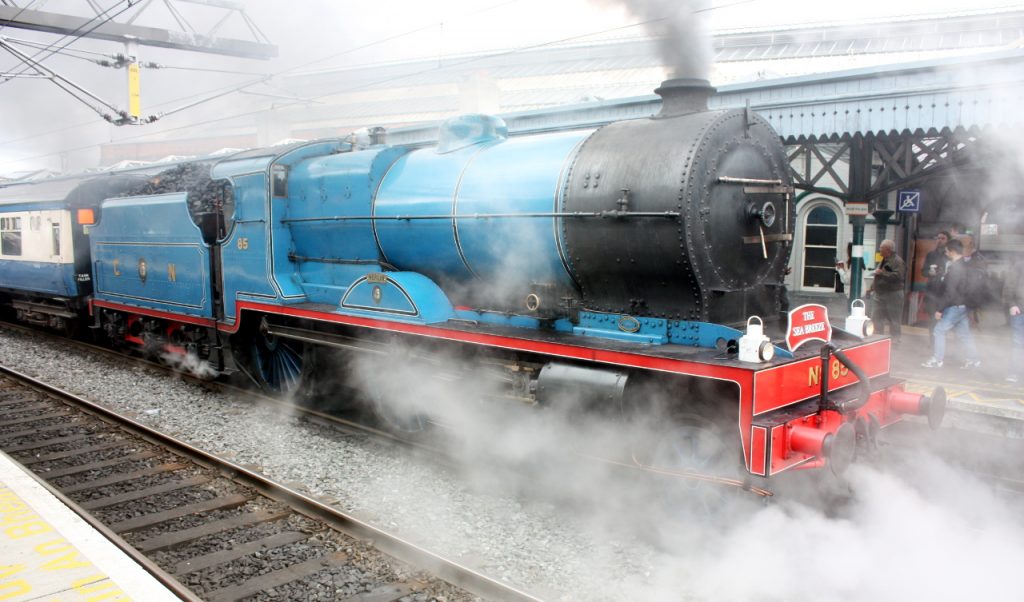 Our locomotive, no. 85, "Merlin", soon arrived. If you are interested in such details, it was a 4-4-0, with two external pistons and a third between the rails, built by Beyer Peacock & Co., Manchester in 1932, and was the last full size compound locomotive in the British Isles when it ended its working life in 1963. Known as the V class, there were 5 locomotives, all named after birds of prey. Today it is painted in its original Great Northern sky blue, and bore a special "Sea Breeze" plaque.
There was a great feeling of occasion as we boarded the train, with many people having dressed in period attire. The train stewards were all volunteers, which gave it a little bit of a convention feeling. Everyone was very friendly, and we had some great conversations with fellow passengers and RPSI volunteers.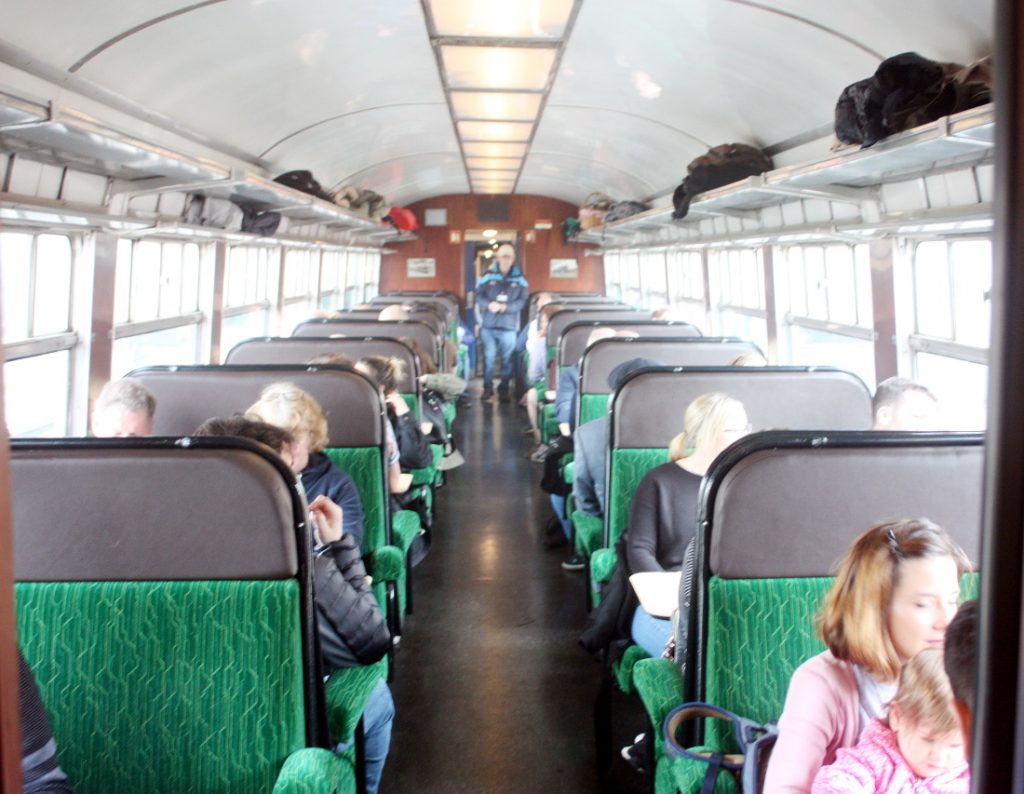 We set off southbound, fairly slowly through the Dublin stations as we had to fit in to the local DART schedule. It was fun to watch people waving at our train, though Fionna commented that it was a bit like following a celebrity around.
Facilities on the train include a shop selling tea and coffee, sandwiches, various baked goods and hamburgers. Sadly the cup of tea we got wasn't great, and they only had UHT milk. They also had a very nice bar, serving draught and bottled beers, wine and spirits.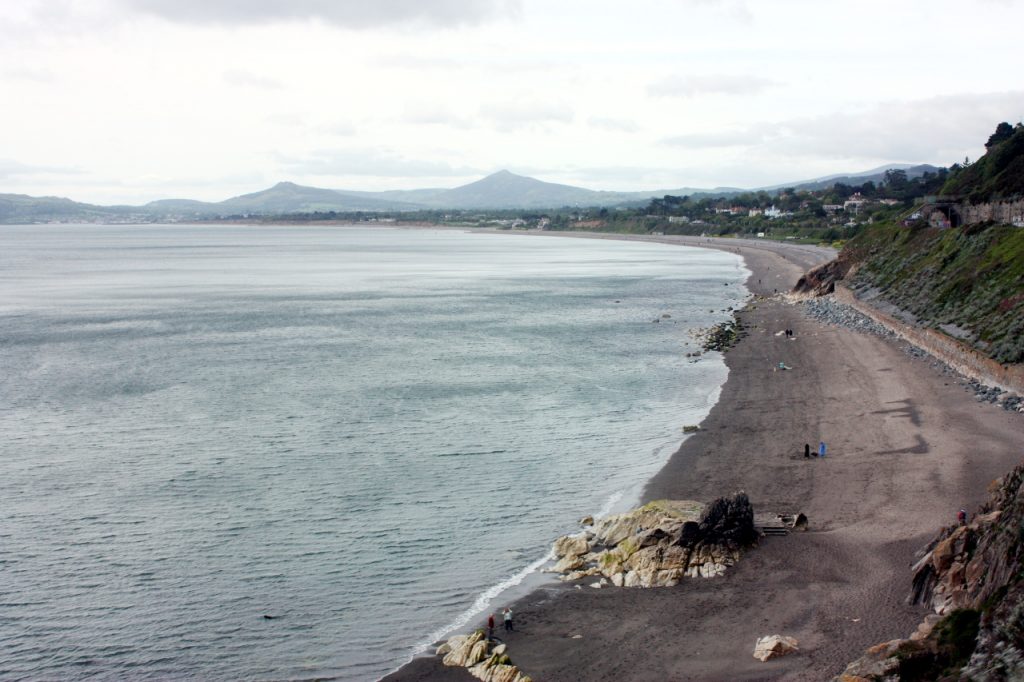 The trip to Wexford includes some amazing views. If you don't have time to go all the way to Wexford, get the DART to Bray, and you can enjoy some of them such as Killiney beach. But if you can afford a day for a trip to Wexford or even a longer trip around the South East, you'll be treated to spectacular views along the Avoca river.
We stopped a couple of times to take on water, once in Avoca Station, which is closed but still has a water tower they could use, and once in Gorey, where we had an opportunity to get out and take photos.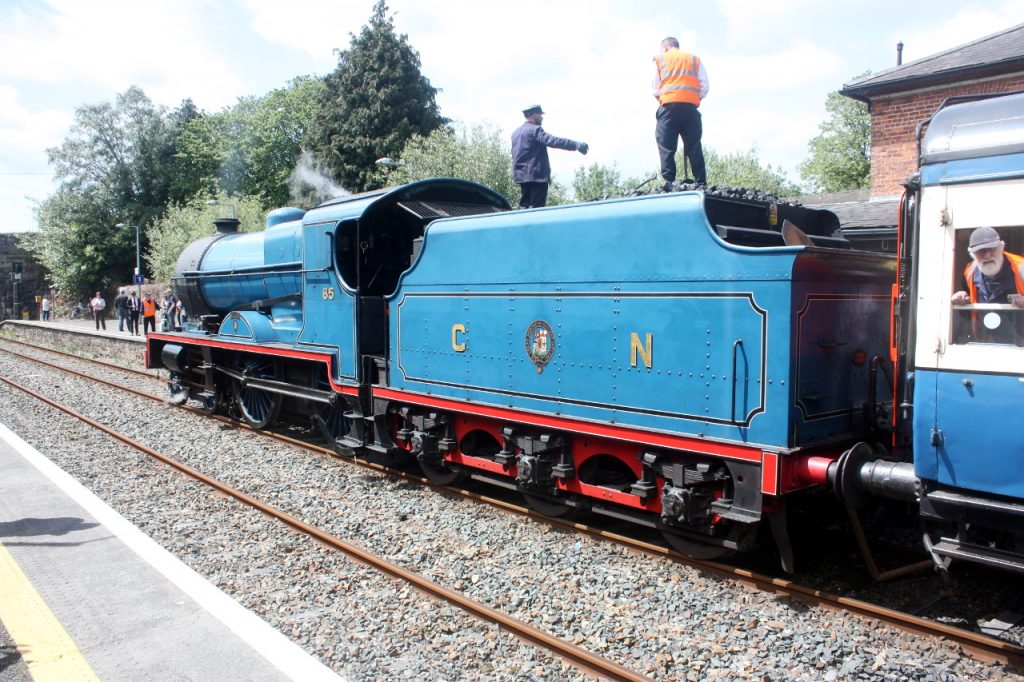 Reaching Wexford, we had a couple of hours to spare while the train took locals on a short excursion to Rosslare and back. We found a nice Italian café close to the station and had lunch, and then took a whistlestop tour of the town.
Not far from the station, the ruin of Selskar Abbey, dating from the 1100s is worth visiting. Next to it, a section of the old town wall still stands, including the very fine Westgate, one of seven gates that controlled access to the medieval town, which you can still walk under.
We then passed Wexford Arts Centre, the hub of some of the Wexworlds conventions a few years back. Next we thought we'd check out Wexford Cathedral, but it turned out to be 20km up the road in Enniscorthy
Next we came to the famous National Opera House. We didn't have time to go to the opera, but the views of Wexford Harbour from the top floor are pretty impressive.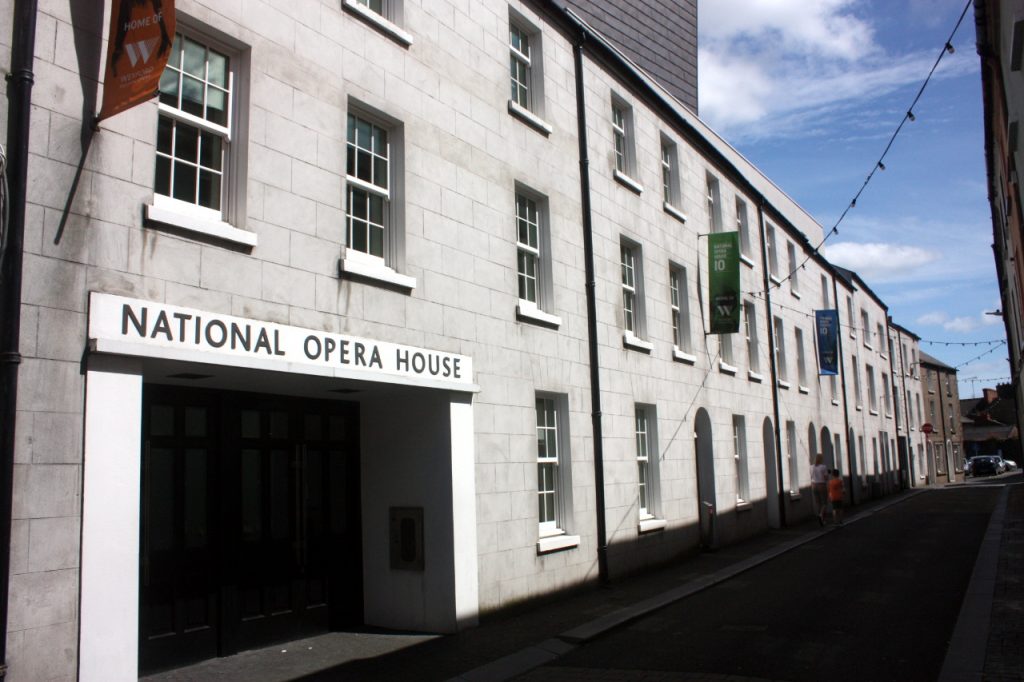 From here, we wandered back down to Main Street, where we found a couple of really nice bookstores, one of which had a toy store upstairs. Of course, we ended up picking up some new books.
Next, we wandered down to the harbour. The train line to Rosslare runs along the quay, with no fences or barriers, so it's a great place to see the train pass. We found out from other people waiting to see it that it was running late. I hung around for the train to pass, though I didn't want to risk getting left behind, so I waited fairly close to the station.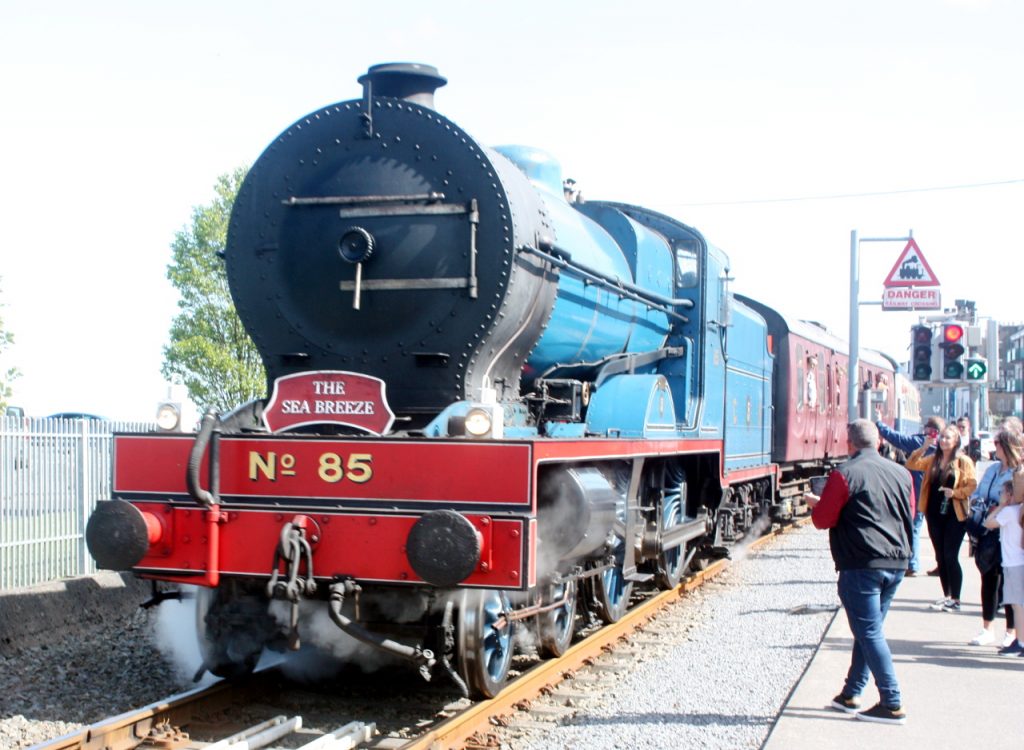 The trip back was as enjoyable as the way down, though perhaps the novelty had worn off a little. We tested some drinks from the bar, and found them to be of fine quality, though further testing may be required to make sure.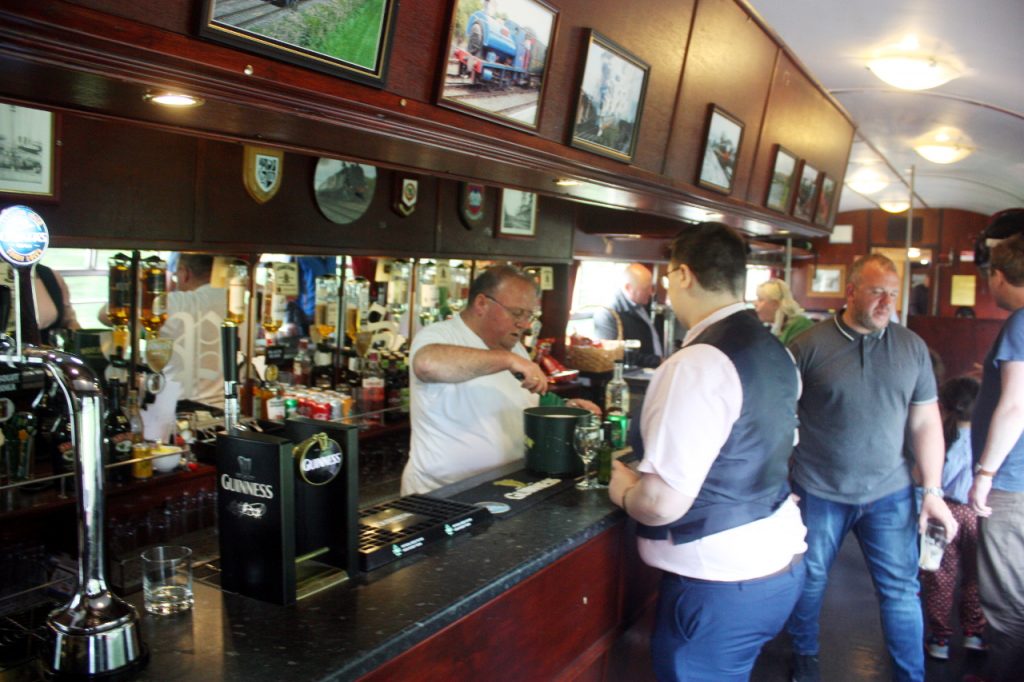 If you'd like to take a steam train trip in Ireland, there are a few opportunities to do so around Worldcon. First of all, on 4th August, there are trips along the same line we were on, from Dublin to Enniscorthy, Enniscorthy to Roslare, and back to Dublin. There's also a trip from Belfast to a mystery destination on Friday 23rd August, as well as a trip from Dublin to Bagnalstown on Saturday 24th August. You can find details of these and all RPSI events on their website.
If the RPSI specials don't fit with your schedule, you can still take a regular scheduled train to the same destinations. You can find the routes and train times on the Irish Rail website.
The RPSI also run a very fine museum at Whitehead, near Belfast, and you can take short steam train rides there every Saturday.
---
Planning your Worldcon trip? Check out this handy map showing every place Touring Tuesdays has visited.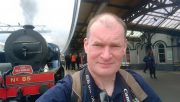 James Shields is coordinator for the Touring Tuesdays blog, and is also working on the Children's Programme team as well as producing the Hugo Awards finalists announcement video for Dublin 2019. Outside of conventions, James is a massive LEGO fan and a former LEGO ambassador for Ireland and a founding member of Brick.ie, the Irish Association for Adult Fans of LEGO.