Get Involved!  Showcase your work!  Enter our Competitions!
One of the things that makes Worldcon unique is that it is an event run by its members for its members. It is always so wonderful to see members of the fan community share their passions with each other. One way to do this is to enter one of our competitions. If you're creative, artistic, or good at sharing interesting ideas with others, do consider entering. It's a great way to become more involved with Worldcon! All longlisted entries will be showcased as Displays at the convention.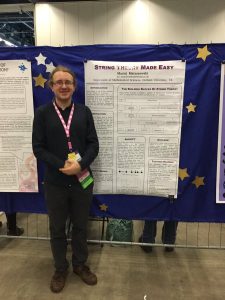 Maciej Matuszewski at Worldcon 75 in Helsinki, Finland in 2017.
Academic Posters
There has been a long running dialogue between academia and Science Fiction. Many of our favourite stories rely on ideas that come fresh from the pages of research journals, and many an academic was inspired to take up their career by the work of writers such as Le Guin or Clarke. Worldcon has always had a space for researchers to share their latest work, and the academic poster competition is a long running part of this. This year we are expanding the competition to two categories – one for STEM subjects, and one for Arts, Social Sciences and Humanities. We are looking for posters from anyone who considers themselves to be studying or working in an academic field and you are invited to select the which category of the competition best fits your work. We welcome any A0 size poster designs, as long as they explain your research to a general audience. We will put up your poster for the whole of the convention and you will be invited to be at your poster from noon to 14:00 on Saturday 17 August to answer questions from members and judges.
Proposals are welcome from presenters at any point in their career. All submitted posters will be considered for display, but students and post- doctoral researchers will be eligible to enter their submissions into the formal competition. Each category will have a €100 prize for the poster that best communicates its subject to the public. The deadline for submitting your initial abstract and title is July 1st.

Torc Waterfall by Stanisław Ludwiński
Creative Commons License BY-SA 3.0
Fantastical Ireland Photo Competition
Throughout the years countless SF creators and fans have been influenced by Ireland. A picture is worth a thousand words, so what better way to celebrate this than by entering our photo competition. Just send us your favourite pictures that have a connection with mythology, speculative fiction or just inspire you. Submit a favourite photograph from long ago, or a picture you've taken specially for this competition. Images may either be taken in Ireland, or be related to Ireland. Landscapes, portraits, and staged scenes are all welcome. The winning entries will be showcased in convention publications and at the Closing Ceremony.
The deadline, June 3rd, is fast approaching, so get your entries in soon.
Rocket Building Competition
Rockets and starships have long been staples of Science Fiction, but have you ever wanted to make your own spaceship? Get ready to enter our great Worldcon model competition! Create a model rocket or spacecraft from your own imagination or let yourself be inspired by any known universe (Star Trek, Star Wars, Stargate, The Expanse, Aliens etc). There will be separate categories for under eighteens and over eighteens; and separate categories for those choosing to make LEGO models and those making models from scratch. In the latter category, entrants are encouraged to show their creativity in using recycled materials.
You will have until the start of the convention to finish your rocket. We will release a form for you to register your interest and book your place soon.
#
For more information about the competitions, including rules and instructions on how to enter, visit https://dublin2019.com/get-involved/competitions. For general competitions enquiries, email displays@dublin2019.com