Today we feature another wonderful interview by Oisin McGann.
When I first met Clíodhna Lyons at a comics event we did in 2011, she mentioned that she was creating comic art using screen-printing, among other techniques. Truly, this was a woman who liked doing things her own way. After studying animation at Ballyfermot College in Dublin, she went on to study comics at the School of Visual Arts in New York. A passionate traveller and a regular exhibitor at art and comic festivals around the world, Clíodhna divides her time between her eclectic indie comic creations and working in the animation industry on television and feature films.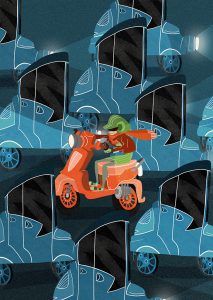 Clíodhna, can you tell us a bit about the artists who've most influenced you?
Animators like Chris Sanders, Dean DeBlois, Glen Keane. Filmmakers like Gene Kelly, Alejandro Jodorowsky and Carl Dreyer. Illustrators/cartoonists like Graham Annable, Cyril Pedrosa, and Steve Simpson. As a very young kid I had a VHS tape (yes I'm that old) which was just full of old cartoons that I watched over and over like only kids do and only realized years later it was animation from Winsor McCay and the Fleischer brothers and the Chuck Jones's feature 'The Phantom Tollbooth' – a real mixed bag of animation greats.
When did you decide you wanted to make your living from art?
The end of my first year in secondary school was when I decided to become a professional artist. I was around eleven, so I thought "artist" was the only job you could do if you studied art. Everyone took art for first year but most dropped it after that and our art teacher had a core group of students she wanted to try and convince to keep it up. She rang my mum about it and that made me really think about it as future career rather than a hobby. So thank you Mrs. Mitchell!
Talk us through your steps from concept to finished product.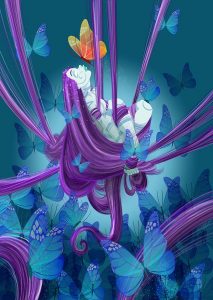 When starting any new project, whether it's for a client or a personal project, I spend a lot of time just thinking through ideas. Anyone looking in my studio probably thinks I'm doing nothing but staring into space! Then I'll take a stack of cheap photocopy paper and just work out some ideas, very roughly, usually very small and barely legible marks and I'll keep doing that until I get the idea I like. Still on the cheap paper I'll do larger, more resolved sketches. I prefer to spend more time on this stage, as I find if I rush it I will end up with issues further along and have to come back to this stage anyway. I do this regardless of whether the finished art will be digital or a traditionally rendered piece. My process after this is very dependent on what the piece is for, but it usually moves a lot quicker than the initial design stage. My favourite step is colour – digital or traditional – and it's annoyingly the part I do quickest so don't get to enjoy it as much as I want.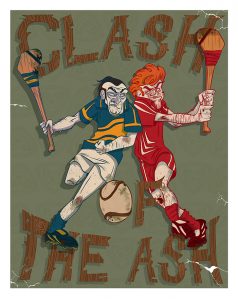 What's the strangest thing you've ever been asked to draw?
I've had the requests for some quite sexual drawings from guys at comic festivals. One was a little uncomfortable as the guy had his young daughter with him and he had a sketchbook filled with quite graphic drawings he was flipping through in full view of her. The weirdest non-comic book festival request was a wedding portrait which the bride had commissioned and wanted it to feature their first meeting, where he helped her when she was drunk and getting sick. She wanted me to draw her getting sick "but still pretty".
What's the most fun you've ever had on a job?
As I work mainly in animation, I get to work in-house a lot of the time, and the majority of the studios have been great places to work. One of the most fun projects I got to work on was a documentary which may never see the light of day as it's been lost in development hell for a while now. When it was in production, I got to do concept and character designs working out of a small studio in South London with a really fun group of creatives. The script hadn't been finished when we started working, so everyday was a surprise what we'd have to draw ­– it ran the gauntlet from cars and clothes to dragons and Hitler! It was crazy long hours but lots of laughs, which made the time fly.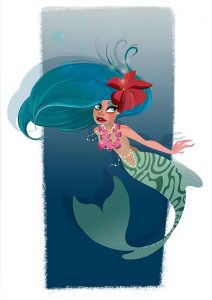 Have you ever had any interesting disasters on a project?
From an art point of view I've not had many disasters, but I've worked on commissions where the client changed their mind very late and refused to pay etc. It's never fun to have to chase people for what is your money. That's part of the parcel of working freelance but I have to say the majority of the work goes fairly smoothly. I did once work on a series that was being animated overseas and the studio there was shut down without warning by their government for not paying their taxes for several years. We had to find someone local to go and break in and grab the hard drives with our show on it.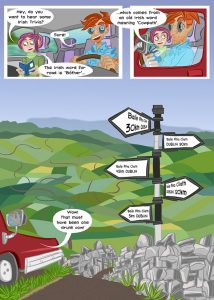 If getting paid and meeting deadlines wasn't an issue, is there anything you'd change about your work process?
I don't think my process would change too much. I might experiment more with new materials and approaches because I'd have the time. There are so many different techniques I love from printmaking to watercolour to digital painting but many, like etching, are time consuming and the end result is not always easy to predict as you're playing with chemicals. Having no pressure to meet a deadline would certainly open up more options for experimenting and combining different techniques together.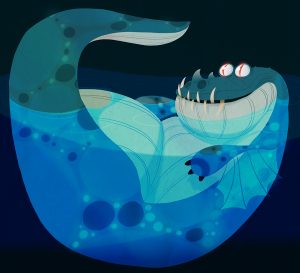 What have you got coming up next?
Right now, I'm working on concept art for an animation production company for four TV pitches, but am under lots of scary non-disclosure agreements so can't say any more on that. In my own time, I'm working on a graphic novel about the last ocean-going Royal Mail ship still in service, the RMS Saint Helena. This is a much-delayed project I started when I took part in a residency at the Atlantic Centre for the Arts in Florida at the end of 2014. My goal was to finish the book last year for the ship's final voyage as she was being retired, but due to a heavy workload, I wasn't able to work on the book.  Now, thanks to a non-functioning airport, the ship – and I – have been given a reprieve to the end of 2017, so I'm taking that as a sign to haul ass and finish this book by the end of the year.
Thanks very much to Clíodhna Lyons for taking part in Paint Me a Picture. You can check out more of Clíodhna's work at www.ztoical.com.