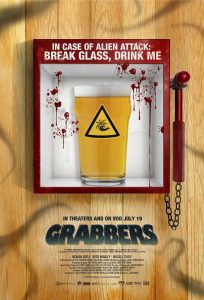 Welcome back to Irish Fiction Fridays! Today we look at the 2012 movie Grabbers directed by Jon Wright.
This is hilarious Irish horror. An ensemble cast of Irish actors including Russell Tovey (Torchwood), and Ruth Bradley (Stardust). 'After discovering mutilated whale corpses, the quiet community slowly comes to realise that they're under attack by bloodsucking tentacled creatures of various sizes that came from a ball of green light that fell from the sky'. The group realise that the 'Grabbers' find alcohol toxic and have to defeat the threat under the influence. Gory and daft.
Enjoy the full movie!