Olivia Golden: Keeping the Complicated Simple
By Oisin McGann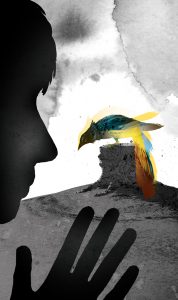 After a getting a first class honour in Visual Communication at DIT Mountjoy Square, Olivia Golden threw herself into the small, but extremely varied world of commercial illustration in Dublin, producing work for design, advertising, publishing and editorial clients, including the likes of Glaxo Smithkline, Kraft Foods Europe and Guiness among others. The challenge for any commercial illustrator in Ireland has always been staying power, as well as versatility in both style and technique, and over her expansive career, Olivia has varied her graphic, but organic-looking style to suit the demands of each project she takes on. For the last ten years, she has focussed on children's books, with thirty under her belt and more on the way.
Olivia, what kind of stuff did you read as a kid?
As a kid, reading was not high on my list of interests. I lived on a farm so there was a lot of time spent outdoors. Drawing and making stuff in general was my quiet refuge. I did enjoy the Beano and Desperate Dan as often as I could get my hands on them. My interest in storytelling and characters grew from listening to my dad telling stories of his childhood, which by the way he told them could have graced the pages of either comic!
Which artists had the most influence on your style?
It was probably in secondary school that I started to become aware of artists and art history. The texture, contrasting light and often very simple compositions of painters like Andrew Wyeth, Edward Hopper, and Paul Henry caught my attention. Then college opened up the world of illustration for me – from Arthur Rackham and PJ Lynch to Ralph Steadman, Gerald Scarfe, Brad Holland and Lane Smith. These folks' work excited me about the prospect of becoming an illustrator.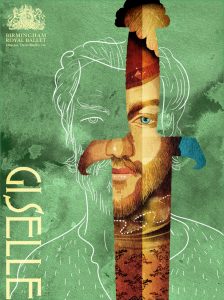 You studied graphic design in college. How relevant would that training prove to be for an illustration career?
Strictly speaking, I don't think it was all that relevant as such. Of course many of the same principles apply in an illustration as a design project – colour contrast scale, etc. The experience of college itself gave me the discipline I would otherwise have found difficult on my own. Things like making deadlines and delivering on a brief.
Tell us a bit about your process. Has it changed much over the years?
I started off straight out of college creating everything in traditional media – ink or acrylics on paper or board. I was a total technophobe. Then I swung into the digital process. Today, it's whatever the project requires. With a book project I read the script, often making tiny thumbnails as I go. Thumbnails really help me to simplify my idea as there's no room for the unnecessary. Having found a rhythm between the busy and quiet images the next stage is pencil sketches of a character or two. Once I'm happy with those I do scaled rough sketches followed by finished drawings in pencil or ink and scan them and colour digitally. Occasionally the final image will be 100% digital. I've found over time that simple compositions work for me, I admire but don't have patience for the very complicated.
Are there any kinds of stories you particularly like working on?
Anything a bit dark.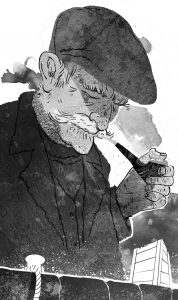 What's the strangest experience you've ever had as an illustrator?
I suppose there's not been too many. I was in discussions with a self-publishing client. Needless to say their budget was small. I had shown them the style I could work in to produce a decent result. They came back to me with a few ideas of their own. Their preferred style reference was Shirley Hughes! With that the discussion was over. You get used to clients having high expectations and trying to get more than they can pay for. But you also learn to work out something to suit both sides. That was probably the most ridiculous proposal ever. The conversation ended there.
What one piece of advice would you give to someone starting out on this career?
Get your social hat on. Like the "get out of the house" hat as opposed to your social media hat. Draw every day . . . on paper!
What's the most fun you've ever had on a job?
Large scale projects come to mind. The kind where you get to swing from the shoulder and not the wrist. Two projects come to mind. Three large murals for the children's ward in the South Infirmary Hospital Cork and a 5 x 12 foot line drawing for Dublin Chamber last year. Both projects had some challenging constraints and took me away from my desk.
What's the toughest challenge you think illustrators face in publishing today and why?
Getting your work in front of the right people has, and will always be, a challenge, but today it seems the hardest thing in publishing is making your living from creating artwork or writing alone.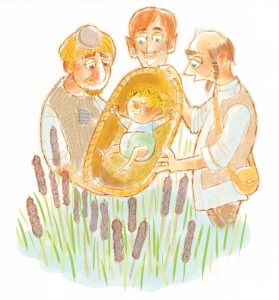 What would you most like to work on that you haven't already?
There are so many things I've not done! I guess I would love to satisfy that question kids ask a lot: Have you written your own book? So to write and illustrate my own work. That would be a good place to start.
If getting paid and meeting deadlines wasn't an issue, is there anything you'd change about your work process?
I think I would love to return to doing everything by hand.
What are you working on now, or what have you got coming up next?
I am working on two books, one is at finished artwork stage and I have another for younger kids, which I will starting on in the coming month. With your previous question in mind I also have a number of private landscape and portrait commissions on the go.
Thanks very much to Olivia Golden for taking part in Paint Me a Picture. You can check out more of Olivia's work at: https://oliviagolden.wordpress.com/.