Inspired by the success of Worldcon 76 and the Mexicanx Initiative led by John Picacio, Dublin 2019 has expanded the scope and goals of the Fantastic Dublin Fund (FDF) to help a wider array of people who are in need of assistance to attend Dublin 2019 — An Irish Worldcon. However, to make the new and improved FDF work, we need your help.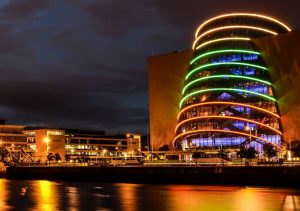 More specifically, we need your generosity, kindness, and participation in this special crowd-sourced programme that will help us facilitate Dublin 2019 attendance for members of several groups who have barriers to attendance.
You can help. Our community is filled with incredibly generous people who want to help others share in the joy and wonder of Dublin 2019 — An Irish Worldcon. Please give to the Fantastic Dublin Fund by making a financial gift in any amount (because every euro, dollar, pound, and yen counts!) or by giving your unused membership(s) to the FDF. (Please note that gifts to Dublin 2019's FDF are not tax deductible). To make a gift, click the donation button and make a difference today!
How the Fantastic Dublin Fund will be used. A sample list of groups is listed below, but for more detailed information as well as access to our FAQ, please be sure to visit and read Dublin 2019's FDF policy.
Irish Fans of Limited Financial Means
Irish Traveller Community
People of Colour
Programme Participants from Marginalized Communities/Participants of Colour
Boost the signal. There is one more way that you can help, and that's by spreading the word about the Fantastic Dublin Fund within your social media network. The more people who hear about the Fund, the more people will give to it, and we need donations in order to make this work. So, even if you don't have the cash to help, we would deeply appreciate your sharing the FDF link with others who may either have the resources to give or who may need to take advantage of this special opportunity for funding assistance from the FDF.
On behalf of Dublin 2019 we thank you for your generosity and support, which will make the Fantastic Dublin Fund possible. We look forward to seeing you and celebrating speculative fiction and art in all of its glory this coming August in Dublin, Ireland.
Thank you from the entire Dublin 2019 team.