A Cháirde! (Hello Friends!) Welcome to "Would Paneling" (thank you Janice Gelb for the name), the new monthly Programme Blog for Dublin 2019. We'll be releasing sneak previews of Programme items, alerting you to deadlines, and giving you a peek behind the curtain at how our Programme division makes the magic happen. In this first blog post, we give you the inside scoop on how we have adapted our processes to include a new law called GDPR, and what hijinks Dublin Programme's people will be up to at the Worldcon 76 in San Jose.
So, Really, What's All this About GDPR?
GDPR (General Data Protection Regulation) is a new European Union data privacy law, which requires us to have proof that you gave us your consent to have your data in our system, even if we entered your data before the law went into effect 25 May 2018. Since every Worldcon is an independently incorporated entity, Dublin 2019's programme team has to build our programming database from scratch. Even if you were a member and/or participant of a previous Worldcon, you have no relationship with Dublin 2019.
We are not allowed to email you from our programme database unless you fill out our Programme Participant Query Form. It is designed to collect your contact information, your consent to be contacted in the future, and some optional data. This is NOT our programme survey, which contains more detailed information, like availability, programme topics, and accessibility questions. It is simply the mechanism with which we can collect your consent to send you a programme survey in the future…and we will send a survey to everyone who requests one. So, when we say everyone who is interested in being considered for a spot on Dublin 2019's programme has to complete this form, we mean everyone, whether your name is George R.R. Martin or Charlaine Harris (who both filled in their forms. Thanks, George and Charlaine!!!).
Dublin 2019's Programme Team is Coming to Worldcon 76 in San Jose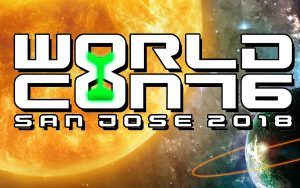 This is it! This is your chance to meet some of our programme team, give us live and in-person programme ideas, and to win some fun swag! (And it's very cool swag! … and there might be chocolate! I'm not supposed to say anything since the prizes are supposed to be sur"prizes!" So, shhhh….!)
Join us at our special programme panel at Worldcon 76!
Dublin 2019 Programme Pitches
[Sunday, 19 August, 2018 from 4:00-5:00 p.m.]
Dublin 2019's Programme Team is here and they want to hear from you. What's the wildest and wackiest thing you've never seen and would like to have as a panel at Dublin 2019? What clever and cool idea do you have to share? You have an opportunity to pitch your ideas to the Dublin Dragons. Plus, there will be trivia for added fun!  Prizes and swag will be handed out.
Ian Stockdale (M), Brian Nisbet, Sara Felix, Elizabeth McCarty, Marguerite Smith
Standard Information that Everyone Should Know
Dublin 2019 looks forward to hearing from you! To learn more about the Dublin 2019 Programme division, our dates, and processes, please review our Programme Q&A. We also have additional information in our Code of Conduct that we are asking all of our members to review as well.  If you have any further questions, please contact us at programme@dublin2019.com or visit us at https://dublin2019.com/programming/