Dear Dublin 2019 Supporters, Friends, Volunteers and the Curious,
Dublin 2019's main news sources are Facebook and Twitter but now, just two years away from the vote for the 2019 Worldcon, we thought it a good idea to present a summary of our activities this year.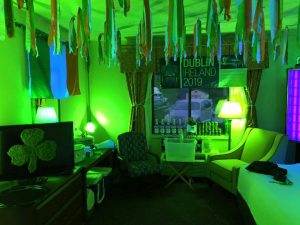 Frank and Millie's party room at ConCave
Our fantastic party mavens Frank and Millie Kalisz magically transform any space they can acquire into a green venue full of Irish drinks and stew. At Sasquan they are also hosting a raucous party along with a number of our Committee Members. For the less party inclined we will also be presenting at the Fannish Inquisition, staffing a lively Fan Table, and taking part in the First Night's activities. Don't forget to ask James and Gareth for a spot of Irish charm if you see them!
At Westercon, Linda Wenzelburger spoke up for us in the Fannish Inquisition, although she then betrayed us by promoting our arch nemesis, Dublin in California!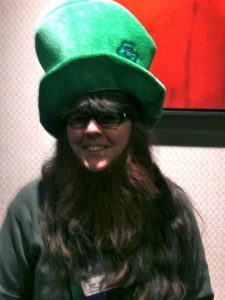 Erin bribed everyone with Chocolate Kisses at Boskone!
We've also been spotted at places including Boskone, Wiscon, ConQuest, Archipelacon, Hyperion, SDCC and Game EXPO, thanks to our supporters and volunteers who keep insisting on sitting on tables, panels, or even just handing out stickers for us.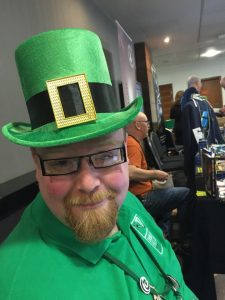 Gareth was great on our Eastercon table
In the UK, at Eastercon, we hosted the disco and mc'ed the rather fantastic masquerade. Most of the Committee also managed to cram into Esther's room for one of several Committee meetings we've had this year. We doubt there's going to be room in the future: in May we welcomed an extra Committee member. Former Worldcon Chair Steve Cooper joined our community as head of Facilities. He is continuing negotiations with our venue, the CCD, so our relationship remains strong for the future. This is helped by our work with Failte, the Irish Tourism Board, who are supporting the Bid.
As we attend conventions we are always guided by our Bid's Code of Conduct, an important document all Volunteers, Bid Team Members and Committee Members have to adhere to. This is supported by a Code of Conduct team who handle any complaints. Happily we've had none!
In an entirely different vein, our artists have been incredibly busy, designing logos, posters and other artwork for us. Most of this is top secret (hint: check out the Sasquan souvenir book and pop along to the Fannish Inquisition), but t-shirts and polo shirts are now available via Offworld, and we're soon to add a range of button-ups to this range. We really love the eye-catching design, created by Irish fan Shevaun Frasier.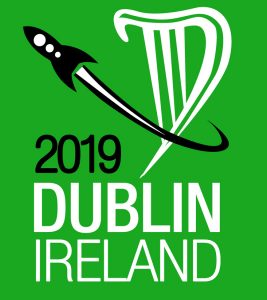 Our eye-catching logo, in kelly green!
On our blog Irish Fiction Friday comes out every week and we feature all kinds of articles and interviews, but we also appear in external sites. These have included Starburst, File 770 and Comic Buzz, all of whom have helped us get the word out about our various shenanigans. If you want to interview us we'd be happy to oblige, likewise if you want to join the long queue of people wanting to get free extracts of your new book, work or other SFF goodies featured on the site simply get in touch with Esther (admin@dublin2019.com).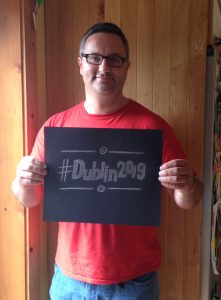 Oisin McGann was one of the authors interviewed this year for our blog.
Speaking of free goodies, we sourced a staggering €40 000 worth of free books to give away at our first Outreach event at Dublin Comicon, thanks to the generosity of SFF publishers including Angry Robot, Forbidden Planet, Gollancz, Hodder, O'Brien Books, Penguin and Tor. Throughout the event we spoke to fans and helped to promote several other Irish conventions, showcasing the huge popularity of all forms of SFF in Ireland.

Setting up for the DCC OutReach event.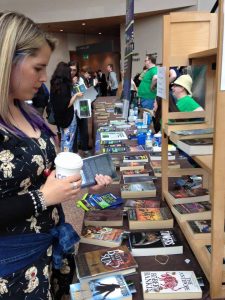 Fans browse our table at the end of the first day.
As well as all the obviously fun stuff, we've been busy herding cats, approving bank accounts, ordering forms, answering emails (thousands of them), writing plans, creating timelines, working out budgets, handling supporter registrations (over 600 of them now), building strong working patterns, gaining each other's trust, learning to laugh together and building a sense of community. In essence Dublin 2019 is a Committee that likes to share, we share our hopes and dreams with each other and with the Bid Team and the Volunteers. We want to make our hospitable city the host of a magical convention.
If you want to help us, no matter whether it's for an hour at your local convention or for twenty hours a month, we will value you. Email Emma at volunteer@dublin2019.com if you're interested!
See you at your next convention!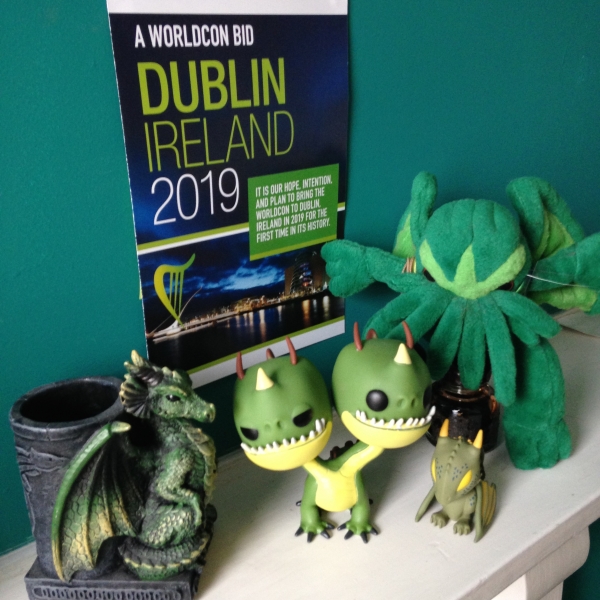 Our monsters are always on hand to answer your calls…