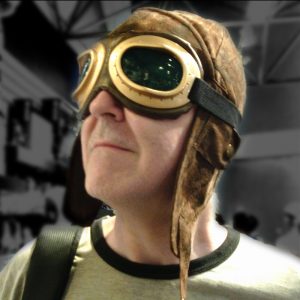 Michael Carroll
This week we bring you an interview by James Bacon with Michael Carroll, who discusses his current 2000AD Dredd series – Blood of Emeralds. This series started in Prog 1934, and continues for six issues. It sees the return of Judge Fintan Joyce, who, as the name suggests, hails from our (post-apocalyptic) shores…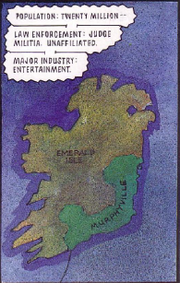 The Ireland of 2000AD has slightly different borders…
Judge Dredd has been a staple of the science fiction comic book scene since 1977. Through its time many Irish creators have worked on the title; Garth Ennis, John McCrea, Will Simpson, Hilary Robinson, Len O'Grady and PJ Holden have all graced its pages.
Currently, Dubliner Michael Carroll – a regular writer on Judge Dredd for 2000AD – is weaving a story that takes the readers back to the Emerald Isle. For more on this Irish angle, and how he has steered it with Irish character Fintan Joyce, I asked him some questions…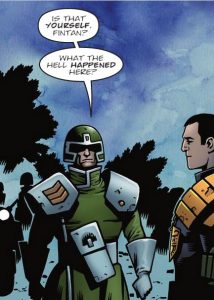 Fintan Joyce in Blood of Emeralds (2015) 

– For readers who may not be sure, can you explain what and where the Emerald Isle is, please?
The Emerald Isle is Ireland in Judge Dredd's time, about 122 years from now (unlike most comic-strips, Judge Dredd advances in real time: a year in Dredd's life is a year in the life of the readers… Which of course means that Dredd himself is now about seventy years old!).
In the original Emerald Isle strip (published in 2000AD #727-732, April-May 1991, written by Garth Ennis, art by Steve Dillon and Will Simpson) it was established that after the atomic wars much of Ireland was redeveloped as a theme park, to the consternation of many of its citizens. The capital is Murphyville, a huge (by our standards) city that covers the eastern and southern coasts from Dublin down to Cork.
Like many cities and countries in Dredd's time, the Emerald Isle has its own Judges, though they're rather more relaxed that the Judges of Dredd's city, Mega-City One: they're allowed to have families, to consume alcohol, to socialise… Dredd's contact in the Emerald Isle is Judge-Sergeant Charlie Joyce, an amiable chap who's well-respected in Murphyville and more than capable of getting the job done.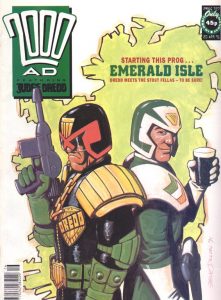 The first appearance of Fintan Joyce in Prog 727…complete with a Guinness, of course!
– The 22nd of June marks five years of being a Judge Dredd writer with 2000AD. At what stage did you decide you wanted to bring the character back to Ireland?
I've wanted to bring Dredd back to the Emerald Isle since long before I became a Dredd writer! I loved the original strip – the pairing of easy-going Joyce and stick-in-the-mud Dredd is pure magic. Joyce shows up again (in a minor role) in the epic Judgement Day story, and again in Innocents Abroad (2000AD #804-#807, script by Ennis, art by Greg Staples), though that one was very much played for laughs. Aside from a one-off Judge Joyce story that appeared in an annual in 1993, that was, I think, the last we saw of him.
I've always felt that more could be done with Judge Joyce, and with the Emerald Isle itself. Certainly, there were some minor aspects of Garth's stories that didn't quite sit well with me… In the first one, there's a big deal made of how a lot of citizens are vehemently opposed to the stereotypical "Oirishness" of the Emerald Isle: leprechauns and shamrocks and "top o' the mornin'" and all that touristy nonsense. Yet, at the same time, the stories tend to ramp up other Irish stereotypes: everyone drinks Guinness and spends most of their waking time in the pub, the baddies use guns that shoot potatoes, and there's occasional dialogue along the lines of "That Dredd's the quare fella."
When I was invited to be part of the Dredd creative team, I never had any specific story in mind; I just wanted to revisit the Emerald Isle… Especially since it had been twenty years since the last time we were there.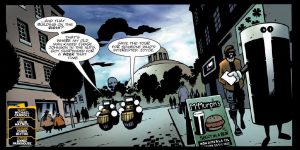 Dredd and Fintan hunting down perps.
– Was the New Tricks storyline and the introduction of a new Judge Joyce part of that plan?
Not as such… That came about because John Wagner (the co-creator of Dredd and still the Main Man behind the character) decided that Mega-City One had grown too big and it was time to break it down… The result was Day of Chaos, a huge story that resulted in most of the city being destroyed, and the population reduced from four hundred million people to only fifty million.
Shortly after Day of Chaos started, John sent an e-mail to us other Dredd writers that explained what Dredd's world would be like when it was done… A wise move given that most of us already had Dredd stories waiting in the wings – we had to do some pretty hasty rewriting to get the scripts in line!
One of my ideas behind New Tricks was that with so many Mega-City One Judges dead, there would be a call-out to other cities to supply replacement Judges who could be retrained to operate in MC1. Naturally, I thought of Judge Joyce. However, given that Charlie Joyce was probably in his late thirties / early forties in Emerald Isle – and that he and Dredd didn't exactly part company on the best of terms – I thought it might be better to feature a younger Emerald Isle Judge. So I decided that Charlie's son would be a good replacement: that gave him a strong connection to Dredd.
In New Tricks, Fintan Joyce is one of several "re-trainee" Judges being mentored / evaluated by Dredd. He's in his early twenties, and has been an Emerald Isle Judge for only three years. So he's a little wet behind the ears, and – at first – way out of his depth in Mega-City One. However, he's a fast learner and quickly proves himself to be worthy of the badge.
I've used Joyce quite a few times now: he's fun to write because he's got a somewhat less dour attitude than Dredd, and they work well together.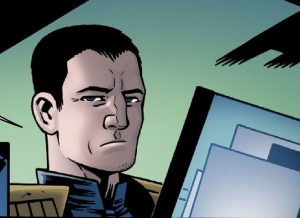 A pensive Fintan
– How does it make you feel to bring Dredd to a future Ireland?
It's a little daunting because I'm following the path laid down by Garth Ennis… up to a point! My story veers off from that path in many ways. I've mostly ignored the "theme park" aspect of the Emerald Isle – but I think I'll get away with that because two decades have passed since the original story: there's no reason to assume that everything would stay the same.
Taking Dredd out of his comfort zone is always interesting. In Mega-City One, Dredd knows the score inside and out: it's his city. Take that away, and we get to see the real Judge Dredd. We get to see him deal with people who aren't automatically wetting themselves from fear in his presence, and it's always entertaining to watch Dredd trying not to comment on things that aren't under his control!
– The Judge Dredd: Blood of Emeralds story: can you tell us a bit about it?
I can't say too much because the story is still running in 2000AD… But it opens with Judge Fintan Joyce receiving a package of old documents that once belonged to his late father (Charlie Joyce has died by the time Fintan joins the Mega-City One Justice Department, though the exact circumstances of his death have never been covered).
A world-class assassin attempts to kill Joyce when the package is delivered: Joyce manages to defeat him, but the assassin has been trained to resist interrogation. A mind-scan by a Psi-Judge reveals a link to Murphyville, which leads to Dredd and Joyce crossing the Black Atlantic to continue the investigation in the Emerald Isle.
That's about all I'm comfortable revealing right now… Except to say that in episode 3 (2000AD #1936) we get to see the Joyce family home, and meet Fintan's mammy!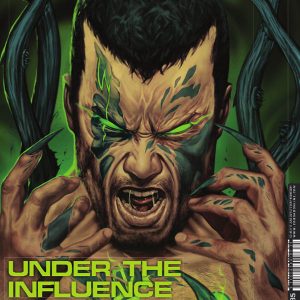 Cover to Prog 1935
– Is Judge Joyce a character we will get to see more of, part of the wider cast of the Dredd Universe?
He'll be returning in an upcoming three-part tale in Judge Dredd Megazine, painted by Nick Percival – my collaborator on Judge Dredd: Traumatown, which also featured Joyce (and the ghost of his father…).
After that… I do have a very specific plan for Judge Joyce but that's a few years down the line so I'm not yet sure how it's all going to play out: it depends on several factors… After all, one day John Wagner might just decide to finally destroy the entire city once and for all and wipe everyone out (that's unlikely, but not impossible!)
I would like to do some solo Judge Joyce stories as some point… but they would have to be stories in which only Joyce could be the protagonist: if you can replace him with Dredd and the story still works, then they might as well be Dredd stories.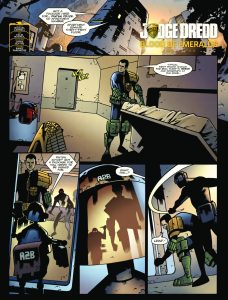 Unnf!
– The collaboration and creation of a comic involves artists… Scottish Dredd artist Colin MacNeil is on art for Blood of Emeralds. What is that process like, bringing a comic from an idea to a visual story on a page?
In most cases, a comic strip starts with a simple "what if?" idea. It might be something like, "What if a boat smuggling refugees into Mega-City One collides with another boat smuggling refugees out of Mega-City One?" (That's not a real story, by the way – but it's still my idea so no one's allowed to nick it!)
Before I get much further into the process, I check to make sure that the same idea hasn't already been done. If it hasn't, I then expand the "what if?" idea, fleshing it out, looking at it from different angles. When I'm satisfied that it's a strong, original idea (or maybe an old idea with an original approach), I boil it back down to a single paragraph and send that to the editor of 2000AD, the Mighty Tharg (or, rather, Tharg's representative on Earth, Matt Smith).
Sometimes he'll just give me the go-ahead, sometimes he'll reject the idea outright, sometimes he'll take issue with one aspect of it and suggest alternatives (in which case there'll be a bit of back-and-forth to nail down the ideas)… But once the go-ahead is given, the next step is to flesh it out once more to create a proper synopsis. The synopsis for a single-episode six-page script will usually come to a little over a page, single-spaced: that'll list all the major scenes and include important snippets of dialogue. That synopsis then goes to the editor.
Most of the time Matt will approve the synopsis and I move on to the script phase, but now and then he'll ask for something to be changed. That could be because there's a strong similarity to an existing story, or conflict with something coming up, or maybe just because that aspect of the tale isn't working.
Once the synopsis has been passed, the scripting begins. On a good day, if there are no interruptions, I can write a six-page script in about two hours.
Unlike movies, there's no rigidly defined layout standard for comic-book scripts, but over the years I've developed certain rules in order to ensure that the script is as clear as possible for the artist, colourist and letterer (after all: it's their work that the readers see, not mine!)…
First, I generally try to keep to one script page per page of artwork. That's partly because I have a tendency to cram too much in and that one-page rule forces me to be more succinct with my scripts, but also it's because I visited John Higgins' studio and I saw how he works: for each page he's drawing, John pins the script pages onto the wall in front of the drawing board. As soon as I saw that, I realised that it makes things a little more awkward for the artist if he or she has to flip back and forth between two script pages!
For the same reason, I put the episode number and page number at the top of every script page, along with the number of panels on that page!
Once the script is done, it goes back to Matt for his approval. Even at this stage, he might still ask for changes, though – thankfully – usually not!
After that, he picks an artist whom he feels would be a good fit for the story and is available (now and then I've requested a specific artist, but that decision really is up to Tharg).
And that is where my part in the process usually ends. Sometimes the artist will send me pages of the finished artwork, but there isn't always time.
When I was writing Jennifer Blood for Dynamite for every issue I'd receive e-mails containing thumbnail sketches, pencilled layouts, inked pages, lettered pages and finally coloured pages: so at every stage of the creation process I could tweak things, correct mistakes, and so on.
But the fast turnaround time for Judge Dredd strips means that often the first time I see the artwork is when the printed comics drop through my letterbox. Sometimes, I don't even know who the artist, colourist and letterer will be. Some writers will flinch at such a notion, but I usually don't mind. I have 100% faith in all of them that they will do an exemplary job, and they've never let me down. In fact, it's quite a thrill to open an issue and see my scripts drawn by one of my favourite artists!
Shortly after I delivered the script for Blood of Emeralds I received an e-mail from Colin saying that he would be the artist – and I nearly fell out of my seat! I've been a huge fan of his work for so long… I even named the main character of my Quantum Prophecy novels after him and John Wagner.
Like most of my Judge Dredd work, Blood of Emeralds has been coloured by Chris Blythe and lettered by Annie Parkhouse… Absolute professionals who never fail to produce top-quality work!
I could ask Colin to send me the pages in advance of publication and I'm sure he'd oblige (he's one of the nicest people in the comics industry), but because it's him I'm more than happy to wait and read each issue as it arrives.
– Have you any future stories coming up in 2000AD and/or set in Ireland?
Nothing more set in Ireland right now, but there is some more upcoming work: a few Dredd one-offs and a six-part Dredd tale that I delivered yesterday for 2000AD, plus the aforementioned three-part Dredd story with Nick Percival and another four-part DeMarco, P.I. story, both for Judge Dredd Megazine. The DeMarco story once again features artwork by the awesome Steve Yeowell – I've seen the first two episodes and it's blown me away!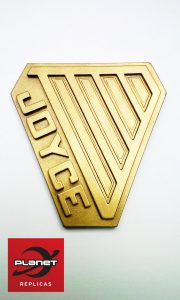 Thanks very much.
This interview first appeared on the https://dublin2019.com/blog/
Judge Dredd: Blood of Emeralds started in 2000AD Prog 1934 on 10th of June and will run for six weeks. Issues are still available.
Michael Carroll's website is http://www.michaelowencarroll.com