Interview by Oisin McGann
When I first saw PJ Lynch's work, back in the nineties, it was in the book, Oscar Wilde: Stories for Children. I remember thinking: 'Man, they don't illustrate 'em like that any more. I wonder if this guy's still alive?' I didn't realise at the time that PJ was not a classic illustrator from an earlier generation, but one of the young turks on the Irish scene. Known particularly for his work on fairy tales and historical fiction, he has since become arguably the most celebrated illustrator in Ireland. He has won the Kate Greenaway Medal (twice), the Christopher Medal (three times), and the Mother Goose Award. In May 2016 he was announced as the new Laureate na nÓg, the Irish Children's Laureate. He also recently became an author too, with The Boy Who Fell Off the Mayflower.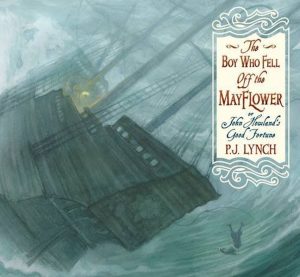 PJ, can you tell us about the job that set you off on this career?
My first book, A Bag Of Moonshine by Alan Garner, was probably the thing that decided my career. I was lucky enough to win the Mother Goose Award for my illustration work on that book. That led to other book commissions and I'm still at it thirty years later. Maybe if I hadn't won that prize I might have specialised in a different type of painting, but I am very glad that I did. I can't think of a nicer career than making illustrated books.
Who are the artists who've most influenced your work?
Arthur Rackham and Edmund Dulac are two of my favourite illustrators from the golden age of British book illustration. But I'm also really influenced by American artists like Norman Rockwell and NC Wyeth. Alan Lee, Gennady Spirin and Brian Selznick are some of my favourite book illustrators working today.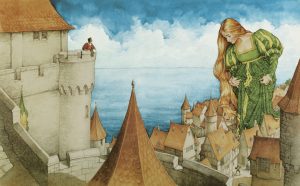 Was there a particular period in your life when you decided to become a professional artist?
I don't think anyone had gone to art college from my school in many many years, and because I was into art I was being directed gently towards a possible career as an architect. It was between the ages of 15 and 17 that I realised I really didn't want to be an architect, and that I wanted to be some sort of an artist. So I took the first steps on my path towards becoming a professional artist by going to art college.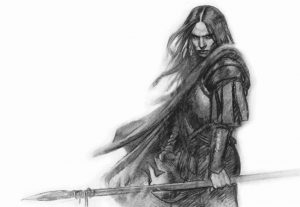 Can you tell us a bit about your process?
My process always starts with a story. Usually someone else's story, but now I have started writing my own. By reading the story over and over I decide which parts need to be illustrated. Then there's lots of drawing of very rough thumbnails. Next I select the thumbnails that are working best and I take them a little bit further and add more detail. On some of my books I work closely with models and take lots of reference photos, while on others I like to draw as much from the imagination as I possibly can. After I've done all that, then I finally start to do the finished paintings. In recent years I've been enhancing the images a bit digitally as well. Anything to make the finished book look as good as possible.
What's the weirdest thing you've ever been asked to put in a picture?
Over the years I have done quite a few portraits and have been asked to include some very weird things by the sitters. Fairies and angels have been asked for a few times, but the weirdest request was for an octopus with a death's head on it. I didn't do that one in the end.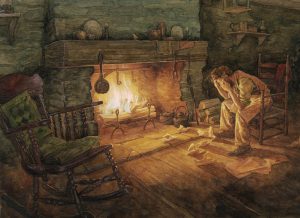 What one piece of advice would you give to someone starting out on this career?
I would advise aspiring illustrators to draw every day. Make it a real habit. It's advice I need to follow myself. For any one who wants to make books as an illustrator, or as a writer, I would offer one very practical piece of advice. You should consciously limit your time on the internet! Social media and emails can eat up hours of your day if you let them. Take a break from the social media until you get that new project really going. Hopefully you will get so involved with your work that Twitter and Facebook will come to seem relatively unimportant.
What's the most fun you've ever had on a job?
As you know Oisín, it's a pretty serious and sometimes solitary business creating stories and pictures. The fun part starts when you have a book published and you get to meet the folks in bookstores or children in schools. I've had a lot of fun going around Ireland drawing big pictures with children in the last year as Laureate na nÓg.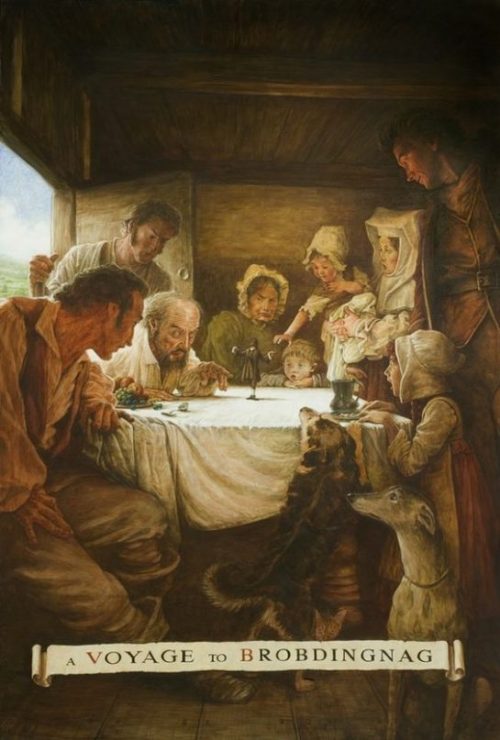 What would you most like to work on that you haven't already?
I have tried to do books for younger children, but they've never quite worked. I would really love to do a 32-page book for very young children. At the other end of the scale I would love to do something quite gross and very scary for older readers.
Looking back, is there anything you'd do differently, if you could?
There are many things I would do differently. Looking back I think I could've produced twice as many books as I have done, but rather than looking back, I prefer to look to the future and to try to produce more and better books.
What can we expect from you next?
I'm really thrilled to be working on a book with my friend Eoin Colfer. He is best known for his mega-selling Artemis Fowl series, but this project is very different from those books. It's a very thoughtful and touching story about a boy and his dog. There's another book project about underwater ghosts that I'm writing myself which is coming along well, and I'm also doing lots of Laureate na nÓg events and projects. So it is a pretty busy time!
Thanks very much to PJ Lynch for taking part Paint Me a Picture. His latest book is Patrick and the President, written by TV and radio presenter, Ryan Tubridy, about JFK's visit to Ireland in 1963.