Today we begin a new monthly feature on the illustrators of Ireland. Please join Oisin McGann as he introduces us to the artists of Ireland. What better way to spend a Sunday!
Paint Me a Picture: Introduction: Oisin McGann
This is the first post in a new series featuring the illustrators of Ireland, both Irish and Irish-based. I'm going to open the series by introducing myself and using my background to set the scene, to describe the unique environment for illustrators in this country.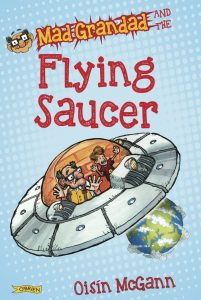 I've been working as an illustrator since the early nineties, but it was always with the intention of writing my own books. In the course of an extremely varied and bumpy career, I'd illustrated about forty books by the time I first succeeded in getting my own published in 2003. That has led to my writing very much steering my illustration work, but ever since I left art college (well, since I dropped out of art college), I've worked in a lot of different areas, including mainstream and educational publishing, design, animation and advertising. I've met a lot of different artists along the way, with equally colourful CVs, and I look forward to introducing some of them to you in the months to come.
Ireland's a small country and a small market, with a much bigger neighbour on either side, both of whom share the same language and, as a result, dominate the book, film and television markets here. While there is a thriving and productive publishing industry in this country, there are no dedicated sci-fi or fantasy publishers or full-time comics producers. Some of our mainstream publishers do dip their toes in from time to time – particularly in my chosen area, children's and YA publishing – and there's a passionate community of indie producers, but if your trade is illustrating books or comics, you'll be very lucky to find enough work in one style to make a living in Ireland.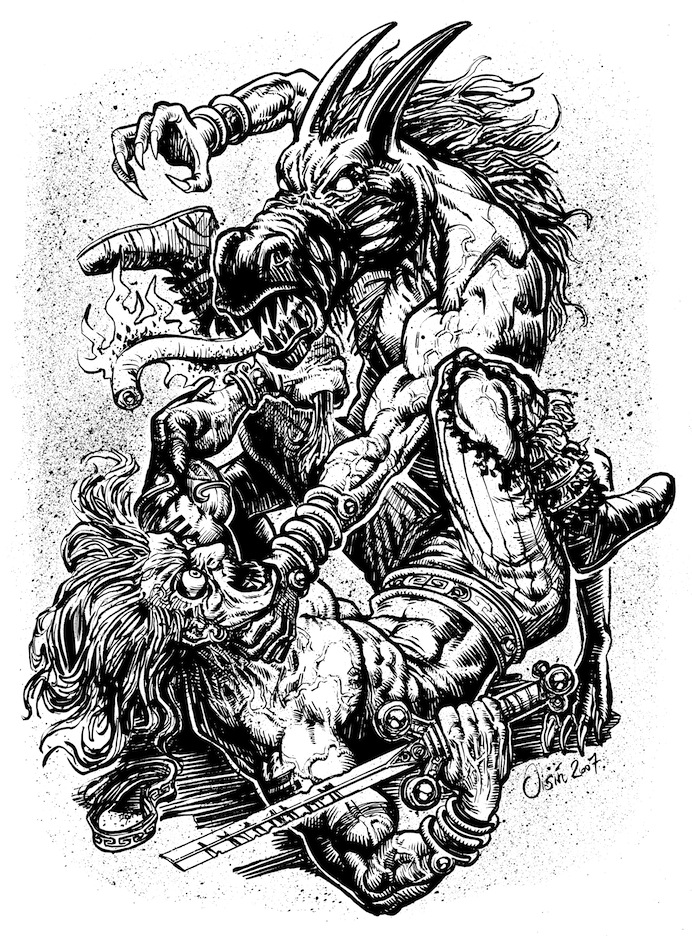 There was a time when, if you wanted a decent chance at making a living at all, you had to go abroad and find work elsewhere. Part of this was because Ireland was a poor country and the publishing industry barely operated on a profitable basis – but it was also the attitude to having pictures in books. Illustration was largely regarded as way to help children read, with little value in its own right, as if pictures were just the stabilisers on the bike and you could unscrew them and throw them away once the kids could read well enough.
When I started out in this business, there was a constant exodus of artists from the country, looking for ways to make a career. Ireland was producing plenty of illustrators – it just wasn't keeping hold of them. The country was starting to make a name for itself in animation, and many turned to this industry for the chance at earning a reasonable wage. I even spent time in Fred Wolf Films myself, working in pre-production as the background layout designer. For the most part though, illustrators could do one of two things; either work for publishers in the UK or the US or be able to illustrate in enough different styles that you could get a range of different kinds of work in Ireland.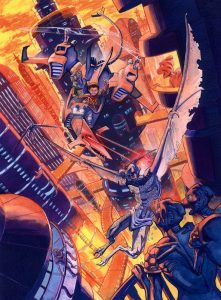 Never one to limit my options, I ended up doing both. I worked on everything from school textbooks to Power Rangers, from cartoons to paintings on commission. You can see some of my styles in the pictures I've posted with this article. After my stint in Fred Wolf, I spent four and a half years in London, starting as a security guard and doing cartoons for a local paper, then ending up as an art director and copy writer in a small advertising company. But I never stopped writing stories.
When I moved back to Ireland in 2002, things were looking up. It wasn't just that there was money in the country (though we know where that got us) – pictures were being taken more seriously . . . and so were illustrators. Irish publishing wanted to compete on the same level as UK companies and that meant investing in high-end design and quality illustration. This was especially important in children's publishing. Self-publishing and short print runs were also becoming realistic options for someone who wanted to get their own book or comic off the ground.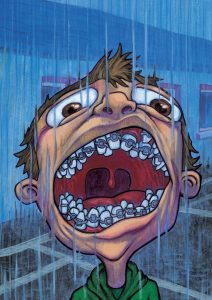 At the same time, digital developments meant that living in Ireland and working for publishers in other countries was also becoming more practical. Suddenly, we could stay on our small island and work for pretty much anyone in the world.
It's still a small market and we still do export a lot of our artists, but we also get many people coming from other countries to live here too. In the last ten or fifteen years, a lot of our emigrants have come home and other professional artists have come to visit, liked what they found, and decided to stick around. It's a tough, slightly insane, but ultimately fulfilling life being an illustrator in Ireland.
Watch this space. We're going to be meeting a lot of them.