More new authors for our blog! Today Nina Shiel joins our Nerdy Dublin team, with a series of articles about great places to visit in and around Dublin. Read on to find out about Marsh's Library, and scroll down to look at our growing Nerdy Dublin map, which shows all the locations we've featured so far!
Nerdy Dublin: Marsh's Library. 
by Nina Shiel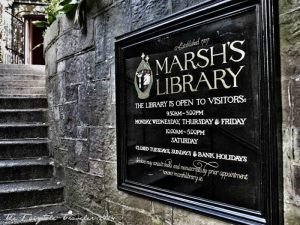 What do Bram Stoker, the ghost of an Archbishop, Newton's Principia Mathematica and an ancient Egyptian mummy have in common? At one time or another, they have all been found in Marsh's Library, Dublin's first public library situated right next to St Patrick's Cathedral.Libraries of Dublin: Marsh's Library.
Founded in 1707 by the then Archbishop of Dublin, who sported the name of Narcissus Marsh, the interior of this treasure trove of a building still comfortably lingers in the 18th century, with original oak book cases majestically towering on either side of the visitor. The little Library is little known, but therefore it is usually reasonably quiet, which provides the visitor with an opportunity to take their time savouring the scent of old wood and books, admiring written works that date as far as the fifteenth century, and listening to the myriad stories connected to this enchanting building.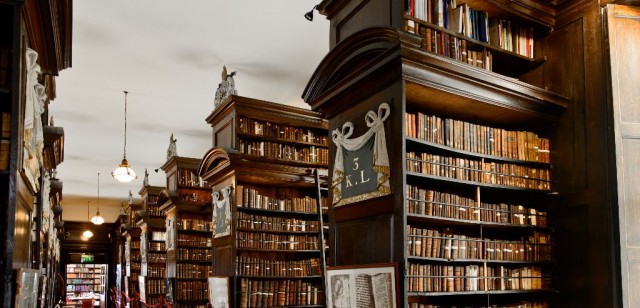 As a person of the Enlightenment era, Marsh felt strongly about the importance of reading and researching widely. Dismayed by the restrictions imposed on the students using the library at Trinity College, by using his own funds to acquire three sizable book collections in addition to his own, Marsh opened up the opportunity to read and research for everyone – at least, everyone with the ability to read and access to polite society!
Throughout the years, a number of famous authors came to read in the library, including Bram Stoker, Jonathan Swift, Walter Scott and James Joyce. The Old Reading Room still houses the large, sturdy table and chairs used by Joyce in 1902. Somewhat incongruously, considering Marsh's original intention of freedom to read, the back of the library features several "cages": lockable enclosures, each with some shelves, a desk and a chair, in which unfortunate readers were shut to do their reading later in the 18th century, after an influx of books stolen out of the library.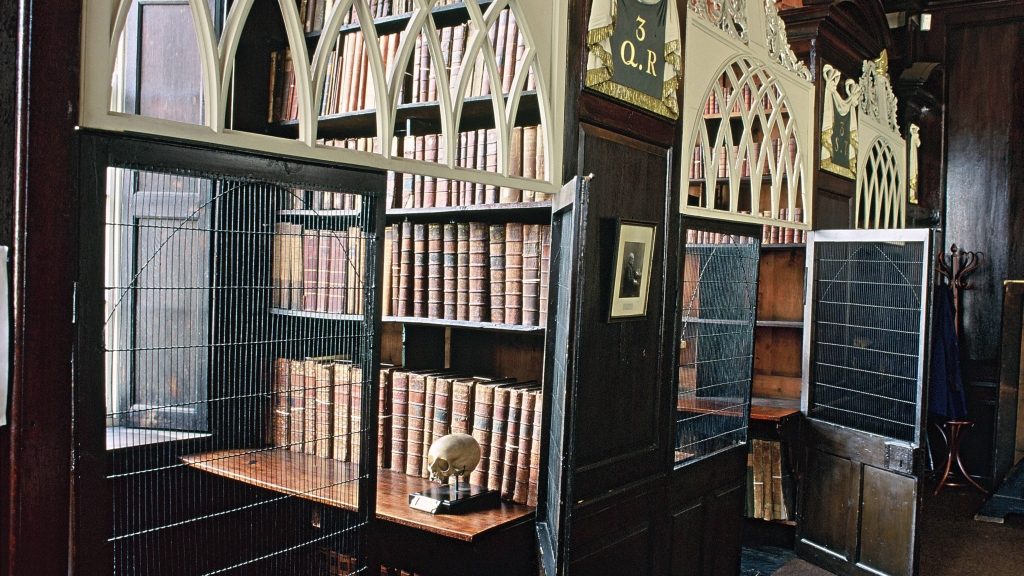 At the far end of the library, an intriguing door floats in the wall on top of a spiral staircase, seemingly entirely out of place. Now bricked up, it used to lead to an astronomical observatory constructed for Marsh, which also acted as his own private passage between the library and his official residence. It is said that his ghost arrives through the door to search through the books for a letter from his niece, Grace.
The library contains a number of scientific works, but without question the brightest jewel in the collection is a first edition of Isaac Newton's Principia Mathematica from 1687. Due to its value, the book only comes out on very special occasions, but its presence alone tickles the imagination and sense of history!
For reasons of conservation and preservation, Marsh's Library charges a nominal admission fee of €3/€2. Under-16s and the unemployed are given free entry. The library usually stages special exhibitions throughout the year on particular themes in the collections. Many of the cheerful staff are volunteers, who are very happy to answer your questions and to regale you with quirky tales of the library. About that mummy? Apparently, in 1888 a 3,500 year old mummy was discovered in a coffin in a cupboard in the library. Nobody knew how or when it had ended up there.
You can find Marsh's Library on our interactive map, along with all of the other 'Nerdy' items featured on the blog. We really hope that if we win the Dublin 2019 bid for a Worldcon in Ireland that you'll also take some time to enjoy our fantastic city – and Nerdy Dublin has all the best places to go!: