Getting to Dublin
Via Air
Dublin Airport (DUB) is the major airport for Ireland. Over the last 15 years it's been almost completely rebuilt and has easy access to the city.
There are flights to Dublin from 180 cities. Many different airlines fly to Dublin including Aer Lingus, RyanAir, Delta, American Airlines, British Airways & Air Canada.
You can find flights to Dublin by going to your favorite airline's Website, Expedia.com, SkyScanner.net or Priceline.com.
Once you've picked up your luggage and gone through customs (if needed), it's easy to get to Dublin from the airport. The least expensive way is to take the Airlink Express.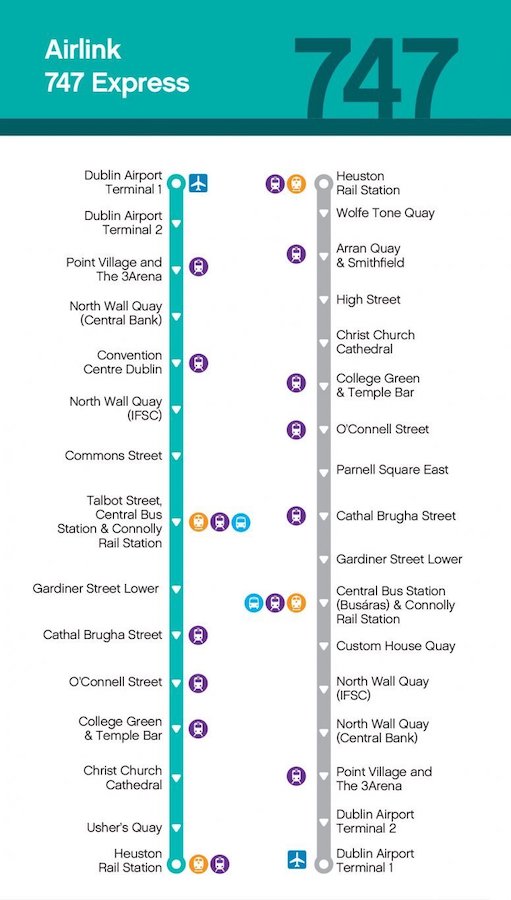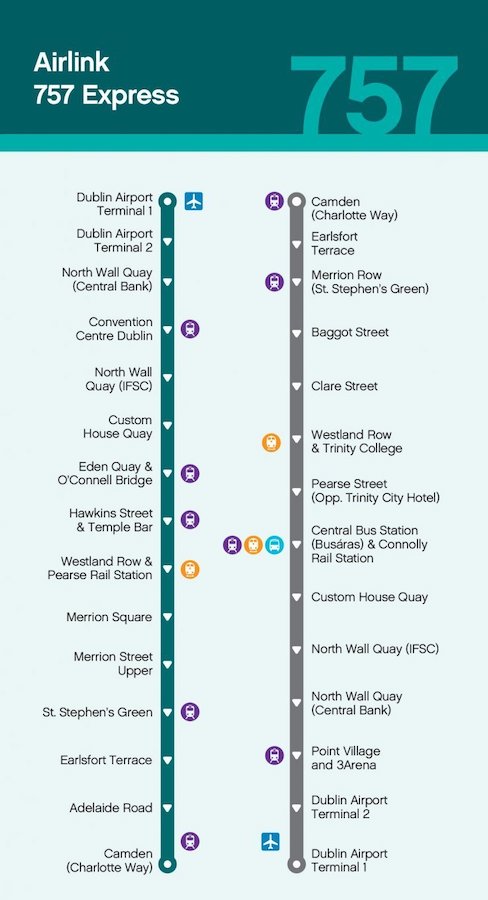 There are two Airlink Express busses: 747 and 757.
Both busses go to the Convention Centre Dublin, so if you're staying near the CCD, it doesn't matter which bus you take.
The 747 takes more of an east-west route through Dublin, basically paralleling the River Liffey and winding up at Heuston Station on the west side of town. If you're staying near The Point, Trinity College or Christ Church Cathedral, take the 747 bus.
The 757 also parallels the River Liffey but turns south at O'Connell St. If you're staying near Merrion Sq., St. Stephen's Green or Camden, take the 747 bus.
The Airlink Express cost is €6 to town (if purchased in advance, €7 on board), or €11 for a return trip ticket.
There are many other shuttle services from the Dublin Airport that can take you directly to your hotel.  Check the Dublin Airport Bus site for more information
There's also cab service from the airport to town – check a guide to current taxi fares.
Direct Travel from Dublin Airport to Other Cities in Ireland
If you are traveling outside of Dublin when you first arrive in Ireland, you may not have to go into Dublin to catch a train.  Many busses leave directly from the Dublin Airport and go to various places in Ireland, including Cork, Kilkenny, Galway and Belfast. Check the Dublin Airport Bus Information page and scroll down to National Coach Services for more information about traveling in Ireland directly from the Dublin Airport.
Luggage Storage
Do you plan to travel around Ireland before or after Worldcon and don't want to lug a suitcase full of Worldcon-related stuff? You can check a suitcase (or suitcases) at the Dublin Airport for as long as you need and pick it up when you need it again. Left Luggage provides this service at Terminal 1 and Terminal 2. You can check a bag for 10 days for about €60.
Via Water
You can take a ferry from Liverpool UK, Holyhead UK, Isle of Man UK and Cherbourg, France.
Bus 53 goes from Dublin Port, Ireland North Quay to the Convention Centre Dublin area about once every half hour. It's about a 3km (1.8 mile) walk from Dublin Port to the CCD.
In addition to the 53 bus, Stena Line and Irish Ferries offer coach transfers from Westmoreland Street to Dublin Port and from Dublin Port to the city centre.
Via Rail
Train service between major cities (including Northern Ireland) is frequent and inexpensive.  Check Irish Rail when you're ready to buy a ticket. Note that you can't buy a ticket online for a particular train trip until 90 days out (mid-May 2019).
There are many types of rail tickets on Irish Rail so check before you buy.
For €110, you can buy a Trekker ticket that lets you travel for 4 consecutive days anywhere in the Republic of Ireland.
For €160, you can buy an Explorer ticket that lets you travel on any 5 days out of 15 consecutive days anywhere in the Republic of Ireland.
There are two major train stations in Dublin, Heuston Station and Connolly Station. Connolly Station is closer to the Convention Centre Dublin, just 1 km from the CCD. This station provides trains that tend to go north of Dublin (Sligo, Rosslare Europort), the DART train (Commuter services to Drogheda, Dundalk, Maynooth and Longford) and the train to Belfast, Northern Ireland.
Heuston is a short LUAS Red line ride away from the CCD or 3.7 km walk. Trains from Heuston go other cities throughout Ireland, including Galway, Limerick and Cork.
If you arrive at Heuston station, take the LUAS Red Line to the Spencer Dock stop to go to the Convention Centre Dublin area. If you arrive at Connolly Station, the Convention Centre Dublin area is less than a km away. You could walk, take a cab, or take the LUAS Red Line from Connolly to Busaras, transfer to the tram that goes to The Point/Docklands and get off at Spencer Dock stop.
Via Bus
Wanderu contains extensive information about getting around Ireland by bus. Note that most busses coming into Dublin go to Busasras station, which is across the street from the LUAS Red Line and is only about a km from the CCD.
Via Car
You can drive to Dublin, but you will need to deal with parking. The CCD has parking for about €35 per day. It's open from 7am-midnight. While there other parking lots in the area – none of them are open 24 hours a day; all close at midnight or earlier.
There is a 24-hour garage at Connolly Station Car Park, Lower Sheriff Street; you can reserve a spot and it is only €9 a day or €30 for the week. Connolly Station is about a 13 minute walk to the CCD or you can take the LUAS Red Line from the Busaras stop east to the Spencer Dock stop.
Going to Titancon?
The weekend after Worldcon, Eurocon/Titancon will be held up in Belfast, UK.
It is extremely easy to travel between Dublin and Belfast. The fastest way is to go to Connolly Train Station and take a train.  From the CCD, take the LUAS Red Line from the Spencer Dock stop west to the Busaras stop, and walk about a block north to Connolly Station.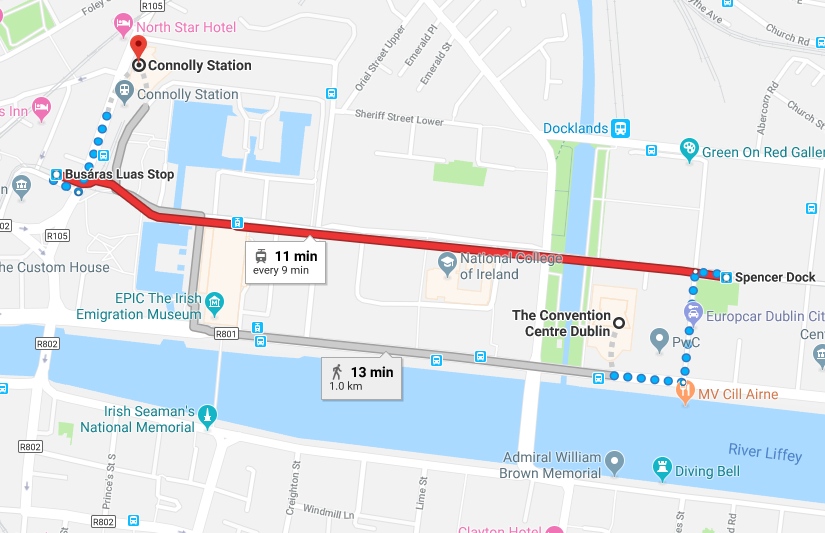 One-way train tickets from Dublin to Belfast start at €10.50. Trains to Belfast runs about 10 times a day, and it only takes a little over 2 hours to travel to Belfast. When you get to Belfast, get off at Belfast Lanyon Place, a combination train and bus station near the Belfast waterfront.  Belfast Lanyon Place is about .1km (about .1 mile) from the site of Titancon at the Belfast Hilton.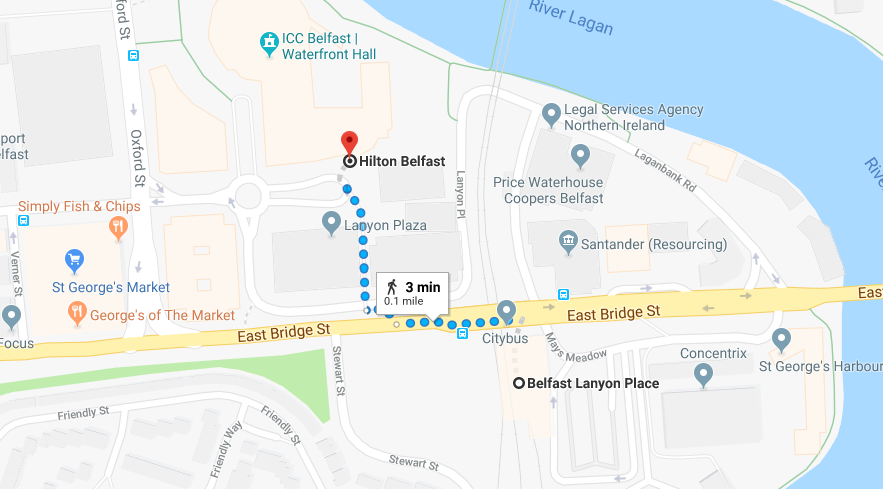 Since Brexit is not yet settled, the border issues about traveling between the Republic of Ireland and Northern Ireland have not been settled. It is likely you will have to show your passport at the border. Almost all businesses accept credit cards, but it's always a good idea to go to an ATM and get some pounds.  We'll update this page with more information once the border policies have been set.
If you're flying home from Dublin after going to Titancon, you can take a bus directly to Dubin Airport from downtown Belfast for €12.  This bus leaves about a mile west from the Hilton Belfast at the AirCoach stop on Glengall St., which is near the Great Victoria Street Train Station.
Getting Around Dublin
Dublin has excellent mass transit, bike rentals and taxis.
While most of Dublin 2019 will be at the CCD, a few items will be less than a kilometer away at The Point Square. It's a short walk, LUAS red line trip or Liffey Ferry ride (stop #1 is near the CCD and stop #3 is at the 3Arena).
Local Train (DART) and Tram (LUAS) Map
Here's the map of the tram (LUAS) and local train lines. The CCD is near the middle of the right side of the map, near the LUAS Red Line Spencer Dock stop.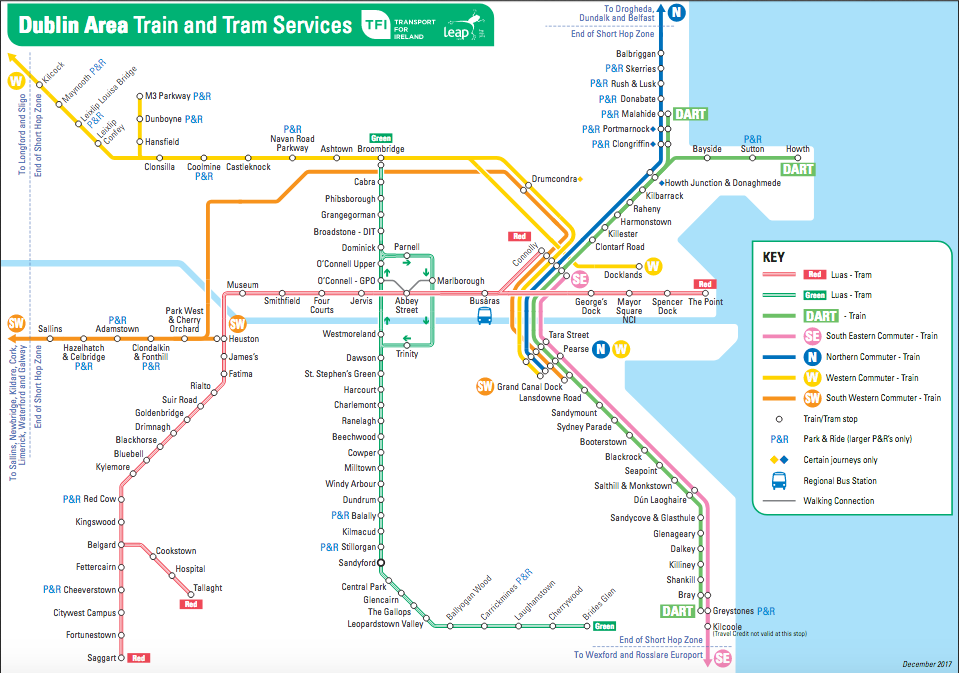 Tram (LUAS) Lines, Red & Green
Here's a map of the city tram service, the LUAS Red and Green Lines.  The CCD is near the Spencer Dock Red Line stop in the top right corner of the map.  Connolly is the stop for the local train lines (see the DART/LUAS Tram map above) and Heuston is the main train station with trains to the rest of Ireland (Red Line stop towards the middle of the map).
Dublin Bus Service
Dublin Bus site is the most comprehensive info source for the bus system in Dublin. They also have an app you can download. The Dublin Visitor Centre has a map of the city bus service. This is a huge and detailed map; you might want to download it to your smartphone if you think you'll be taking the bus.
Dublin Ferry #11
In early 2019, Dublin plans to revive one of its ferries for weekday travel. For €2, you can travel down the Liffey, and one of the stops is close to the front entrance of the Convention Centre Dublin.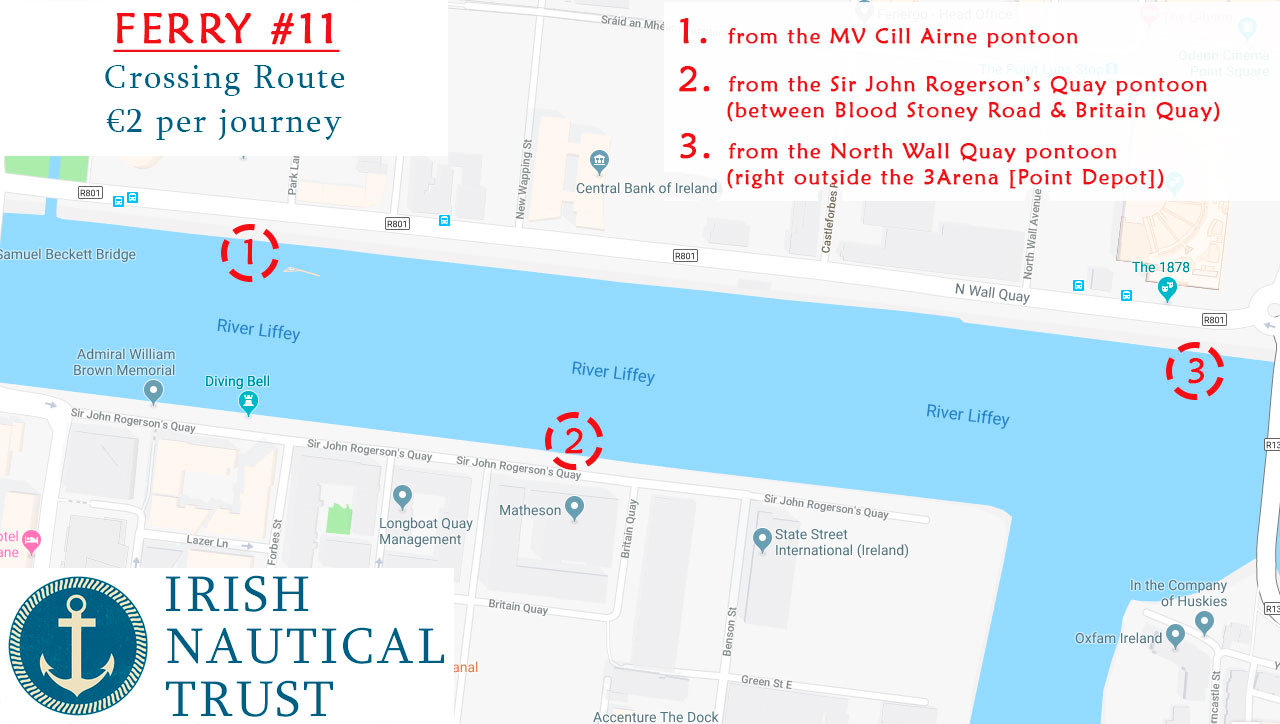 The CCD is within a block of the #1 ferry stop – MV Ci11 Airne pontoon. The Odeon/Point Depot/The Gibson are less than a block from the 3Arena (#3 ferry stop). The ferry will run Monday-Friday from 7am-7pm.
Mass Transit Cards
There are two different mass transit discount cards:
There are three types of Leap Visitor Cards:
1 day (24 hours) – €10.00
3 days (72 hours) – €19.50
7 days (168 hours) – €40.00
These Leap Visit Cards give you unlimited transportation on all of the following transit types:
Airlink Express 747 & 757 airport bus services
All Dublin Bus scheduled services (not valid on tours)
All LUAS (tram) services
DART and Commuter Rail in the Short Hop Zone (all of Dublin city and county)
Dublin Liffey #11 Ferry (runs weekdays only)
You can buy the Leap Visitor Cards cards before you leave for Dublin, or at various machines at the airport, train stations and all over Dublin.
The DoDublin is valid for 3 days/72 hours and costs €35. This card covers the following transit types:
Airlink Express between the Airport and the city centre
DoDublin Hop-on Hop-off City Tour buses
All of the Dublin Bus public service buses
You can buy DoDublin pass online, but you must remember to turn in your voucher for an actual DoDublin card at the airport.
So which travel card is better for you?
If you're staying near the CCD and don't plan to be a tourist, you probably don't need either.
If you are staying near the CCD, in a hotel on a LUAS line or using the DART, buy a LEAP card.
If you've never been to Dublin before and plan to use the DoDublin Hop-On/Hop-off City Tour or are staying on a bus line, buy the DoDublin card and use it the days you have the time to be a tourist.
Taxis, Hackneys, Cabs and Uber
Dublin has many small taxi companies. Most drivers can be reached through taxi apps. Our staff tried several apps and recommend MyTaxi. Most if not all taxis take credit cards as well as cash. They're all metered and give receipts. Here's a guide to current taxi fares.
You can hail taxis on the street and at taxi ranks which are usually found near hotels, train stations, public buildings and busy shopping areas.
Uber is available but only operates with licensed taxis in Ireland.
Bike Rentals