Welcome to another addition of Irish Fiction Fridays. Today we are highlighting Slant, the Irish fanzine, and the Irish fan behind it: Walter Alexander Willis (1919-1999).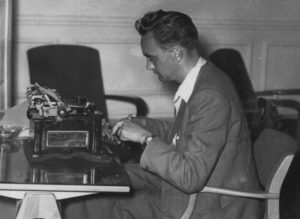 Slant was the first fanzine published by Walt Willis in collaboration with James White as Art Editor. It ran from 1948 until 1953 with seven issues and immediately established Willis as a fanwriter of note. In 2004 it won the 1954 Best Fanzine Retro Hugo and was nominated for the 1951 Best Fanzine Retro Hugo.
In addition to Slant, Willis also co-edited and wrote for Hyphen and was a regular columnist in Quandry and Warhoon. Willis also received a 1958 Hugo for Outstanding Actifan. He attended the 1952 Worldcon in Chicago as a special guest via funds raised by fans that lead to the establishment of the TransAtlantic Fan Fund. He also attended the 1992 Worldcon in Orlando, Florida as the Fan Guest of Honor.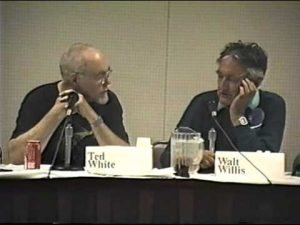 Along with Bob Shaw and James White, the three were referred to as the Belfast Triangle. Those three with the addition of George Charters, Ian McAulay and John Berry were known as the Wheels of IF, representing the influential Irish Fandom.
You can read more about Willis in The Encyclopedia of Science Fiction and Fancyclopedia 3.
For your reading pleasure, you can find Slant here.