Welcome back to Irish Fiction Fridays! We took a break last week to observe St Patrick's Day. This week we feature The Secret of Kells by Cartoon Saloon.
The Secret of Kells is a 2009 French-Belgian-Irish animated fantasy film animated by Cartoon Saloon that premiered on 8 February 2009 at the 59th Berlin International Film Festival. It went into wide release in Belgium and France on 11 February, and Ireland on 3 March. The film was nominated for the 2010 Best Animated Feature at the Academy Awards.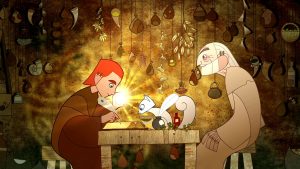 It was directed by Tomm Moore and Nora Twomey, produced by Paul Young, Didier Brunner and Vivian Van Fleteren, written by Fabrice Ziolkowski, distributed by Gébéka Films, Kinepolis Film Distribution, StudioCanal and Buena Vista, edited by Fabienne Alvarez-Giro and music composed by Bruno Coulais and Kíla. It stars Evan McGuire, Brendan Gleeson, Christen Mooney, Mick Lally, Michael McGrath, Liam Hourican, Paul Tylak and Paul Young. It was nominated for the Academy Award for Best Animated Feature.
The film is based on the story of the origin of the Book of Kells, an illuminated manuscript Gospel book in Latin, containing the four Gospels of the New Testament located in Dublin, Ireland. It also draws upon Celtic mythology, examples include its inclusion of Crom Cruach, a pre-Christian Irish deity and the reference to the poetic genre of Aislings, in which a poet is confronted by a dream or vision of a seeress, in the naming of the forest sprite encountered by Brendan. Wider mythological similarities have also been commented upon, such as parallels between Brendan's metaphysical battle with Crom Cruach and Beowulf's underwater encounter with Grendel's mother. The Secret of Kells began development in 1999, when Tomm Moore and several of his friends were inspired by Richard Williams's The Thief and the Cobbler, Disney's Mulan and the works of Hayao Miyazaki, which based their visual style on the respective traditional art. They decided to do something similar to Studio Ghibli's films but with Irish art. (Wikipedia)
The full film is currently available under a general YouTube license.