Today for Irish Fiction Fridays we feature something a little different: The Emergency Session by Arthur Riordan. The Emergency Session is a satirical rap-cabaret featuring Eamon DeValera on such subjects as the liberal agenda and the rural/urban divide. While it is a full length theatrical production, first produced by the Rough Magic Theatre Company on October 5, 1992 at the Dublin Theatre Festival, you can find The Emergency Session here in easily digestible pieces. The play later toured Ireland and went on to Glasgow.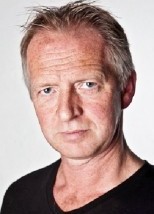 Riordan is both the playwright and the original MC Dev of the one man show. Declan Hughes directed, Siobhan Bourke produced, and the music is by Hugh Drumm and Niall O'Sullivan.
Arthur Riordan is a founder-member of Rough Magic Theatre Company and has appeared as an actor in many of the company's productions. Riordan has also performed with most of Ireland's leading theatre companies including the Passion Machine, Druid and The Abbey. Riordan has also written 'The Last Temptation of Michael Flatley', a one-act play that has proven popular on the amateur circuit.