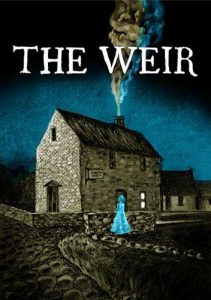 Dublin2019 has been promoting Irish speculative fiction, art, comics and more, but today we're looking at Irish speculative theater. Specifically, The Weir by Conor McPherson, which tells the story of a small group of people in an Irish pub who share an evening of telling ghost stories.
Dublin born McPherson was named by the New York Times as "the finest playwright of his generation."  His play first opened at the Royal Court before transferring to the West End and then to Broadway. When The Weir debuted in 1999, it won the the Evening Standard, Critics' Circle, and the Laurence Olivier Award for Best New Play. In September 2015, the Irish Repertory Theater brought a new production of The Weir to the theater, which has once again received rave reviews.
Here's a lovely little glimpse inside the Irish Repertory Theater's production of The Weir. It includes a few scenes from the play as well as insight from the actors. We hope you enjoy this look at The Weir and hope you get a chance to see it on the stage where the magic and suspense will bring you to the edge of your seat.
There's also a great article called "Supernaturalism: Femininity and Form in Conor McPherson's Paranormal Plays," published by the Digital Journal of Irish Studies, that provides an unique look at The Weir. Again, if you get a chance to see a production of "The Weir," you should go.
At the climax of Conor McPherson's 1997 play The Weir, a group of middle-aged men in a local pub in Sligo listen spellbound as the only stranger in their midst—a woman from Dublin named Valerie who has rented a house in the area—tells them a ghost story. She has been listening gratefully to the men's ghost stories, she says, because she has experienced something similar: after her daughter Niamh drowned in a swimming pool, Valerie received a telephone call from her in which Niamh pleaded for Valerie to come and free her from a house in which she was trapped. The affective power of Valerie's story accounts in large part for the favorable reception of The Weir, which became one of the most successful Irish plays of the 1990s. [Read the full article.]
We hope you have enjoyed this glimpse into the realm of Irish speculative theater.