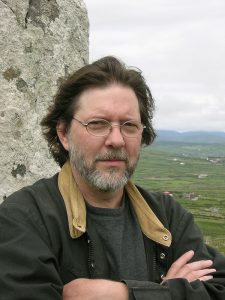 Today on the blog we're proud to share John Jude Palencar's experience of visiting Ireland in 2004 and becoming the Artist in Residence at the Cill Rialaig Art Project. John has produced over 100 covers for science fiction, fantasy and horror books by Lovecraft, Steven King and J.R.R. Tolkien, and it's obvious from his account below that he had a wonderful time on our shores. We're very proud of the welcome that we can give people, and the way that Ireland can inspire people, so it's wonderful to read about it. Thank-you John, we really appreciate being able to show your art and share your visit to our shores!
An Artist in Ireland: John Jude Palencar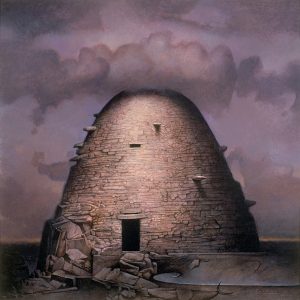 The Beehive Stacks.
(All art and images reproduced with the kind permission of John Jude Palencar)
Ireland was once a dream that became a reality when I was invited to be an "Artist in Residence" at the Cill Rialaig Art Project in County Kerry, Ireland. I was showing work in a group show at a gallery in Ohio when I was approached by a gentleman that expressed interest in my work. He scheduled a studio visit and arrived with a Countess in her Ferrari that afternoon! I later learned that he was the noted designer Carleton Varney, President of Dorothy Draper and Company. Through his contacts and recomendation I received an invitation a couple of weeks later to the Cill Rialaig Art Project founded by the philanthropist and former publisher Noelle Campbell Sharp.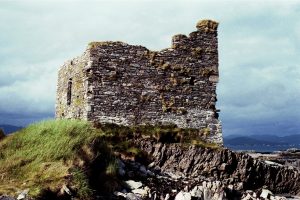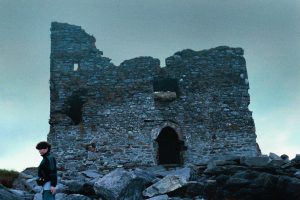 I decided to take the whole family. My wife and two sons were real troupers on this long arduous journey. We quickly applied for our Passports and were off to the "Emerald Isle". I have fond memories of driving a manual shift car jetlagged, with the stickshift on the left and trying to negotiate a roundabout with a right hand drive Ford on the opposite side of the road on three hours of sleep. But I was filled with energy and anticipation of the experiences to come. With my family in tow we made our way through narrow mountain roads (some only large enough for one vehicle) to arrive at the restored pre-famine village and now artist's retreat that Noelle had purchased and envisioned after a personal epiphany.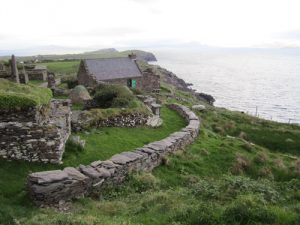 Slate House, Cill Rialaig
We were assigned the original cottage, "Slate House" ( there are now seven artist's cottages). At that time there were only two cottages completed. An article months earlier in Architectural Digest showed the very cottage/ studio that we were to live in for the next month. Complete with a kitchen, bathroom, turf (peat) burning stove and a studio area with a huge skylight we set about moving in.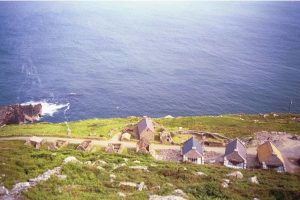 Looking down on the village from the mountain
A short time later Noelle sent one of her staff to greet us and invite us to lunch at her estate a couple of miles away located at the foot of a fog shrouded mountain. This being Ireland we didn't realise that we would not get back to the cottage/ studio until twelve midnight. That was one heck of a lunch!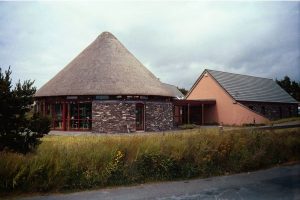 Visitor's Centre, Cill Rialaig
The following weeks were filled with adventures and exploring the castles, mountains and ancient sites in County Kerry. Soon I was sketching away and planning two paintings. All of my supplies had arrived safely a couple of weeks before we arrived. Although I did bring my brushes with me in my carrying on luggage. Words can't truly explain the experiences we had. Nor did I imagine that two and half weeks later that I would be interviewed on the Irish TV in Dublin and have two paintings in a group show that was opening at their National Museum. Normally this portion of the museum houses ancient artifacts but it had just undergone a recent restoration and the collection had not been reinstalled. Noelle Campbell Sharp, sensing an opportunity used her influence to create a show that promoted the Cill Rilaig Artist retreat and the artists and crafts people of County Kerry. Both paintings sold in the first twenty minutes of the opening.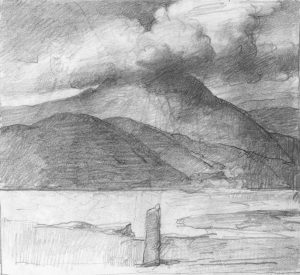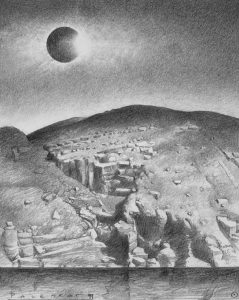 Sketches of the area around Cill Rialaig
All artists stay for free at the Cill Railaig village. You have to supply your own food and transportation.The application/ waiting list is now around fifteen thousand applications. Portfolios are constantly reviewed and selections are made based on the quality of your work. Artists are asked to donate art (not required) a painting, sculpture etc… the sales from the art support the upkeep, utilities and other costs of the retreat. Typically you will meet artists from all over the world. There are a number of spots that are always set aside for Irish artists.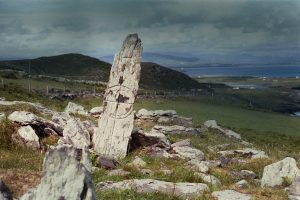 Monk's Grave, Cill Rialaig
I know I've spoken about my art experience in County Kerry and Dublin but let me say that the Irish people are among the friendliest souls you'll ever meet. One of my fondest memories was coming back to a pub in Ballinskelligs I had visited on my first visit years earlier…..to hear someone yell out my name in that Irish accent…. they remembered me… I was welcomed home like a long lost brother. We drank, we sang and we laughed and stumbled out into the night air to make our way home.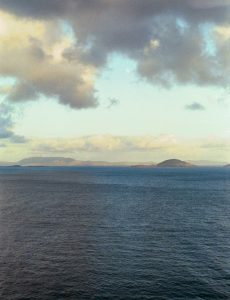 While I have been invited back many times since then … my first visit holds a special place in my heart. Hopefully your experience will be as magical as mine.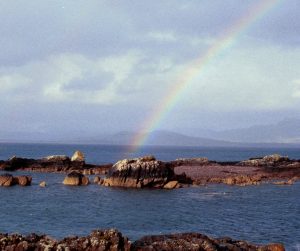 More about Cill Railaig:
http://irelandofthewelcomes.com/once-a-famine-village-now-an-artists-haven-cill-rialaig/
http://www.visitballinskelligs.ie/cill-rialaig/