This week it's Worldcon, hurrah! Of course, Worldcon also means The Hugo Awards Ceremony, and here on Irish Fiction Friday we have a nominee in the running! James Bacon is our fantastic Bid Chair, and he's been driving the Dublin 2019 bid right from the start. However, there is more than one string upon James' bow. Alongside Chris Garcia, he is one of the lead editors of fanzine Journey Planet.
This year, Journey Planet has been nominated for the fourth time in the Fanzine category, and y'know what, here on IFF we really, really hope he wins. So, to celebrate his nomination and cheer him on a bit, we've asked his co-editor and partner in crime, Chris Garcia to write us a special entry for IFF this week. So, take it away Chris, for a tour of Hurricane James Bacon, and how Journey Planet came to be…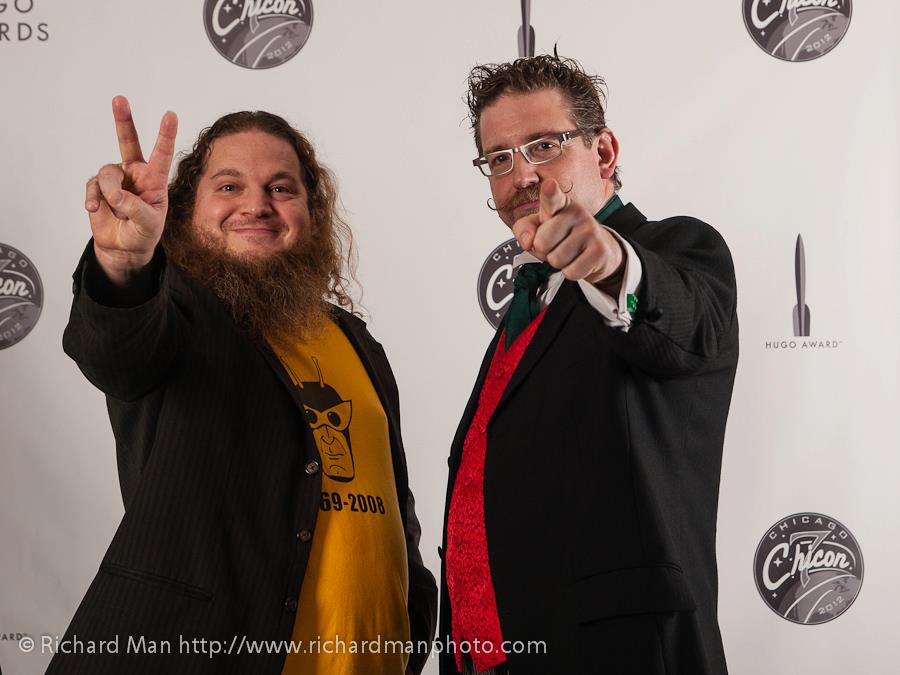 On Journey Planet.
Chris Garcia.
I'm still not 100% sure how Journey Planet started.
No wait, that's a lie. I know EXACTLY how it started, but have no idea how it ended up as what it is today. I attribute that to James Bacon, my man on the other side of the Atlantic, a whirlwind of energy who has the disturbing superpower of being able to ask anyone for anything.
At the 2008 Eastercon, I was the TransAtlantic Fan Fund delegate, which means fandom paid for me to fly to Heathrow and then spend two years raising funds to support the Fund. At the convention, held at the lovely Radisson Edwardian at Heathrow (and right at the start of the Terminal Five fiasco), Eastercon had put a panel on the schedule – Fanzine in an Hour. It was a simple idea, we'd put together a zine by getting a bunch of people to write stuff and I'd lay it out. Well, it went pretty well, save for the fact that it took me roughly 12 hours to lay all the content out! We had writing from some really dope human beings, not to mention art from SMS and Neil Gaiman.
You see, here's the problem with me, I'm not really good at things like editing, pruf-reeding or the like. You see, I was educated in American Public Schools, thus, I ain't got the eyes.
Claire Brialey, though, does!
As I understand it, Claire read the issue we put out (still available on eFanzines.com and http://journeyplanet.weebly.com) and determined that it was good, but could be so much better. Apparently Claire asked James if she could edit the material and make it better. Now, one must remember that not too much later Claire became a Hugo winner for Best Fan Writer and was already the co-editor of the multi-time Hugo nominated Banana Wings.
Of course, she may have asked me. Or maybe James asked her. I'm not sure.
This is turning into one of my least-researched historical essays ever, right? OK, moving on…
Somewhere down the line, James got it in his head that this would be a recurring, regular fanzine. I don't actually remember that conversation. I imagine it went something like this –
James – Chris, we're gonna do Journey Planet as a regular zine.
Chris – What?
And then the conversation went on. Indian food may have been involved.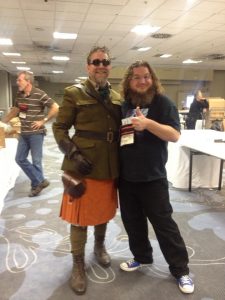 The concept that we struck on pretty early, starting with the second issue as I recall, was that each issue would be themed and we'd try and feature at least one guest editor in addition to Claire, James, and me. We'd take a topic and examine it through however many lenses we could get to comment on it, and use our Guest Editors to help bring another point of view to the proceedings. Funny thing is Claire, James, and I are just about the most different people I can think of, and each brought a point of view that bounced off one another, and not always completely harmoniously. James figured the second issue would be The Woman's Issue. I completely don't remember him saying that would be the theme, but alas, it was, and we caught some hell for it. Looking back, it was a good issue, and it featured the first cover for us by the great Mo Starkey, who won herself a Hugo in 2012.
Those early issues are still some of my faves. There's the amazing 1984 issue co-edited with Pete Young. There was a Science Fiction issue that feared some amazing writers including Paul McAuley and National Public Radio's Peter Sagal. It was a good one, and we got an on impressive run. An Alternate History issue with a Ditmar cover, and words from the likes of John Scalzi. There were some great issues at that point.
We had Claire along with us for the first 10 or so issues, but then she thought we weren't going in the right direction and dropped off the masthead. It was a shame, as I really think she's one of the brightest lights in the history of fanzines, and working with her was always great. I admit, it must be maddening to work with James and I. We're bundles of energy who often leap before we even decide to leap. That takes some doing! We started a more frequent round of guest editors, who we just started to call editors.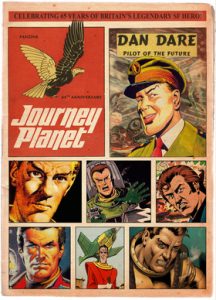 Extremely brave and courageous cover for the Dan Dare issue by Michael Carroll.
I will say this about James – the man is the best collaborator since Vichy. He'll take my crazy ideas, things I KNOW will never work in a million years, and then make it happen. We do an issue about the City of London, then roll in a series of articles about conventions to longer feeling like safe spaces. We do an issue about writing that somehow works! Panel Parity at conventions? Yeah, we'll wade into that shark pool! James is fearless, a stark contrast to the worrier that is Christopher J Garcia. While I will slowly lower my head down closer and closer to any approaching grindstone, James jumps up and goes into it with both feet, whether or not my nose is in the way! He's a bold man, James, and the zine wouldn't exist without him.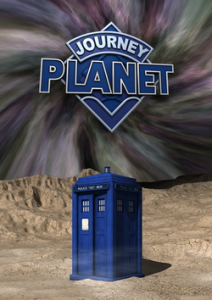 Cover through time and space for the Doctor Who issue by Michael Carroll.
We've hit major topics in science fiction, from Philip K. Dick and Bladerunner to Doctor Who and Dune. We've gone a bit further afield, into fandom several times, into James Bond and Sherlock Holmes, into sports, into super heroes. It's been a whacky and wild ride. The big thing it's taught me is that when you have a hurricane that you can send towards anything, you better just find a direction and see how it blows. Hurricane James Bacon may be the most destructive force I've ever managed to nudge in once direction or another, but shockingly, it often ends up with the most beautiful dawn the morning after it blows over.
We've been nominated for the Hugo 4 times. That's a wonderful thing. We've received nominations for folks who wouldn't normally be considered fanzine fans, but we've also got some great fanzine editors onto the ballot in new areas. We're lucky enough to have wonderful folks all around who are willing to run with our ideas. I've laid out original material from Lauren Beukes, Gail Carriger, Eoin Colfer, Dave Hardy, Tangylwyst de Holloway, Paul McAuley, Sean McMullen, Kim Newman, John Picacio, Alastair Reynolds, Carrie Vaughn,   and on and on. We've got work with some amazing co-editors, like Warren Buff, Aurora Celeste, Meg Frank, Colin Harris, Emma King, Esther MacCallum-Stewart, Alissa McKersie, Helen Montgomery, Yvonne Rowse, Lynda Rucker, Linda Wenzelburger, and on and on and on. So many I can not possibly remember them all (and, of course, can't be bothered to look them up!) but each of them have helped make Journey Planet into a zine that really shines, sometimes a little too brightly. The trick of Journey Planet is simple: bring great people together and get them to say something. Often, our guest editors take the lead and bring about amazing things. Some issues I will literally have absolutely nothing to say on, but the folks we team with are so amazing, you'd never know it. Sometimes I'll get a bug in my pants and take over an issue with my mad rantings (often to the consternation of our co-editors, and often to the EXTREME consternation of Claire Brialey back in the day!). Sometimes it's James. Once in a while, it rises like the Creature out of the Black Lagoon of some eMail chain. It's organic, and digital of course, but mostly it's fun.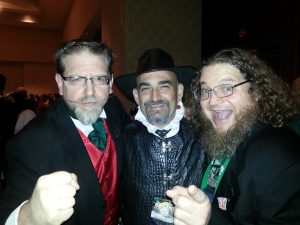 And maybe it's Mr. James Bacon who makes it fun for me.
Even when I'm staying up 'til 3 am fiddling with the layout for the 15th straight hour, I really enjoy it, playing with the content, setting it in place, and everything becomes solid when I get that eMail with James obviously humphing at his keyboard – "Awesome!"
Journey Planet's got life in it yet. There are topics we need to cover (Like BATMAN! STAR WARS! The HUMPTY DANCE! CHITTY-CHITTY BANG-BANG!) and there is always time and space for more thoughts. I'm looking forward to it.