Dublin 2019 will administer the site selection for the 2021 Worldcon. The site selection vote will open in April 2019. To vote, you must be an attending or supporting member of Dublin 2019.
At the time of voting you must pay the Advance Supporting Membership Fee, which is a supporting membership in the winning bid. This money goes to the winning Worldcon regardless of how you voted.
Known groups bidding for future Worldcons can be found here.
2021 Worldcon Bids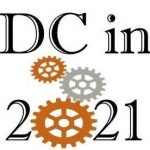 DC in 2021 Bid Confirmation Letter
DC in 2021 Facility Letter of Agreement