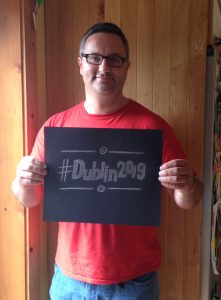 An Comhrá / The Chat! A new feature for our blog! As we travel hither and yon as part of the Dublin 2019 Worldcon bid, we're bumping into fans, authors and supporters who want to champion Dublin 2019 for us. Unlike our Irish Fiction Friday contributors, many of these come from around the world, and they keep asking us how to get involved more. So, we've dreamed up a series of thumbnail interviews, an ongoing series of short sharp questions for people who support the Bid and want to tell us about their work and their love of fandom. Each contributor picks five questions from a list, and we publish the results.  Of course, you can be Irish as well, so today we're featuring Oisin McGann, illustrator and writer extraordinaire. Oisin has written for both adults and YA books, featuring fantasy, science fiction and urban excitement. He's a prolific tweeter, where you can find him at @oisinmcgann, and he's soon to be teaching a six-week writing course on science fiction and fantasy in the Irish Writers Centre, starting at the end of September,. But less of us! On to the interview:
– How would you describe your work to people who may be unfamiliar with you?
I write and illustrate stories for a range of reading levels, from first-time readers upwards. I've published thirty-five books in a range of genres, including eleven novels. My shortest book is about two hundred words long, my longest is about a hundred and forty thousand words. Like most writers, my goal is to have a big effect on my readers, which is why I write for different ages – my aim is to catch readers at those key times when stories can really blow their minds. I particularly love the YA bracket because you know you're writing for fertile, open imaginations (young adult and old adult alike), but you have to account for short attention spans. It's great discipline for your storytelling and forces you to be ruthless with words, a great way to develop your craft. And, of all the genres, speculative fiction gives you the greatest scope in terms of concept and the kinds of big questions that make dramatic, engaging stories. Plus, it's great fun.
– It is said that learning to write well is like experiencing a series of never ending writing related epiphanies. If you had to pick one, what is the most important lesson you have learned, so far?
I think every professional writer is somewhere on the spectrum between being completely spontaneous, but then having to go back and hone the work in successive drafts, or being a meticulous planner up front, and having to do few drafts later on. I tend to be more of a planner than re-drafter, but I think finding the balance between these two extremes is a key part of knowing how to write. Sometimes you have to get a lump of text down that you can then go back and carve into shape, and sometimes you have build from the skeleton outwards to get the right result. Both demand the same trade skills in the end though – skills that should be learned methodically and deliberately. Writing, communicating ideas through squiggles on a page, is a trade first that can be raised to an art and should be taught as such. Some people will always be better than others at writing, because they were passionate about it, applied themselves and started learning early, but anyone can learn to write stories.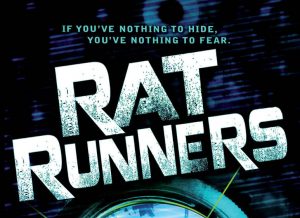 – What are you working on now? Any new projects, novels, or stories that will be out soon?
I normally have few things on the go at any one time. At the moment, I'm just finishing up the sequel to my surveillance state thriller, 'Rat Runners'. The working title for that is 'Seen Stealer'. I'm also doing the groundwork to a new novel, a near future cold war thriller set mostly at sea, in a world that has been altered by climate change. I'm the Irish writer-in-residence for an international, EU funded project called Weather Stations, working on ways of using storytelling to raise awareness of climate change (I do cartoons for that too). I have a short story coming out with an anthology in September/October, entitled 'Once Upon a Place', edited by the Laureate na nÓg Eoin Colfer, where a range of writers have written stories set in different places in Ireland. I'm just editing another promotional novella to tie in 'Strangled Silence', which was released recently in the US; it's a conspiracy thriller, entitled 'The Need for Fear', And I have a couple of younger kids' book projects I'm pitching to publishers at the moment too.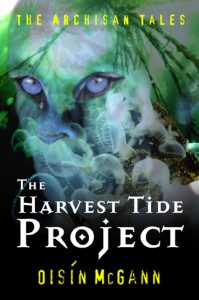 – As an author or creator, why is attending conventions important, and what do you love most about them?
Attending conventions, on one hand, is part of the ongoing promotional work I do for my books, but to put it in perspective, I do about forty to fifty events of different kinds each year, sometimes more, including festivals, schools, libraries, conferences and seminars. I normally only manage to get to one or two conventions a year. I know a lot of writers consider them a way to promote their work and make contacts, but my main motivation is to connect with the genre crowd (and many in other areas of publishing don't even know our stuff is referred collectively as 'genre'), have some good conversations and pick up what's new on the scene. For me, it's more about the stimulation of the ideas I come across there, really, than spreading the word, but the promotion and networking is always a factor.
– What special or unique experiences do you think the Dublin2019 Worldcon bid has to offer?
For such a small country with a tiny population, Ireland has had a bizarrely disproportionate influence on the world of literature. I think this is due to the fact that a particular combination of history and culture has equipped our people with a capacity for expressing curiosity, outrage, wonder, misery, joy, defiance or profound thought, or just to talk complete shite, all with a lyrical passion. Anyone who's interested in experiencing that first-hand, should support a bid for Worldcon in Dublin in 2019.
Oisín McGann is a full-time writer and illustrator. He is a winner of the European Science Fiction Society Award, and has been shortlisted for many others, including the Waterstones Childrens' Book Prize in the UK, le Grand Prix de l'Imaginaire in France and Locus Magazine's Best First Novel Award in the US.
Website:  www.oisinmcgann.com
Facebook:  https://www.facebook.com/oisin.mcgann.writer?ref=hl 
Twitter:  @OisinMcGann