We are excited to present a wide variety of musical concerts and performances for your enjoyment at Dublin 2019! Our Second Stage is located in The Liffey B on Level 1 and our Cabaret Stage is located in Wicklow Hall 2 on Level 2 of the Convention Centre Dublin. Additionally, we will be utilizing Warehouse 2, at Point Square, for several concerts.  We are still working on the schedule, but we offer here a preview of several of the events.
We will also be presenting an orchestral concert with the Dublin Worldcon Orchestra on Friday evening – for more information, please visit our Auditorium page.
The Library Bards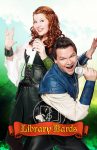 The Library Bards are a nerd parody band consisting of Bonnie Gordon (ABC's The Quest; Cartoon Network; Street Fighter V; Mega Man 11; Geek & Sundry) and Xander Jeanneret (TBS' King of the Nerds; Announcer in Divekick, Sagas of Sundry; etc.). They take Top 40 hits and transform them into the nerdy versions they should have been in the first place! With their catchy tunes and nerdy lyrics, the @LibraryBards will be bringing you into the #BardLife in no time!
The Library Bards will perform twice at Dublin 2019.
The Doubleclicks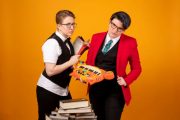 The Doubleclicks are a folk-pop sibling duo, featuring clever lyrics about dinosaurs, literature, love and the Internet—with a cello, guitar, and meowing kitten keyboard. Their latest CD "Love Problems" debuted at number one on the Billboard comedy albums chart, and they've toured the world, at conventions, comedy festivals and more. Their songs and YouTube videos have been viewed over 4 million times and are frequently featured on BoingBoing, Kotaku, the Huffington Post, and on NPR shows "Live Wire" "All Things Acoustic" and "State of Wonder."
The Doubleclicks will perform twice at Dublin 2019.
Additional links:
Instagram, Twitter, Facebook: @thedoubleclicks
Canticles Productions
Canticles Productions brings Alexander James Adams at his best with High-Fantasy Storytelling Through Music.  If you love Literature, Art, Music, and Media in fantastical worlds never seen before, then Canticles is for you.  Find us on Patreon to support our amazing family of independent creators, or YouTube, where we will be posting our entire set list so you can sing along with us in a multimedia concert experience in Dublin!
Canticles will be performed twice at Dublin 2019. The full multimedia performance will be held in the Second Stage, and an acoustic concert will be held in Warehouse 2.
Another Castle
Another Castle is the geekiest women's choir in Helsinki, Finland. With the help of some Nordic magics we summon geeky melodies from movies, TV-series and games. In August we'll mount our dragons and fly to Ireland to perform at Worldcon 77! Let us take you on a wondrous musical journey through all your favourite fantasy worlds.
Another Castle will be performing on Saturday afternoon in Warehouse 2.
Additional links:
John McDaid
John G. McDaid is a science fiction writer, folk/filk singer-songwriter, and freelance journalist from Rhode Island. A 1993 Clarion grad, he sold his first short story, the Sturgeon Award-winning "Jigoku no mokushiroku" to Asimov's in 1995. Since retiring in 2016 from a career in corporate communications, he's been writing full time and playing at venues around the Northeast US. In 2017, his songs won both the topical and "Iron Filker" contests at the Ohio Valley Filk Fest. Fiction and music are online at harddeadlines.com and he's currently working on a WWII alternate history novel and an album of original songs.
Kerri-Ellen Kelly
Kerri-Ellen Kelly is the manager of (and singer in) vocal ensemble Court & Country (which has sung at midwest SF and filk conventions as well as Chicon, OVFF, FKO and Confluence). She is also a solo musician in her own right. In addition to singing as a mezzo soprano, she plays or is learning to play multiple instruments including horn, trombone, soprano recorder, bagpipes, baritone ukulele, guitar, violin and mandolin (at widely varying levels of competency). Her love of both research and early music have caused her to include numerous medieval and renaissance songs in her repertoire with a particular fondness for bawdy Elizabethan ballads (especially in her historical persona as Lady Margrett Norwoode). However, she also loves more modern music and filk tunes and writes her own original music. One of her original pieces was the third place winner in the 2017 Iron Filker contest at OVFF. Her name is a tongue twister waiting to happen; feel free to call her Kerri 🙂
Kerri-Ellen Kelly will be performing twice at Dublin 2019 in Warehouse 2.