Welcome to another installment of Touring Tuesdays!
By James Shields
On touring Tuesdays we'll try to bring you to all the famous sites of Ireland, but today I thought I'd go off the beaten track and give you an example of one of the many hidden sites that can be found around the country.
It started with a visit to my sister, who lives in County Leitrim, in the midlands of Ireland. From her house, we took a walk to a site near her, which was supposed to be developed into a golf course, but was never finished, and now makes a nice place for people to walk their dogs. Our dog, Leia, came with us.
While on our walk we noticed an old house across the river, and decided to see if we could get to it. This proved to be an adventure in itself. There was a bridge across the river, but from there we had to find our way through a dense bramblewood, over a rickety gate, and through some barbed wire.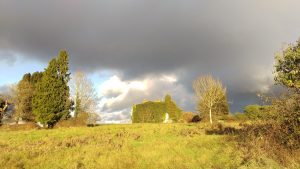 Once there, we could get right up to the house, and it was clear it had been abandoned for quite some time. It was also clear that it had once been quite a grand place. We had a quick look inside the house, but the roof and wooden floors had all collapsed long ago. The brickwork was in reasonably good condition, a local reddish quartz sandstone. A couple of the basement rooms had fantastic vaulted brick ceilings that were still holding up, though we didn't fancy hanging about too long to test their stability.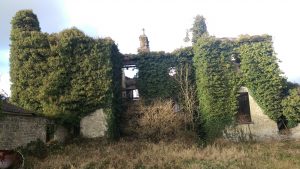 Next, we had a look around the back and found an amazing courtyard and stables, again with some beautiful brick and stonework. It was easy to imagine it as a hive of activity, with horses, carriages and hunting hounds. At its height, it must have taken a substantial staff to run the house.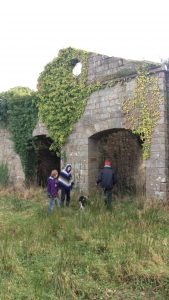 We continued our exploration, and found some beautiful arches, which we speculated might have been a chicken coop, although they seem a bit fancy for that. Next to these was the entrance to the walled garden. Although there's nothing but overgrown grass now, in its day, laid out as an ornate garden, it must have been spectacular. Set into the walls were arched alcoves that I expect once held marble busts. We speculated that the nobility had once tried to rekindle the worship of old Roman gods. "Romans were into that sort of thing."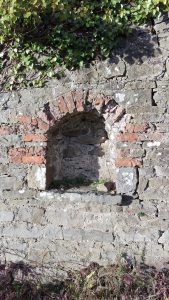 Apparently the walled garden had one resident – a hare, who scarpered when we got too close, and got Leia very excited.
When we got home we decided to do a little research, and found the house was built by the Crofton family between 1771 and 1798, and lived in until 1931, when it was bought by the land commission and left empty, which seems a shame.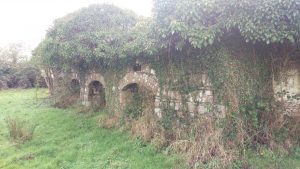 One of the things I love about Ireland is how many fantastic places three are like this, that you can just walk up to and explore.