We are delighted, proud and grateful today to have received a letter from Michael D. Higgins, President of Ireland. As Dublin 2019 becomes the next Worldcon, President Higgins has sent a very special welcome to the convention and to all of its members.
"Ireland is a land which celebrates stories and imagination, and our Irish heritage has always been imaginatively interwoven with new cultures and new traditions," he says. "This is aptly reflected in our deep appreciation and appetite for speculative fiction."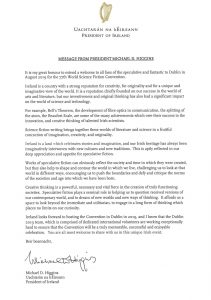 President Higgins goes on to say that "speculative fiction plays a seminal role in helping us to question received versions of the contemporary world, and to dream of new worlds and new ways of thinking. It affords us a licence to look beyond the immediate and utilitarian, to engage in a long form of thinking which places no limits on our curiosity." Long-time fans of science fiction, and regular attendees at Worldcon, will need little persuasion about speculative fiction, but we are moved by this understanding and recognition from Ireland's head of state of the value of the things we love. We hope that this, together with our own passion for what we are all doing, will help to bring in new fans and new participants to join us at Worldcon in 2019.
Readers of this blog will be well aware of the rich heritage of stories and culture that Ireland has shared with the world, but President Higgins also highlights the scientific advances and achievements that owe their success to Ireland and Irish scientists, from the Beaufort Scale to the splitting of the atom. Imagination, science fiction and science together: Dublin 2019 will be a fitting home for Worldcon next year, and we look forward to welcoming you all. Today, our Chair, James Bacon, has given some glimpses of what to expect. Follow our blog to find out more, and sign up for membership today!