Are you attending the Dublin 2019 Worldcon? Are you interested in being on programming? If so, this is the blog post you need to read.
To be considered for programming, you must submit the Programme Participant Query Form no later than 6 March 2019. Filling in the form allows us to email your Programme Survey to you, which is required for consideration on panels and programming. No person shall be considered for programming without first submitting this form due to the European Union's data privacy regulations.
Your Programme Survey is due by Friday, 15 March 2019. The Programme Survey allows us to actually place you on programme items. Without your survey, our staff is not likely to know what topics and items would be a good fit for you, which would either result in your not being placed on programme or your being placed on poorly chosen programme items. Therefore, adding key terms in the tags section as well as other interesting notes about your experience and/or programme idea suggestions will help influence our decision on whether or not to put you on programming. Only including your bio is usually not enough information for us to make informed decisions for such a complex and competitive programming process.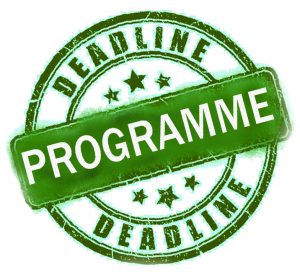 After we receive your Programme Survey, we will be sending your Availability Survey, which is due by Saturday, 23, March 2019. The Availability Survey will allow us to schedule your items on days and times that you are planning to be at Dublin 2019.  Please note that we need people who are available in the morning and evening hours, and the more reduced your availability, the less likely that we will be able to find a program item for you, even if we have accepted you onto programme.  Similarly, and unlike North American Worldcons, there will be a great deal of interest on Thursday and Monday, and we need people who are available on both of those days.
To help us meet these upcoming deadlines, we will be emailing a series of reminders to everyone who has requested to be on programming. Email messages sent from the Dublin 2019 Programme Team come from the sender "Programme" and the email address programme@dublin2019.com or from one of our @dublin2019.com email accounts. If you have not heard from us, please check your spam folders and/or contact us at programme@dublin2019.com with any questions.
Please note that we have already begun sending out programme acceptances, and we will begin declining programme requests in March. Everyone should receive an answer to their programme participant request by the end of May.
Thank you so much! We look forward to seeing you in Dublin.