We're coming closer to the conclusion of Rob Hansen's adaptation of Then, which retells the story of Irish fandom. This week, it's new faces and the first Loncon in 1957, the first Worldcon held outside North America.
6. New Blood
The December 1954 issue of HYPHEN, the twelfth, was particularly notable for the announcement it carried on the inside front cover:
"With this issue we introduce you properly to the two new members of the HYPHEN
staff, Arthur Thomson and John Berry. Besides doing most of the cartoons and
headings in this issue, Arthur is also responsible for all the little filler
illos scattered all over the place (I suggest 'fillos' as a name for these things).
'ATom' lives in London (though, to be fair, his grandfather came from Northern Ireland)
and will be working hand over fist with Chuck. John Berry is the latest recruit to
Irish Fandom and has converted the Belfast Triangle into a sort of polygoon. Although
he's quite young (27) he has a wife, two children, and a moustache. He is a policeman
by trade, but you wouldn't think it by the way he behaves."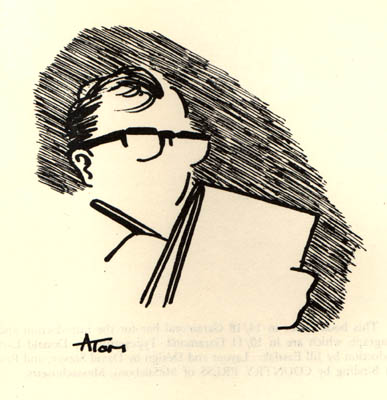 Self Portrait by ATom
ATom's first contact with fandom had come early in 1954 when he and a workmate who also read SF had learned of the Surrey Circle and gone along to one of their meetings in Sutton. This was held in a huge house in Wimbledon, one room of which contained nothing but trestle-tables piled high with fanzines and books. It was going through the fanzines one night while visiting that ATom came across a pile of HYPHENs. He borrowed them, liked them, and sent a subscription to Willis. Soon he was contributing cartoons and in no time had taken over from Bob Shaw as HYPHEN's cover artist. Willis put ATom in touch with Chuck Harris, the two of them forming a sort of London bureau to HYPHEN. ATom also soon became a regular contributor to the prozine NEBULA, his cartoons gracing many a back cover.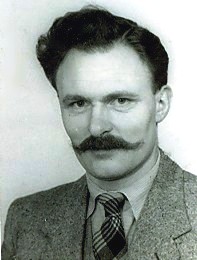 A very dapper John Berry
Where ATom was received with open arms by Irish Fandom, Berry was originally regarded with deep suspicion. Willis remembered Operation Shamrookie all too clearly and at first he wasn't at all sure about this expatriate Englishman who had apparently never made contact with fandom while living in Birmingham. In fact John Berry turned out to be as prolific a writer as Willis. Ironically, when Berry's writing first started to appear he was assumed by some to be a Willis hoax. Having learnt of HYPHEN through the prozine review columns Berry had, like ATom, sent off a subscription. In late August he accepted an invitation to Oblique House and Irish Fandom gained a new member. This gain was balanced by a loss when, in January 1956, Bob Shaw and wife Sadie emigrated to Canada. (They returned in 1958.)
In the late 1940s American fan Rick Sneary used the slogan 'South Gate in '58' in his fanzines, the joke being that Sneary's home town had only 30 000 or so residents, hardly the sort of population that could draw a Worldcon. By 1949 however, he had begun to take the idea seriously. With the British Worldcon being the one at which the bid would be presented he began to take it very seriously. Willis wrote to him that:
"The life of the South Gate tradition has coincided almost exactly with mine in
fandom and I think of it as one of the eternal verities."
Which was when Sneary made a proposal to Willis:
"One of our dreams is to bring you and Madeleine over for the convention. It is a
crazy fannish type idea, just as South Gate in '58 was, and yet one means almost
as much as the other."
Willis had long contributed as much, if not more, of his output to US fandom as to UK fandom and was the most prominent fan of his day on both sides of the Atlantic, so the offer was perhaps not too surprising. Willis accepted and the campaign to bring the Willises to South Gate was announced by Sneary in mid-1957. Sadly, this got caught up in and derailed by a feud over TAFF that erupted shortly afterwards, but the idea would of bringing both Willises to America would return.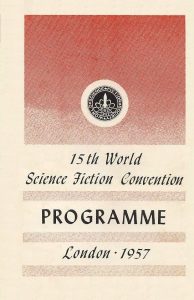 Programme Book from the 1957 World SF Convention and first Loncon!
The 1957 World SF Convention, the first outside North America, was held at the King's Court Hotel, in London's Bayswater area, over the weekend of Friday 6th – Monday 9th September. It did not officially start until Friday, but many fans turned up the day before for a gathering in the Globe pub that evening.
The Willises had flown from Belfast to Liverpool in a war-surplus DC3 'Dakota' fitted out for passengers then taken the train, whereas James White was booked on a direct flight to London in a modern Viscount. Needless to say, his was the flight that was
delayed by mechanical problems. Eventually, the plane did take off and he got to the con several hours after Walt & Madeleine. Bob & Sadie Shaw having recently moved to Canada didn't attend the con but George Charters did, booking into a hotel 3 miles away so that he could be sure of getting his sleep. Both White and Willis wrote long reports on the convention, Willis spreading his across three different fanzines.
(In-depth coverage of LONCON, based on the reports written by Willis and James White,
with a *lot* of photos, can be found here)
The special fund set up for that purpose having succeeded, John Berry set off for America on 25th August 1959. Like Willis, Berry had done a lot of writing for US fanzines and quickly built up a following in America. After many adventures he returned to Belfast on 17th September. His epic trip report, THE GOON GOES WEST (some 20 000 words of which was been written during a hectic four-day stay in New York), was first published serially in US fanzine CRY and later as a separate volume.
– Rob Hansen
'Then' on the Dublin 2019 Blog:
Prologue
Part 1 Belfast Rising
Part 2 Going International
Part 3 Hoaxes and Cons
Part 4 Transatlantic Travels
Part 5 Loosening Up
Rob Hansen's Then (A work always in progress) at Ansible.