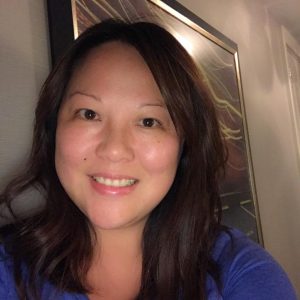 Julia Vee is a member of the Programme blog team. She writes about love, monsters, and space. Julia is a graduate of Viable Paradise.
One of the many benefits about being a volunteer for Dublin 2019 – An Irish Worldcon is that I get to learn about Ireland, a place that I know virtually nothing about. As one who is new to Irish culture, I found myself wondering where to start. So, naturally, I turned to the Irish locals on our team.
During the Programme team's brainstorming discussion about titles, this one caught my attention: "Harping On About Programme."  Clearly, there was a significant double meaning at play, and I was clueless about the significance of the harp. Aha! The perfect topic to explore!
My Google-fu unearthed a treasure trove of history and images in which I learned that the Irish harp (cláirseach) is not only the Dublin 2019 logo, but it is also the official emblem of Ireland. Not just any harp either, but this one, the Brian Boru Harp, which dates back to possibly the fourteenth century, and is now located at Trinity College in Dublin. Fittingly, Brian Boru is celebrated as a patron of the arts and Dublin 2019 is bringing the speculative arts to Ireland, hosting the next Worldcon where makers and artists from around the globe come together to celebrate and share all that the arts has to offer.
For me as a Californian, discovering the magic and mythology behind the Harp and it's intrinsic connection to Dublin 2019 and fandom is terribly romantic. It is through these multiple layers, connecting art, literature, and fandom where the real magic of Dublin 2019 happens.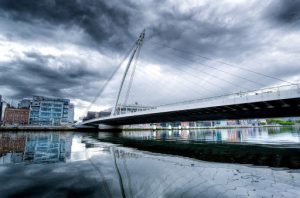 Perhaps my favorite Google-fu discovery was this photo of the Samuel Beckett Bridge in Dublin, located just beyond the Convention Center Dublin. It's moody and modern, but still evokes the traditional harp features, if not throwing in a little bit of futuristic flare that (again) is yet another connection to the themes and flavor of next year's Worldcon.
While musical and evocative in nature, "harp" carries with it other meanings as well. I could continue harping on about the Brian Boru Harp and the Samuel Beckett Bridge, or I could harp on about the Dublin 2019 programme and introduce you to a few of the programme participants who I am looking forward to meeting! So, let's harp on about Worldcon.
Programme Guests at Worldcon Dublin
Though it may seem early to some, the Dublin 2019 Programme team has already shared a short list of early confirmed programme participants who are joining us in Dublin. I was delighted to find many of my favorites included on the early confirmed list of Programme participants.
FONDA LEE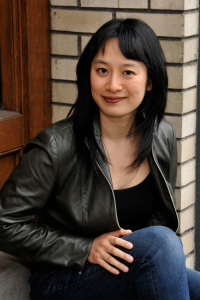 Bio: Fonda Lee is the author of Jade City (Orbit), the first book in the Green Bone Saga, which was a finalist for the Nebula, Locus, and World Fantasy Awards, and named a Best Book of 2017 by NPR, Barnes & Noble, Powell's Books, and Syfy Wire, among others. Her young adult science fiction novels Zeroboxer (Flux), Exo and Cross Fire (Scholastic) have garnered numerous accolades including being Junior Library Guild Selections, Andre Norton Award finalists, and Oregon Book Award finalists. Fonda is a recovering corporate strategist, black belt martial artist, Eggs Benedict
I really enjoyed the two panels I attended at Worldcon76 in San Jose that featured Fonda Lee as a moderator/panelist.  Her knowledge of martial arts (she holds black belts in Karate and Kungfu) coupled with her writing expertise riveted the attendees at the panel. It was pretty much standing room only for that topic of Writing About Fighting.
Additionally at Worldcon 76, Fonda was on the panel on YA literature, along with the very fun Gail Carriger (steampunk Soulless series) and new to me Scott Sigler (Galactic Football League). Though I had discovered Fonda Lee through Jade City (because who can resist an Asian inspired gangster fantasy with kungfu?), turns out she cut her teeth on a YA series about martial arts fighting in zero gravity. At this panel, I loved hearing about how librarians gave feedback to these authors, the concept of the "reluctant reader" and things that helped me tremendously as a parent of one such "reluctant reader."
Q. How many World Cons have you attended?
A. Four
Q. Where was the first one?
A. Spokane.
Q. You're confirmed for Dublin. Are you planning to do any sight seeing before or after the con? Anything in particular?
A. Yes, I'm planning a family vacation in Ireland. I'm hoping to spend some time exploring Dublin, and definitely want to make some trips out to see the Cliffs of Moher and some castles.
Q. What was your favorite fan encounter at San Jose?
A. I moderated a panel with Peter S. Beagle. That was pretty awesome.
Q. Food(s) you're going to try in Dublin?
A. Some Irish stew and soda bread would make me very happy.
Q. When I was sitting in on a panel, an author gave an inside scoop that hadn't been announced yet. That was pretty exciting. Do you think you'll be able to do something similar at Dublin?
A. I'm not sure I'll have any inside scoops, but I'll have a new book to celebrate, as Jade War will be released that summer.
Q. When you signed a copy of Jade City for me, I was super impressed when you whipped out a green pen. Do you have certain pens you love? Do you ever draft longhand?
A. Oh hell, no. I'm very fond of my gel roller signing pens, but I'd never draft longhand; it would take me 5 years to get through a single draft, and that would make my publishers and readers quite unhappy.
JOHN CHU

Bio: John Chu is a microprocessor architect by day, a writer, translator, and podcast narrator by night. His fiction has appeared or is forthcoming at Boston Review, Uncanny, Asimov's Science Fiction, Clarkesworld, and Tor.com among other venues. His translations have been published at Clarkesworld, The Big Book of SF and other venues. His story "The Water That Falls on You from Nowhere" won the 2014 Hugo Award for Best Short Story.
I was fortunate enough to have a lively lecture from John Chu at Viable Paradise last year.  I don't know what I expected from this Hugo award winner, but he blew my expectations away. John Chu is an avid enthusiast of improv and his talk on how a writer can "steal shamelessly" from the improv book gave me strong tools to tune up my writing. If you've ever done any improv before, then you probably already know the first rule of improv: "YES and…"
This first rule is a great guide for flash fiction, and also I find that it helps your protagonist make the more interesting choice.
John expanded beyond that one well-known rule to also add:
Don't subtract from the information already given;

Scenes should be implicitly dramatic

Do not include pointless mystery

Play to the top of your intelligence (trust your reader)
I especially loved the "do not include pointless mystery" as it forces the writer to ask, "is this part necessary? Does it drive the plot forward?" John and I corresponded about Worldcons in general and Worldcon Dublin in particular:
Q. How many World Cons have you attended?
A. I've been to four (not including Dublin).

Q. Where was the first one?
A. 2012 in Chicago.

Q. You're confirmed for Dublin.  Are you planning to do any sight seeing before or after the con? Anything in particular?
A. I haven't had a chance to plan the trip yet. Sight-seeing would be great if I turn out to have the vacation days to spare. We'll see what happens.

Q. Writers are fans first. Did you have a favorite author encounter at any other Worldcons? Who?
A. My author encounters at Worldcons have pretty much all involved me melting down and stammering incoherently at them. If I'm lucky, none of those authors remember this.

Q. I'm really excited to see Charlaine Harris and Fonda Lee on this list for Dublin. Any big fan fave of yours on this list?
A. Honestly, there are so many amazing people on that list. I'm especially thrilled to see that Sofia Samatar will be there, though. Her work is amazing and I don't know that she attends many cons.

Q. Food(s) you're going to try in Dublin?
A. Food is how I learn about an area. Last year, basically, if it was Finnish, I probably tried it. I'll probably do the same in Dublin. (Again, though, I haven't had a chance to do the research.)

Q. Do you ever wear a costume to cons? What would it be if you did?
A. I'm in awe of cosplayers. Their work is always so jaw-dropping. That said, it's not something I've ever done. Put me in a mesh tank top and cargo pants, though, and I'm probably engaging in Accidental Warboy Cosplay.

Q. I really enjoyed your lecture during Viable Paradise and improv. Will you be doing something similar for your Dublin panel?
A. I'm glad you liked the lecture. It's stlll very much a Work In Progress. I'm always futzing with it. I'm open to lots of possibilities for Dublin and haven't settled on anything yet.
========================================================================
Interested in participating in the Worldcon Dublin Programme? Don't hesitate! Submit a panel proposal now.