We've got a new author and a new feature on the blog. Lynn O'Reilly is going to be taking us on a tour of Dublin with her Nerdy Dublin guides. As time goes on, we're also going to be adding all the sites, images and links that she and our other authors create – how exciting!
NERDY DUBLIN, A TOURISTS GUIDE: PART 1
So, you've come to visit Dublin, but aren't able to attend any of our book, comic, anime or gaming conventions. Or maybe you ARE attending a convention, but want to extend the fun beyond the convention itself. You're in need of a directory of all the comic book stores and hangouts in the city… Well, we've got you covered! In this series of blog posts, we'll show you some noteworthy places in Dublin City Centre's nerd scene. This week, we're going to look for…
PLACES THAT SELL COMICS, GRAPHIC NOVELS AND BOOKS

If  you're looking for a place that specializes purely in comic books, Sub City Comics is the place for you. It's located on Dame Street, which is down the road from Trinity College and nearby Temple Bar, if you're planning on hitting some tourist spots on the same day! If you have enough wiggle room in your schedule to choose what day you visit the shop, it might be good to note that they get new imports from the US of A every Wednesday.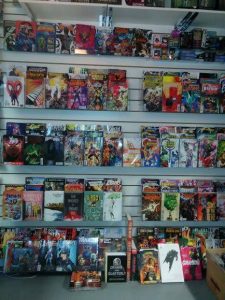 The staff are friendly and knowledgeable, so if you're in a hurry and can't find what you're looking for (like me when I walk in on my lunch break!) they'll be able to help you. If you still haven't gotten your fill and want a another similar shop, Dublin City Comics is another option, located on Bolton Street. For those staying outside of the city centre, there's also Big Bang Comics in Dundrum, who've recently gotten a massive (and awesome) makeover.
On the other hand, if your holiday is short and you need to get all your bits and bobs in one fell swoop, you may consider going to Forbidden Planet. It's a large shop located on Crampton Quay, which as a tourist you can find easily enough due to it's proximity to the Merchant's Arch end of the Ha'penny Bridge. On the upper level, you'll find a large selection of comics, which are stocked up every Wednesday – the shop's New Comic Book Day:
Doesn't need mentioned but hey.. It's #NewComicBookDay – with 9000 new issues ones out so prepare your bank account pic.twitter.com/YcVepxFcyp

— ForbiddenPlanet Éire (@FPDublin) October 7, 2015
But what if you have enough Marvel comics (is that even possible?) and want to bring back something you wouldn't find at home? Wander downstairs and you'll find comics made by Irish writers and artists, such as Hound , created by Paul Bolger. There's even some comics written in the Irish language, such as An Sclábhaí ("the slave"), with artwork by Tomm Moore (director at Cartoon Saloon). But we'd give you a warning for your wallet's sake – when you walk into this shop, you may or may not get distracted by all the shiney and fluffy merchandise (we'll discuss all these wonderful things in another installment).
Other Irish comic names you should look for while you're visiting these comic books shops include Maura McHugh, Will Sliney, Michael Carroll and Jordie Bellaire (An American artist who resides here on the Emerald Isle). If you want to delve more into Irish comic names, check out Irish Comics Wikia.
If comics aren't your forte, head downstairs, where you'll find more reading material: shelves upon shelves of manga (which, as far as I know as of the writing of this article, often have a deal on them), plus a nice chunk of fantasy & scifi books. And of course a sale bin for all of the above! If you're a film-and-animation nerd, like myself, you'll be coveting the artbooks and magazines. Just leave me on this floor whispering "so pretty…!" for a few minutes (or hours).
For a wider spectrum of reading material, head to shops like Hodges & Figgs on Dawson Street, or Chapters on Parnell Street; they are Dublin's book-heaven! Beyond the usual bookshop stock, which is wonderfully large enough as it is (let's be honest, you'll probably find me buried in the fantasy and sci-fi shelves, breathing in the new book smell), these shops have sections dedicated to graphic novels, manga, and some comics thrown in for good measure. On one of the upper floors of Hodges & Figgs, or the back of Chapters, you'll find a large range of books on art, film, photography, and other media. Are you a student? Don't forget to bring along your student ID and Chapters will give you a discount! (In fact, do as I do and bring your student card EVERYWHERE and always ask if they can give you a discount). If you're looking for something a little more Irish, they have sections dedicated to Irish literature and authors.
If you're looking for smaller, independent bookshop experiences, try places like Books Upstairs (with an entire ground floor dedicated to Irish literature, and with a quiet little cafe on the top floor); Gutterbookshop (who run events regularly, and are conveniently placed in Temple Bar); and The Winding Stair (which has the combined superpowers of a bookshop, cafe and a highly rated restaurant).
Thanks to the recent popularity of superhero films, you can also find comic books and graphic novels in Ireland's bookshop chain, Easons – though this is mainly in their flagship branches such as on O'Connell Street. Be prepared to only find those comics that HAVE been made into films, such as Suicide Squad, The Avengers and Deadpool. If you're looking for novels and the like, though, there's plenty of branches of this shop all over the city. Maybe not one of every corner like Starbucks, but still, plenty!
HAVE YOUR SAY!
If you've been to Dublin before, what's your favourite comic/book shop place to visit? If you're a Dubliner yourself, got any tips on finding the best deal? If you have any additional recommendations, let us know!