Dublin is a fabulous city to explore. Just about everything is a walk or a tram ride away and some museums are free.
How this page is organized
This page is designed to make it as easy as possible to get from the Convention Centre Dublin area to the interesting spots in Dublin. We're using the various hotel maps to help orient you. So if you get lost, and suddenly realize that you're across the street from Trinity City Hotel, this page will help you find your way to nearby attractions.
If you haven't been to Dublin before, you could save money if you buy a detailed printed Dublin map before you leave for you trip and study it. While people attending Dublin 2019 will be staying all over town, these maps always use the CCD as a starting point.
Guides to Dublin
It is helpful to buy and download at least one tour book for your smartphone.
Places to go Within 2km of the CCD (North Quay/Docklands)
Have a few hours free during the con? Stop by any of these places that are within 2km (1.2 miles) of the Convention Centre Dublin, in the North Quay/Docklands area.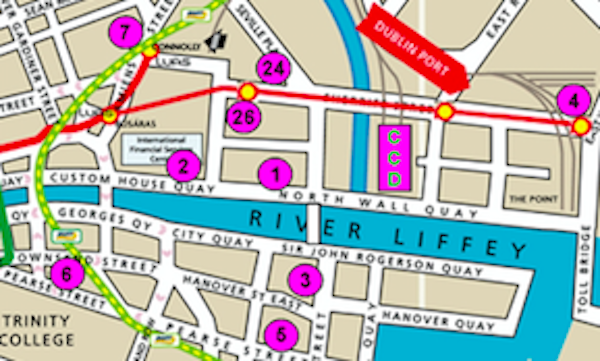 The map numbers correspond to the accommodations closest to the Convention Centre Dublin; you can use the hotel locations to help find other places to visit.
1. Spencer Hotel
2. Hilton Garden Inn Custom House
3. Clayton Hotel Cardiff Lane
4. Gibson Hotel
5. Maldron Hotel Pearce Street
6. Trinity City Hotel
7. North Star Hotel
24. ISFC Apartments
26. NCI College dorm
EPIC, The Irish Emmigration Museum CHQ, Custom House Quay, Dublin 1, just past the Hilton Garden Inn (#2), a 7 minute walk along R801 (adjacent to the River Liffey)
Trinity College, College Green, Dublin 2, is less than 2 km away south of the River Liffey. Take the Sean O'Casey Footbridge and walk down R814, take a right on R815 and you can't miss the campus green. If you get lost and run into Trinity City Hotel (6), you're very close. Be sure to visit the Book of Kells and the Long Room at the Old Library. The Trinity College Zoological Museum is due to reopen this spring. Science Gallery, The Naughton Institute, Pearse St has science-related exhibits.
You can go to Trinity College on the LUAS Red Line. Travel westward to the Abbey stop, walk about 1 minute north to the Marlborough stop on the Green Line, then travel one stop south to the Trinity stop. This stop leaves on you the northwest corner of the campus, between the Westin Dublin and the Irish Whiskey Museum.
Irish Whiskey Museum. 119 Grafton St., Dublin 2. A variety of tours and whiskey tasting experiences. Tours run daily from 10:30am-5:30pm, Brunch on Friday, Saturday & Sunday at 10am. The Whiskey Museum is across from the northwest entrance to Trinity College, just south of the Westin Dublin and just a few blocks from the Trinity LUAS Green Line stop.
Places to go Between Trinity College and St. Stephens' Green (2km-3km away)
Just south of Trinity College, you'll find a cluster of museums.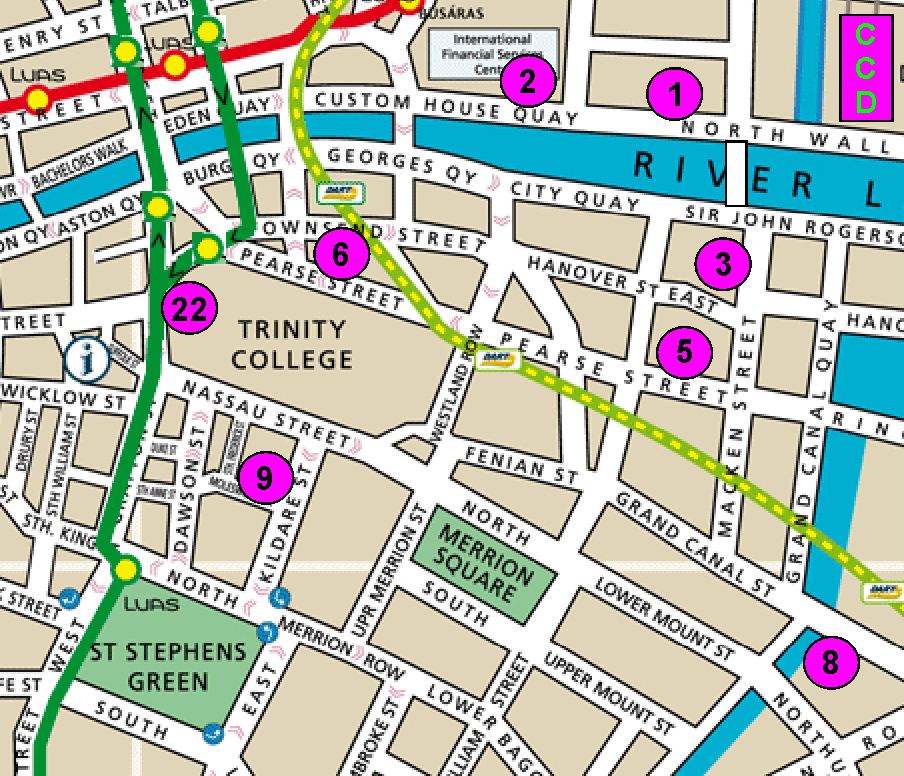 The hotels between Trinity College and St. Stephens Green are:
9. Buswells
22. Trinity College Student Rooms
To get to the Trinity College/St. Stephens Green area:
It's about 1.4km (.9 mile) to the museum area. Walk across the Samuel Beckett footbridge, go west along the Liffey until you get to R814, take a left just before the Irish Seaman's National Memorial & stay straight after R814 becomes R138, and stay on it as it turns right after Kennedy's Pub and Station. It turns right again after Lincoln's Inn. You'll see the National Gallery in front of you and other museums nearby.
By LUAS Red Line, travel westward to the Abbey stop, walk about 1 minute north to the Marlborough stop on the Green Line, then travel two stops south to the Dawson St. stop.
Places to go in the Christchurch Area (2km-3km away)
15 Jurys Inn – Christchurch
16 Radisson Blu Royal
21 Staycity Apartments – Christchurch
To get to the Dublin Castle/Christ Church Cathedral area:
Walk 2.3km (1.4 mile), go west along the Liffey until you get to 5th Gt George St. (or Grattan Bridge if you walk along the north side of the river), take a left & once you cross Dame St., you'll see Dublin Castle
By bus, take a 21 minute trip on the 77A, 15A or 56A from in front of the CCD
By LUAS Red Line, go to Four Courts and cross the Liffey.
Stop back as we add more information on places to go and things to do all around Dublin. Stop back to get information about the Guinness Brewery, Jameson Distillery, Writers Museum and much more!
Here's the beginning of information about restaurants in Dublin and guides to Ireland.
Restaurants and Pubs
Dublin has a great variety of restaurants.
Here are some restaurants/pubs Dublin2019 members have visited and recommend.
J. W. Sweetman, 1-2 Burgh Quay, Dublin 2, a great traditional pub and restaurant, on the south side of the O'Connell Bridge, just 1.3 km (about a mile) from the CCD
Guides to Ireland
Tours
Con-Tours 2019 Ireland Tour, led by Ron & Val Ontell, visit Derry, some Game of Thrones sites, Castle Bunratty, Cliffs of Moher, Limerick, Cork, Waterford & more, runs August 2-13
Hillwalk Tours If you want to hike a little (about 6-8 miles a day), have someone else to deal with your luggage, and stay in cozy B&Bs along the way, Hillwalk Tours is the way to go.
Touring Tuesdays
Irish fans have written a number of blog posts describing great places in Ireland to visit in our Touring Tuesdays series. Browse through the entries and see what excites you! We've created a map available that pinpoints the locations of the Touring Tuesday stops, so you can get an idea of what is nearby where you would like to visit!
Of Smart Phones and Maps…
As a note of caution, if you're used to using smart phone maps whenever you travel, you could potentially incur significant international roaming charges if you're using phone maps abroad for a couple of weeks. Plan ahead to either be covered by an international data plan, keep your phone in airplane mode except when you absolutely need it, or go old school with paper maps!