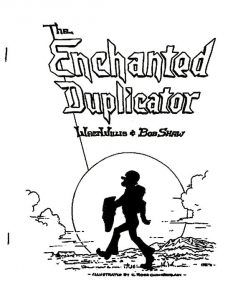 Welcome to Irish Fiction Friday. This week we feature The Enchanted Duplicator by Walter Willis and Bob Shaw. This is somewhat of a sequel to last week's entry on Walter Willis' fanzine Slant. The Enchanted Duplicator or TED as it's often referred to, is the story of Jophan and his journey to the heart of Fandom. The story has been described as "part of the subsoil of fannish history" – both for the story itself and its subject matter.
For your reading pleasure, here is a link to TED, with a wonderful introduction. Taral Wayne's site provides a wonderful Preface  with extensive commentary on the history of TED as well as a link to notes on obscure references that was produced by Ted White when he serialized The Enchanted Duplicator in Amazing Science Fiction in 1972. The Wayne site also provides links to several illustrated editions of TED.
In addition, because Convention season is now fully upon us, here is a link to the sequel, Beyond the Enchanted Duplicator… To the Enchanted Convention, written in 1991 by Walt Willis and James White and illustrated by Stu Shiffman.