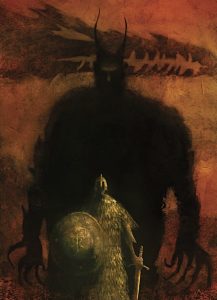 Welcome to another edition of Irish Fiction Fridays! Today we have something a little different for you. Please enjoy Seamus Heaney reading the classic Beowulf.
Heaney was born near Castledawson and Toomebridge, Northern Ireland on April 13, 1939. He was an Irish poet, playwright, and translator and received the Nobel Prize in Literature in 1995. He died on August 30, 2013.
Beowulf is an Old English epic poem – there are warriors, trolls, and dragons! If you want to know more about the poem, check out the Wikipedia entry or talk to your friendly neighborhood English major!