It's an extra special Irish St Patrick's Day Fiction Friday!!!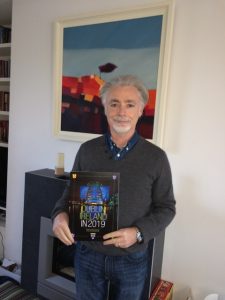 It's St Patrick's Day on the 17th, although many of you will be celebrating this weekend. (psttt…send us your green photos!) so we have a REALLY special IFF for you this week. Eoin Colfer is one of Ireland's greatest talent, the current Children's Laureate for Ireland, and one of Dublin 2019's Super Friends. He's supported us right from the start and we're proud to count him amongst us. This week's piece is an extract from his Doctor Who short story, A Big Hand for the Doctor. We asked him to send us a few words about this, and he immediately replied:
"I have been a sci-fi fan since the days of Quatermass and Space 1999. UK science fiction was a huge influence on me and my journey to write in the genre and so to be asked to write the opening piece for a Dr Who project was an honour I couldn't even think of turning down. I know that many of my Irish peers feel the same fondness that I do for 70's science fiction. We grew up on The Tomorrow People and UFO, and these shows and their accompanying books are in no small part responsible for the unprecedented success of Irish authors in the field today"
Here at Dublin 2019, we're proud of ALL of our supporters, but we're especially proud that we can support Irish SF/F/H authors through both the Bid to host a Worldcon in Dublin 2019, and through IFF itself.
You can see Eoin discussing A Big Hand for the Doctor here
More about the Children's Laureate in Ireland.
And finally, find out what Dublin is doing for its own St Patrick's Day festivities here