It's been a busy week for the Dublin 2019 Worldcon Bid! We've been working on some special blog entries, taking delivery of our Outreach books, writing thank-you letters and working hard on our plans for Sasquan. We're also starting to correspond with authors and other writers about two new blog series. The first part of Rob Hansen's Then went up yesterday, and we've got another series of short interviews with authors and supporters of the Bid planned which we'll be starting from next week and we are really looking forward to showing you!
However, on to this week's Irish Fiction Friday. It's taken a while, but we're finally featuring W.B. Yeats, arguably one of Ireland's greatest poets. It was the anniversary of his birth this week (13th June 1865) He was a hugely prolific writer during his lifetime, and 'An Irish Airman Foresees his Death' is a stand out example of First World War poetry. However, it's Yeats' love of myth, folklore and fantasy that we want to showcase today, and bring you 'The Stolen Child'.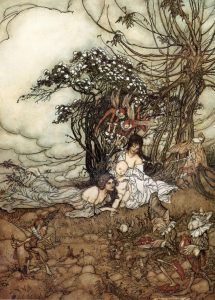 This online printing of the poem comes from Yeats' edited collection 'Fairy and Folk Tales of the Irish Peasantry', which we will no doubt return to for its wealth of fantastic poems about Irish myths and legends.Yeats' introduction to the collection is here. Although The Stolen Child was written in 1886, and was first published in Irish Monthly, it was also published in several of Yeats' other works and is often considered a strong example of his early work. The illustration above comes from Arthur Rackham's drawings from the Irish Folk Tales collection, and the poem has also been set to music by Loreena McKennitt and The Waterboys.