Today's Irish Fiction Friday brings a little magic into your life with the critically acclaimed novel The Hounds of the Morrigan by Irish author Pat O'Shea. Taking 13 years to write, The Hounds of the Morrigan was "Hailed as a classic by reviewers, the book is still admired by new readers of all ages more than 20 years on" says The Guardian in her 2007 obituary. We are thrilled to highlight this amazing novel as part of Dublin2019's Irish Fiction Friday series. Enjoy!
Book Description: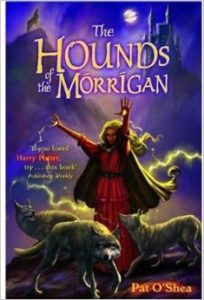 A wonderfully written fantasy set in the west of Ireland which tells of the coming of the Great Queen, the Morrigan, who is bent on bringing destruction to the world. Only Pidge and Bridget can stop her and their task seems impossible as they're constantly trailed by the queen's hounds. But they're aided in their quest by a host of willing helpers – a glorious array of unforgettable characters. The Hounds of the Morrigan is a remarkable book which was ten years in the writing and has resulted in something quite unlike anything written for children before.
Read the first 18 pages of The Hounds of the Morrigan by Pat O'Shea by clicking on this link to Amazon and then clicking on the image of the book.
~
Pat O'Shea (1931-2007) was born in Galway, the youngest of five children. She was educated at the Presentation National School and then at the Convent of Mercy Secondary School in Galway. She has always written and thought that to be a good writer a person should first of all be a good reader; and that development as a writer is greatly stimulated by the admiration and enjoyment felt for the work of other people. Pat O'Shea was awarded a British Arts Council Drama Bursary in 1967 and had four one-act plays produced by the Library Theatre Company in Manchester. With a group of other writers she worked on a comedy show for Granada Television called Flat Earth and has had a short story broadcast on BBC radio. (bio from Amazon)