Happy Irish Fiction Friday! Today we're going to turn our attention to the theatre and feature Samuel Beckett's Krapp's Last Tape.
Samuel Beckett was born in Foxrock, Ireland, on Good Friday, April 13, 1906 and died on December 22, 1989 in Paris, France. He was a playwright, novelist, poet, essayist, and theatre director. Beckett attended Dublin University, studying French, Italian, and English at Trinity College. After graduation, he secured a post as a lecturer at Ecole Normale Superieure in Paris, and it was there that he met and became friends with James Joyce. During WWII, Beckett joined the French Resistance. Beckett won the Nobel Prize for Literature in 1969.
Beckett's most famous work is arguably Waiting for Godot – most recently, and perhaps famously, staged with Sir Ian McKellan and Sir Patrick Stewart starring. While Beckett was good friends with Joyce, Krapp's Last Tape was Beckett's rejection of the Joycean principle that knowing more was a way to understand and control the world. Beckett instead focused on minimalist principles.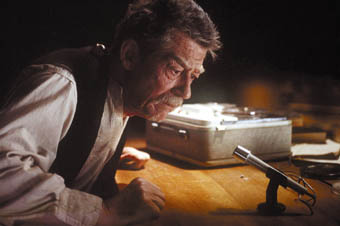 Krapp's Last Tape is a one act play that was originally written for Northern Irish actor Patrick Magee. Set in 'late evening in the future', the play involves a character in the future listening to a past recording of himself. You can read Krapp's Last Tape online. You can also see a version of the play staring the late John Hurt (who just passed away on January 25th of this year). There is a much shorter version of the play, starring Patrick Magee online as well.
If you want to learn more about Samuel Beckett, there are numerous sources online. The Samuel Beckett On-Line Resources can keep you entertained for hours!