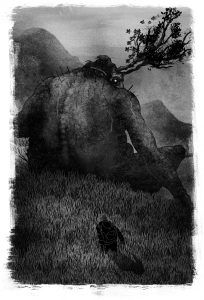 Welcome to this week's IFF. In case you didn't know, as part of the Dublin 2019 Worldcon bid, we are showcasing the best in Irish SFF talent, and each week we feature a free extract or piece of work for you to have fun reading during a tea break (as long as it's a good strong cup of Barry's, that is; and we're not even going near Irish Coffee yet). And if you did know that, what are you waiting for? Get reading and get supporting us! We're always looking for volunteers, support and yes, contributors to our Blog.
This week we bring you Matt Griffin, who scores a triple thumbs up from us by being Irish descent, published by Irish publishers O'Brien Press, and by featuring an Irish protagonist. His wonderful illustrations and writing combine in this fantasy YA tale; A Cage of Roots. Maith thú, a Mhatt!
To read the extract, follow the link and click on the 'Preview' tab of the menu in the middle of the page. You may initially see the book in very small print, but this can be enlarged by enabling a full screen version of the text. We really do recommend flicking through and looking at the stunning b/w ink drawings within, as well as enjoying the first chapter.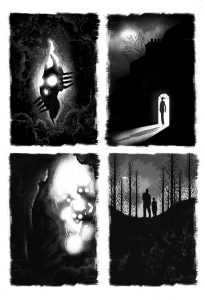 Matt's other work can be seen here on his portfolio, where you can see more of A Cage of Roots, and also check out his amazing artwork.