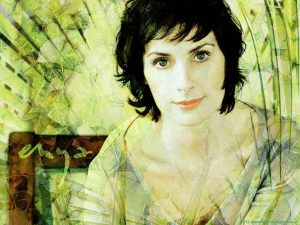 Sail away sail away sail away…  Enya is singer, songwriter and musician, all rolled into one, and her music has featured heavily in Fantasy film and television since she first joined Clannad in the 1980s and provided much of the vocals and music for the TV series  Robin of Sherwood (and we'd just like to interject here a little and point out that RoS is the BEST and ONLY adaptation of the Robin Hood tales worth watching – ever)*. However today on Irish Fiction Friday we'd like to showcase the two compositions she produced for Peter Jackson's The Fellowship of the Ring. The closing song, May it Be, was nominated for the Academy Award for Best Song in 2001, and Aragorn and Arwen's 'theme'; Aníron.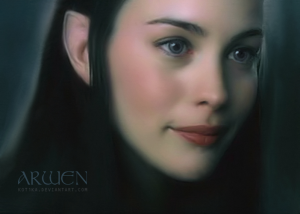 Sung in Sindarian, the lyrics are below:
E môr henion i dhu:
Ely siriar, êl síla
Ai! Aníron Undómiel
Tiro! El eria e môr
I 'lir en êl luitha 'uren
Ai! Aníron…
From darkness I understand the night:
dreams flow, a star shines
Ah! I desire Evenstar.
Look! A star rises out of the darkness
The song of the star enchants my heart
Ah! I desire…
May it Be also set the tone for subsequent end credits music for the LOTR films, and since then we've seen several more hits, most notably Ed Sheeran's I See Fire  and Neil Finn's Song of the Lonely Mountain**.
Enya's a fantastic addition to Irish Fiction Fridays, and isn't it nice to have some music, for a Friday afternoon! If we succeed in bringing Worldcon to Ireland in 2019, we're looking forwards to celebrating Irish Science Fiction and Fantasy music and musicians, alongside all of the other wonderfully creative SFF things Ireland has to offer.
*Esther admits to being totally biased here, since it was the series she was allowed to get down from the dinner table and watch after Sunday dinner, and is therefore BEST.
**And she's a bit of a Crowded House/Finn Brothers fan as well.