Make your choice, adventurous Stranger
Strike the bell and bide the danger
Or wonder, till it drives you mad
What would have followed if you had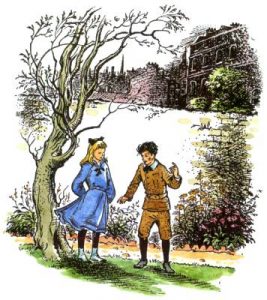 Hello! It's Irish Fiction Friday. C S Lewis is one of our most famous science fiction and fantasy authors, and we're delighted to feature him today. His books are well loved but often seen as controversial because of their religious content. However his Narnia books are still a popular children's series and have been the subject of many adaptations. Michael Horden's wonderful audio retelling of the books in 1981 was also accompanied by a soundtrack composed by Marisa Robles, and several of the books have also been made into books and films.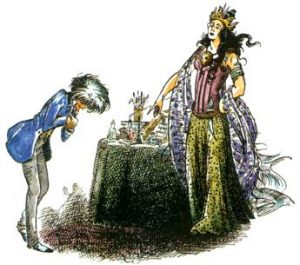 Narnia.com is a lovely resource that showcases the series, and the creators have added a series of samplers in both the e-book and Audiobook sections. Following in Horden's footsteps, each of the books is read by a famous actor who brings their own life to the story. Amongst these are Michael York, Derek Jacobi and Patrick Stewart, but today we though we'd start off at the very 'beginning' with Kenneth Branagh and The Magician's Nephew.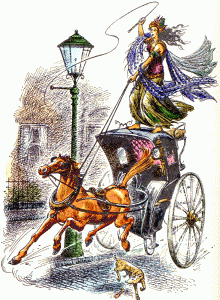 The Magician's Nephew is a prequel. Despite usually being packaged as the first in the series, it was published sixth in the series in 1952.  The Magician's Nephew is often avoided in television and film adaptations in favour of starting the series with the more cinematic The Lion, the Witch and the Wardrobe (the first books published), which also brings more cohesion to the series via the four Bastable children; Susan, Peter, Edmund and Lucy. The book was actually started immediately after the publication of The Lion, The Witch and the Wardrobe, but took five years to complete. It contains many science fictional elements as well as several major religious arguments, and the 'wood between the worlds' suggests that Narnia, Charn and Earth are simply three places within a multiverse. The book also introduces several elements of Narnia – it's creation by Aslan, the Witch (Jadis), the making of the magical Wardrobe, and an explanation of the lamp post where Lucy meets Mr Tumnus, which is initially brought to Narnia by Jadis.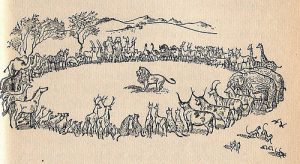 Read an excerpt here.
Listen to the first 16 minutes of the audiobook here
(all images are from the originals by Pauline Baynes).