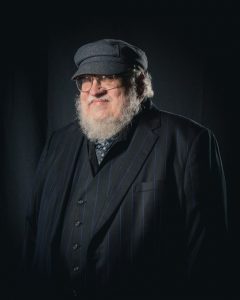 The Irish Film Institute (IFI) in Dublin has announced that international bestselling author George R.R. Martin will visit the IFI for a very special screening of Fred M Wilcox's seminal 1956 sci-fi classic Forbidden Planet in 35mm at 20:00 on Saturday, 17 August. This event is presented in association with Dublin 2019: An Irish WorldCon.
Screening in a splendid CinemaScope print, Forbidden Planet is one of the classic science fiction movies of the 1950s. A lavishly produced, completely studio-bound extravaganza, it features Leslie Nielsen in an early role, special effects that are still impressive, and the first musical score for a film created entirely electronically.
Following the screening, George R.R. Martin will be in conversation with Maura McHugh about Forbidden Planet and the influence such works have had on his own writing and career.
Tickets for this special event will only be available via the IFI's website, www.ifi.ie – further details in relation to the ticket release will be announced in due course. 
Nielsen plays Adams, the commander of a spaceship sent to the planet Altair-4 in the year 2000 AD to investigate the destruction of most of its inhabitants by some invisible, unstoppable monster. Adams and his crew find two human survivors, a saturnine philologist named Dr. Morbius (Walter Pidgeon) and his guileless daughter Altaira (Anne Francis). Living with them is Robby the Robot (for many the real star of the film), one of the legacies of the planet's technologically sophisticated previous inhabitants. Soon after Adams and his crew turn up the monster responsible for the deaths raises its head again.
The parallels with Shakespeare's The Tempest are immediately apparent: Morbius is Prospero, his daughter a Miranda who has never known men, Robby the Robot serves as the spirit Ariel, and the monster is Caliban the witch-child. What really distinguishes Forbidden Planet is its fascination with technology and artifice. A lot of money went into creating the giant set that represents Altair-4 as a surreal planet with a green sky, pink sand and two moons. Robby the Robot is the film's most delightful invention, a benign creation fluent in 88 languages and capable of almost any task.
George R.R. Martin portrait by Henry Söderlund.