The Auditorium at the Convention Centre Dublin is located on Level 3. It seats 2000 people and will be home to our large evening events throughout the convention. All evening events in the Auditorium will begin at 8pm unless otherwise specified.
Please note: If you plan to attend Opening/Retro Hugos, Orchestra Concert, Masquerade or the Hugo Awards, you will need to pick up a wrist band at the Box Office (ground level lobby of the Convention Centre Dublin). Here is complete information on picking up wrist bands for special events.
Opening Ceremonies, featuring the 1944 Retro Hugo Awards
Join us on Thursday evening for the Official Opening of the convention! Hosted by Ellen Klages and Dave Rudden, this evening of surprises will introduce you to our Guests of Honour, present the Big Heart and First Fandom Awards, and pay tribute to Science Fiction's illustrious past with the 1944 Retro Hugo Awards. Plus a preview of the many exciting performances that await you over the weekend!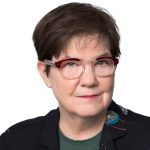 Ellen Klages is the author of three acclaimed historical novels: The Green Glass Sea, which won the Scott O'Dell Award, and the New Mexico Book Award; White Sands, Red Menace, which won the California and New Mexico Book awards; and Out of Left Field, which is a finalist for the 2019 Children's History Book Prize. Her short fiction has been translated into a dozen languages and been nominated for or won multiple Hugo, Nebula, LOCUS, Mythopoeic, Gaylactic Spectrum, British Fantasy, and World Fantasy awards. Ellen lives in San Francisco, in a small house full of strange and wondrous things.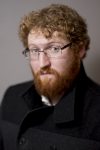 Dave Rudden's first novel, Knights of the Borrowed Dark, was the 2016 Children's Book of the Year at the Irish Book Awards and the UNESCO Dublin City of Literature Citywide Read in 2017. He has been shortlisted for the Hennessey New Writing Prize, the Northern Irish Book Award and was the 2011 winner of the Fantasy Book Review Short Story Prize. His first Doctor Who anthology, Twelve Angels Weeping, was released in October 2018. In the last two years, he has performed in over five hundred schools, libraries, workshops, conferences, literary death matches and one pumpkin festival. Dave enjoys cats, adventure and being cruel to fictional children.
Dublin's Worldcon Orchestra
Friday night brings an unmissable treat with the inaugural live performance of Dublin's Worldcon Orchestra, produced by Adam Robinson. Our programme for the evening will include musical works inspired by science fiction, fantasy, and the music and heritage of Ireland. Dublin 2019 published a post on our blog with many of the amazing details!
Masquerade
A long-standing favorite event at Worldcon, on Saturday evening we bring to you the Masquerade. A series of mini-theatrical productions in which Worldcon members of all levels and abilities show off their costuming skills to entertain the audience and compete for awards, Masquerade is a firm favourite with con-goers. All  Worldcon members are welcome to participate, either by producing and entering costumes of their own or by joining the audience to watch the show.
For more information on participating in the Masquerade, please click here.
The 2019 Hugo Awards Ceremony
The premiere event of Worldcon will take place on Sunday evening, as we celebrate the best science fiction and fantasy of 2018. Hosted by Afua Richardson and Michael Scott, we invite you to join us in congratulating this year's finalists and winners of the prestigious Hugo Awards.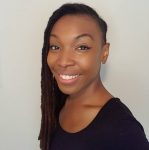 Afua Richardson is an American comic book illustrator best known for her work on the Eisner award-winning mini-series, Black Panther: World of Wakanda written by Ta-Nehisi Coates, Roxane Gay, and Yona Harvey. Other works include Attack on Titan, Captain Marvel, X-Men '92, All-Star Batman and Wonder Woman Warbringer. She is also the recipient of the Nina Simone Award for Artistic Achievement.  In addition to being an illustrator,  Afua is a professional singer/songwriter, mentor and musician. She has been aptly called a Jane of all trades.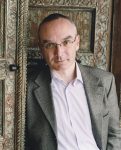 Irish-born Michael Scott began writing over thirty-five years ago, and is one of Ireland's most successful and prolific authors. He has published over 120 titles in 25 languages which are available in 38 countries, spanning a variety of genres, including fantasy, science fiction and folklore. His collections, Irish Folk & Fairy Tales, Irish Myths & Legends and Irish Ghosts & Hauntings have remained in print for the past thirty years and are now included amongst the definitive works on the subject.  Michael Scott is also an accomplished scriptwriter who has written for the stage, screen and also created and scripted documentaries and drama for television.
Aduantas presents To the Waters and the Wild
When we are absent from our own minds… where are we? and what… other might try to enter and occupy that vacant space?
When we deny our own thoughts, what do we accept instead?
When we have no strength left, to what forces might we become vulnerable?
When we don't turn and face ourselves, what might we find ourselves facing down instead?
Grief, despair, shutting down, shutting out….
If you aren't quite here… where are you?
There's another Ireland just within reach. Come with us, to the fun and the freedom… Leave behind your human woes…. Leave behind your human life, human form, human reality and see whats really possible…
Come flying, dancing, soaring… falling…drowning…
Come away O Human Child, To the Waters and the Wild….
Aduantas presents an aerial and acrobatic blurring of the human world and that other Ireland that you might have glimpsed before in a shift of the light. Come dance with us! And please… do stay.
Find more information at: https://www.instagram.com/aduantas_aerial
(Monday, 12 noon)
Closing Ceremonies
All good things must come to an end, and for Dublin 2019: An Irish Worldcon, that ending will come on Monday at 4:30pm. We will take a look back at the weekend that was, say farewell to our Guests of Honor, and get a sneak preview of what awaits us at the 2020 Worldcon, CoNZealand.