Worldcon in 2021 Site Selection
The site selection for the 2021 Worldcon is complete.  The full report of the results is here, and DC in 2021 was selected as the 79th World Science Fiction Convention. This Worldcon will be called DisCon III.
*****
The site of the World Science Fiction Convention ("Worldcon") in 2021 is determined by the members of this year's Worldcon. To vote in Site Selection you must be a Supporting, Attending Adult, Young Adult, or First Worldcon Member of Dublin 2019. You must also pay an Advance Supporting Membership fee of €40, which goes to the winning bid. This process also makes you a Supporting Member of the winning bid's convention. Please note that Day Passes or Child memberships do NOT include voting rights.
Postal voting has closed. Now, voting is only possible on site in Dublin. (This includes printing a mail-in ballot (see links below), filling it out, and asking someone to hand deliver it to the voting desk at the convention. You must then either have paid the Advance Supporting Membership fee online per the instructions below or have provided the person who delivers the ballot with adequate funds to pay for you, as described on the mail-in ballot.)
The Site Selection Administrator and staff will be accepting only paper ballots either completed on site, or hand-delivered, and will not accept ballots via any electronic means.
To download a ballot, right-click the link and choose "Save Link As" (or its equivalent in your browser).
To pay your Advance Supporting Membership fee online, sign in to our member services site at api.dublin2019.com and click on "Buy a site selection token". If you are signed in, this direct link will also take you there
Please email siteselection@dublin2019.com if you have any questions.
IAt this year's Worldcon in Dublin, voting will be open these hours:
Thursday 15 August: 12:00 to 18:00
Friday 16 August: 10:00 to 18:00
Saturday 17 August: 10:00 to 16:00
2021 Worldcon Bids
These are the bids for organising Worldcon in 2021: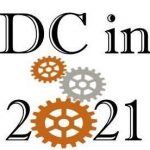 DC in 2021 Bid Confirmation Letter
DC in 2021 Facility Letter of Agreement