Dublin is a fabulous city to explore. Just about everything is a walk or a tram ride away and some museums are free.
Local Tours Organized by Dublin2019
Are you looking for the chance to see the sites in Dublin with fellow fans? We've lined up some special opportunities for you. Please note that space on these is limited, available on a first-come, first-serve basis, and must be booked in advance.
Wednesday, August 14 – The tour to Marsh's Library is already sold out. Note that Marsh's Library is under 2 miles from the CCD so it's easy to get to.
Friday, August 16 – Learn the real history of Leprechauns with a mid-day trip to the National Leprechaun Museum. This might sound hokey, but trust us when we say this is a really great museum! We'll be getting a tour, plus all traveling on the Luas together (light rail system) to get there. Want to visit another time? Show your Dublin badge to get in for a discounted rate of €12.
Sunday, August 18 – Glasnevin Cemetery is Ireland's National Cemetery – beautiful and peaceful and packed with history! Your ticket includes a 90 minute guided tour with one of their award winning guides and some time to look around the museum and cemetery on your own. If you're feeling up to it, you can even climb the 198 steps of the O'Connell Tower for some breathtaking views across all of Dublin, Meath, Wicklow and the Irish Sea. Bus transportation provided from the CCD.
Registration closes for all tours on August 12. Note that tours are subject to cancellation if we don't have enough people to meet minimum booking requirements. These are all walking tours, so may not be suitable for those with accessibility concerns. Please contact mss-dh@dublin2019.com if you are interested and want to know if the tour will work for you, or if you have any questions.
How The Tourism Page Is Organized
This page is designed to make it as easy as possible to get from the Convention Centre Dublin area to the interesting spots in Dublin. We've include our hotel maps to help orient you. So if you get lost, and suddenly realize that you're across the street from Trinity City Hotel, this page will help you find your way to nearby attractions.  While people attending Dublin 2019 will be staying all over town, the Dublin 2019 hotel maps and this Website always use the CCD as a starting point.
Minor Head's Up: If you're coming to Ireland the week before Worldcon, please note that Monday, August 5 is a Bank Holiday. Banks and some other places will be closed that day; most shops and restaurants will be open.
Of Smart Phones and Maps…
If you're used to using smartphone maps whenever you travel, you could potentially incur significant international roaming charges if you're using phone maps abroad for a couple of weeks. Plan ahead to either be covered by an international data plan, keep your phone in airplane mode except when you absolutely need it, or go old school with paper maps!

You will save money if you buy a detailed printed Dublin map before you leave for you trip and study it. You can also download the DublinPass Guidebook and Hop-on/Hop-off Map for free. While both are very focused on what the DublinPass covers, they contain useful general information as well.
Passes to Dublin
There are two major money-saving passes to tourist sites in Dublin:
If you have one, two or three days allocated to tourism in Dublin, and know you plan to take the Hop-on/Hop-off bus, to visit the Guinness Storehouse and Jameson Distillery, the DublinPass is your best buy. It includes admission to the Hop-on/Hop-off bus, Guinness, Jameson and a number of other attractions; it all depends how many places you want to visit in one-to-three days.

If you like to do more travel on your own over three days, and don't have definite plans about which attractions to stop at, the DoDublin Travel Card covers the Airlink Express and Hop-on/Hop-off bus so you can get to know the area. You can buy a voucher for a DoDublin pass online. Be sure to print out your voucher before you leave. You must remember to go to a DoDublin office (at Dublin Airport, Arrivals Hall, Terminal 1, or Dublin Bus Head Office, 59 Upper O'Connell St.) and turn in your voucher for an actual DoDublin card – the voucher cannot be redeemed on the busses.
Guides to Dublin
Convention Centre Dublin; you can download "The CCD" app from the Apple Store or Google Play for your smartphone. The app has information on getting to the CCD, emergency contacts, parking, restaurants, ATMs, shopping, medical centers, pharmacies & CCD maps.
Dublin Facts – a little outdated, but still interesting
Live Irish Music
There are a cluster of Dublin/Temple Bar/Ireland Tourism offices along and near O'Connell St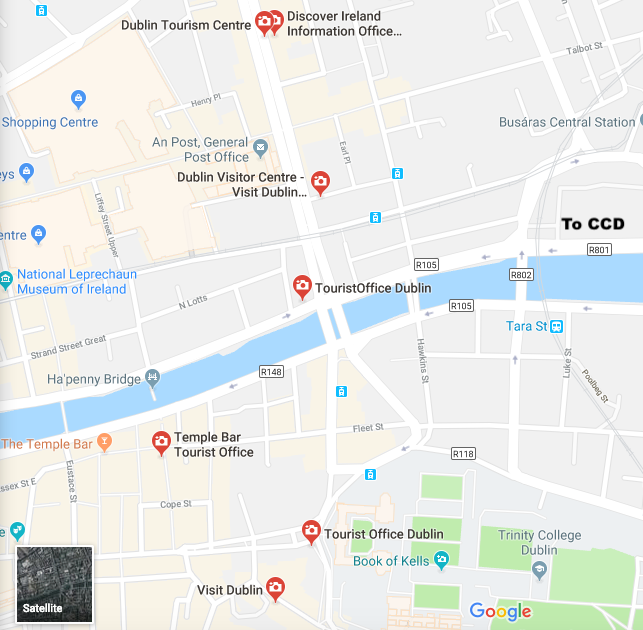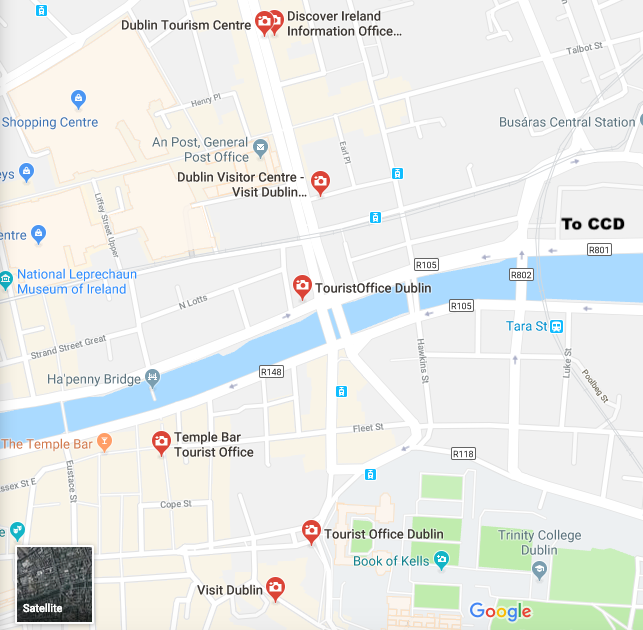 Walking Tours and Pub Crawls
Dublin Literary Pub Crawl. Meets at Duke's Pub, 9 Duke St, Dublin 2. If you're a fan of Irish writers and pubs, this is the best pub crawl. €14.00 Adults
Musical Pub Crawl. Join two musicians and wander through Temple Bar. €16.00 Adults
Publin Pub Crawls. A variety of pub crawls every Friday and Saturday night.
Places to go Within 2km of the CCD (North Quay/Docklands)
Have a few hours free during the con? Stop by any of these places that are within 2km (1.2 miles) of the Convention Centre Dublin, in the North Quay/Docklands area.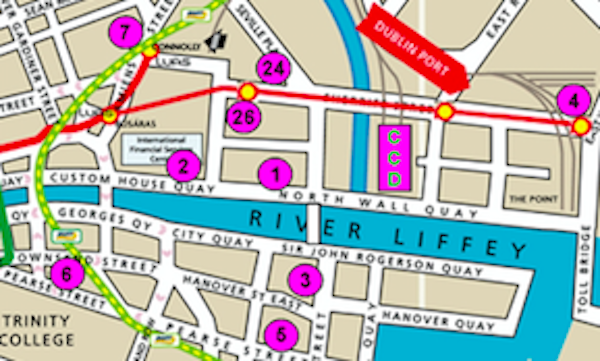 The map numbers correspond to the accommodations closest to the Convention Centre Dublin; you can use the hotel locations to help find other places to visit. Here are the hotels closest to the CCD:
1. Spencer Hotel
2. Hilton Garden Inn Custom House
3. Clayton Hotel Cardiff Lane
4. Gibson Hotel
5. Maldron Hotel Pearce Street
6. Trinity City Hotel
7. North Star Hotel
24. ISFC Apartments
26. NCI College dorm
Here are spots near the CCD you might want to visit:
Places to go Between Trinity College and St. Stephen's Green (2km-3km away)
Just south of Trinity College, you'll find a cluster of museums.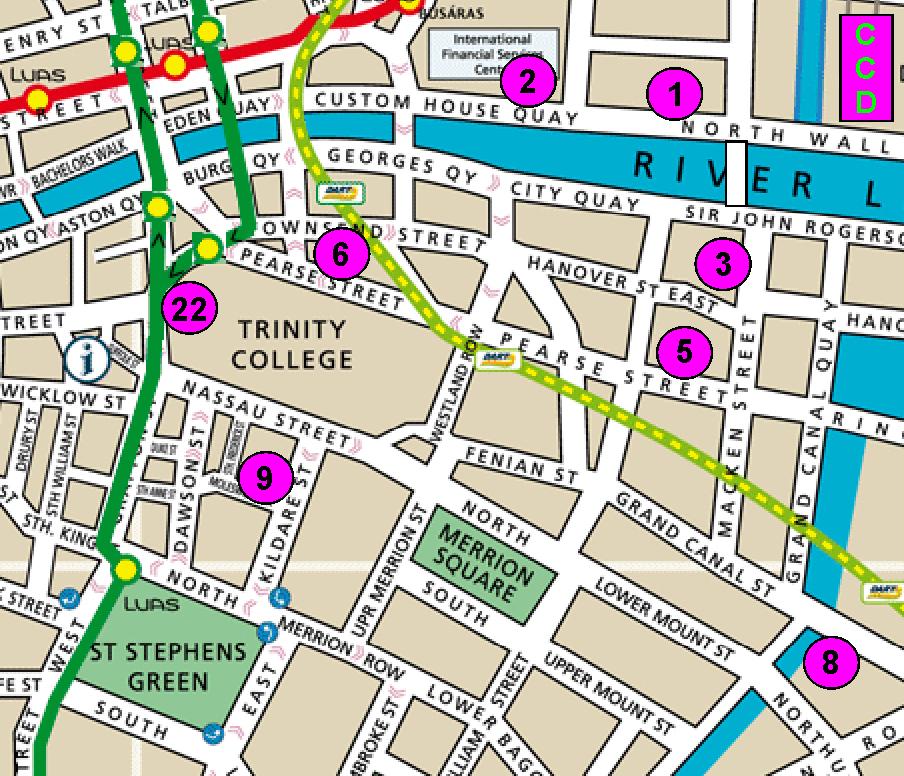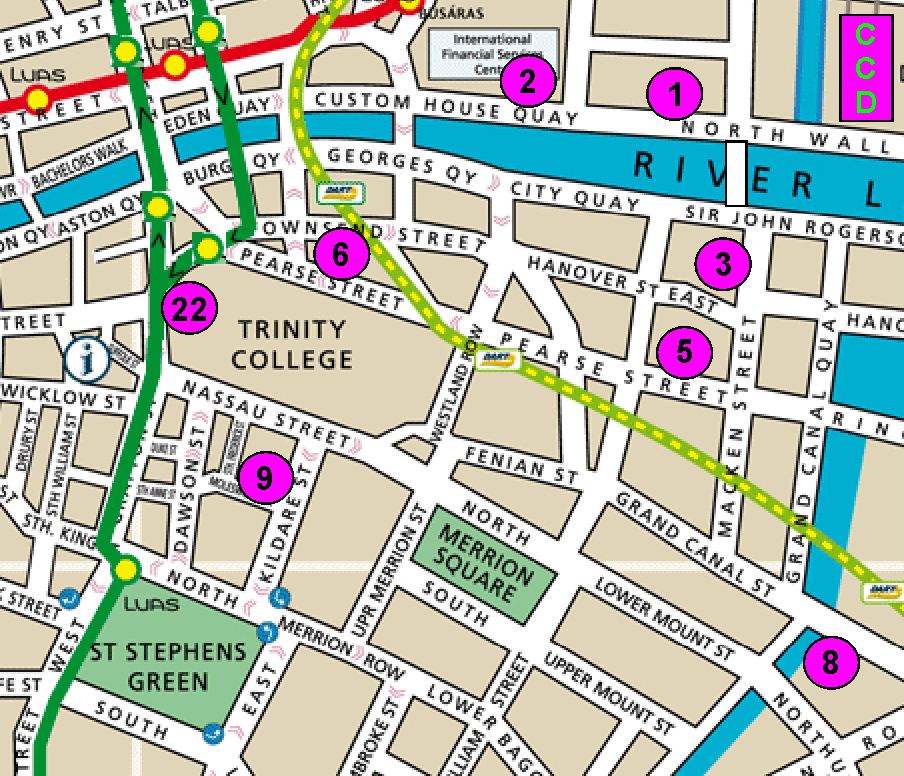 The Dublin 2019 hotels between Trinity College and St. Stephen's Green are:
9. Buswells
22. Trinity College Student Rooms
To get to the Trinity College/St. Stephen's Green area:
It's about 1.4km (.9 mile) to the museum area. Walk across the Samuel Beckett footbridge, go west along the Liffey until you get to R814, take a left just before the Irish Seaman's National Memorial & stay straight after R814 becomes R138, and stay on it as it turns right after Kennedy's Pub and Station. It turns right again after Lincoln's Inn. You'll see the National Gallery in front of you and other museums nearby.
By Luas Red Line, travel westward to the Abbey stop, walk about 1 minute north to the Marlborough stop on the Green Line, then travel two stops south on the Green Line to the Dawson St. stop.
Places to visit south of Trinity College and north of St. Stephen's Green:
Southwest of Trinity College, you'll find a large shopping district and the Molly Malone Statue on Suffolk St.
Places to go in the Christ Church Area (2km-3km away)
Christ Church is an older part of Dublin with a large cathedral and small castle.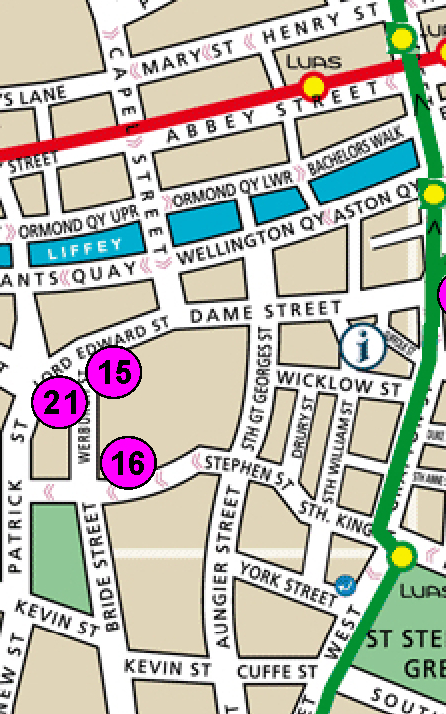 The Dublin 2019 hotels in the Christ Church area are:
15 Jurys Inn – Christ Church
16 Radisson Blu Royal
21 Staycity Apartments – Christ Church
To get to the Dublin Castle/Christ Church Cathedral area:

Walk 2.3km (1.4 mile), go west along the Liffey until you get to South Gt George St. (or Grattan Bridge if you walk along the north side of the river), take a left & once you cross Dame St., you'll see Dublin Castle
By Luas Red Line, go to Four Courts and cross the Liffey.
Places to visit in the Christ Church area include:
Temple Bar  (2km-3km away)
Temple Bar is an area densely packed with restaurants, bars and live music.  In the middle of the Temple Bar area, you'll find a bar…called Temple Bar. The Temple Bar area is bounded by the blue dots on the map below.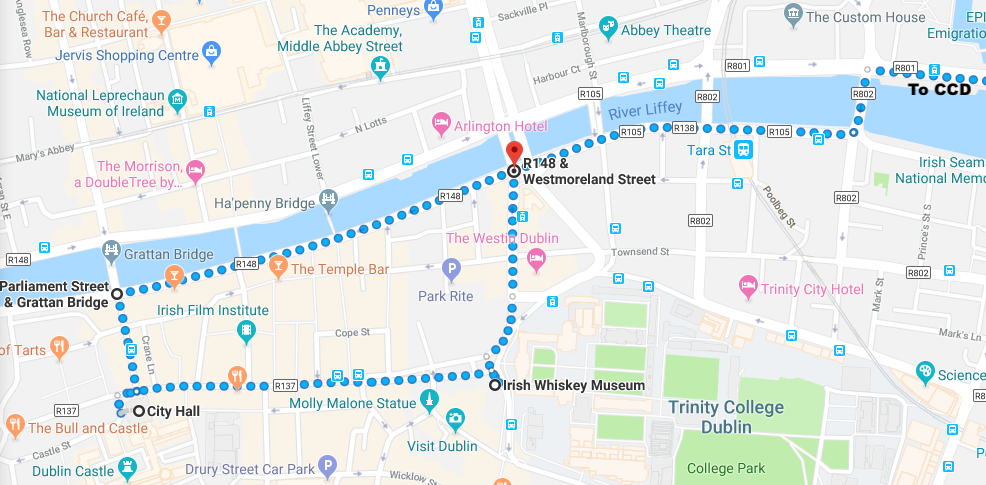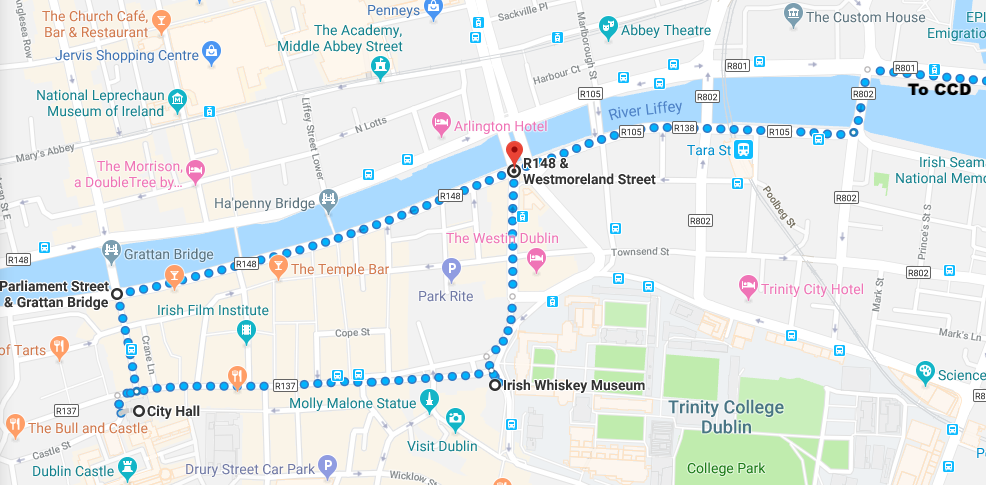 None of the Dublin 2019 hotels are in the Temple Bar area, though Jurys Inn – Christchurch (15) and Staycity Apartments – Christchurch (21) are on the southwest edge of the neighborhood.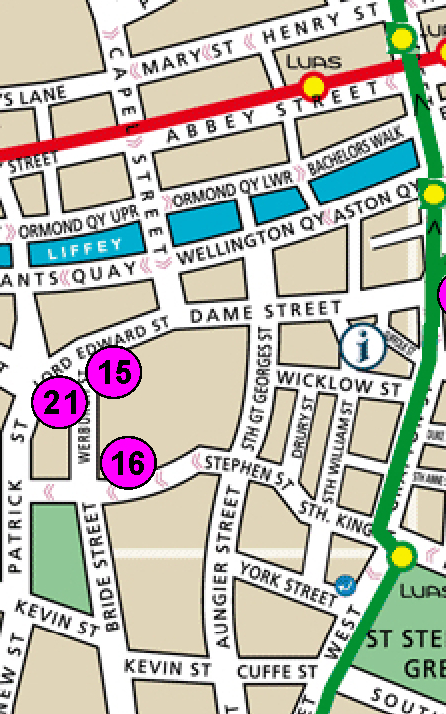 To get to Temple Bar:
Walk 1.5km (a little over a mile) west along the Liffey, cross the River Liffey at the Ha'Penny Bridge, walk about a half block south of the Liffey and you'll be in the middle of Temple Bar.
By Luas Red Line, go to Jervis stop, cross the Liffey at the Ha'Penny Bridge, walk about a half block south of the Liffey and you'll be in the middle of Temple Bar.
Guides to Temple Bar:
There is one museum in Temple Bar – the Irish Rock 'n' Roll Museum Experience, Curved St. near Eustace St. Open 11am-5:30pm. Tickets range from €8-€60.
The Irish Film Institute is located in Temple Bar at 6 Eustace Street. The institute shows movies every day and has a store featuring DVDs. George R. R. Martin will be introducing a special showing of Forebidden Planet on Saturday, August 17 but the showing has already sold out.
O'Connell Street
O'Connell is a large street north of the Liffey and Trinity College. Typically called "central city," O'Connell St. has stores, monuments, museums and a few hotels in our block. At Parnell Sq., about a half km north of the O'Connell Bridge, O'Connell St. becomes N. Frederick St.
Just north of the O'Connell Bridge over the Liffey, you'll find the Daniel O'Connell Monument. There's a large monument for Parnell about a half a km north of the O'Connell Monument, in addition to many other famous Irish patriots along the way.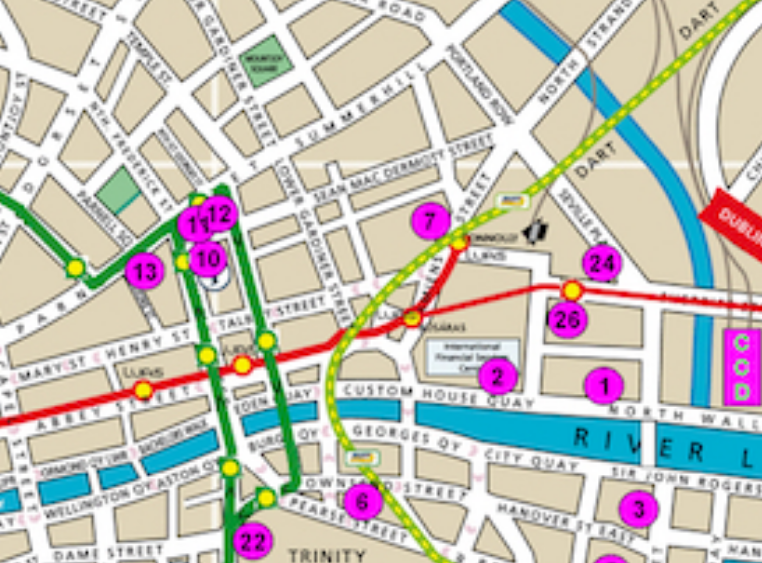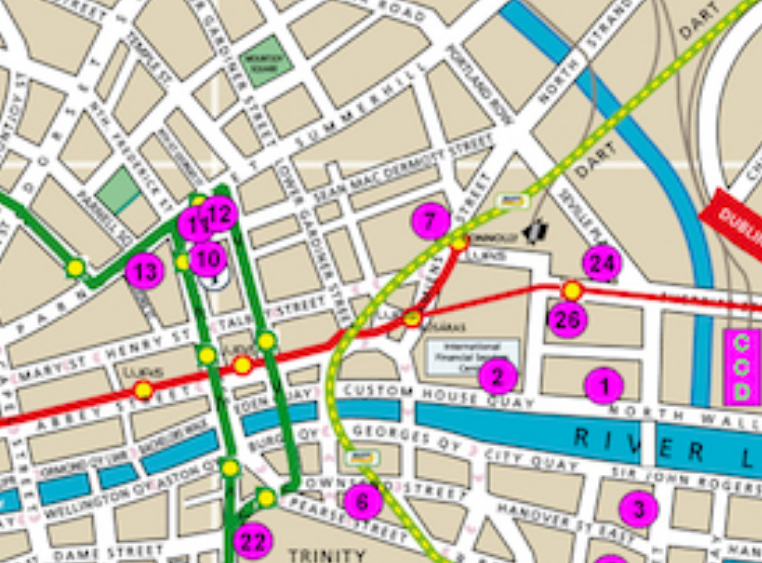 The hotels noted on the map are:
10 Hotel Riu Plaza The Gresham Hotel Dublin
11 Holiday Inn Express – Dublin City Centre
12 The Academy Plaza Hotel
13 Jurys Inn Parnell Street
To get to O'Connell St:

Walk 1.5km (1.1 mile) west along the Liffey until you get O'Connell St. take a right.
By Luas Red Line, go from Spencer Dock west to the Abbey St. stop, walk about 2 blocks west to O'Connell St.
Places to visit in the O'Connell St. area.
Abbey Theatre, 26/27 Lower Abbey St. Celebrated theatre offers backstage tours. The theatre is near the Abbey Street LUSA Red Line Stop.
National Leprechaun Museum Jervis Street. If you're interested in folklore & all things leprechaun, this museum is 3 blocks west of O'Connell St. on Jervis. Museum is free, guided tours run from €10-€18.
Dublin Writer's Museum, 18 Parnell Sq. Small, free museum open daily except Monday
Phoenix Park
Phoenix Park is a large park about 5km west of the CCD, just northeast of the Heuston Train Station on the north side of the Liffey. If you take the Luas Red Line to Heuston Luas station, the park is less than a kilometer walk away.
Dublin Zoo is in the southeast corner of Phoenix Park, a 1.2 km walk from the Hueston Luas station. The zoo is open daily from 9:30am-6:00pm
Breweries & Distilleries
Guinness Storehouse, St. James Gate, Dublin 8
Even if you're not a Guinness drinker, a tour of the Guinness Storehouse is fun. It's on the Western side of the city, so you'll need to take Luas Red Line to James St. stop or the Fatima stop (and walk a few blocks to Guinness), a city bus (13, 40 and 123 all stop near the Guinness Storehouse) or a "hop on/hop off" tourist bus to get there. If you buy tickets in advance, or a DublinPass, you'll save a few Euros.
Jameson Distillery, Bow St., Smithfield Village, Dublin 7
Restaurants, Pubs, & Coffee
Dublin has a great variety of restaurants.

There will be food available for sale at the CCD, and Point Square has several restaurants on site and a Starbucks.
Coffee near the CCD: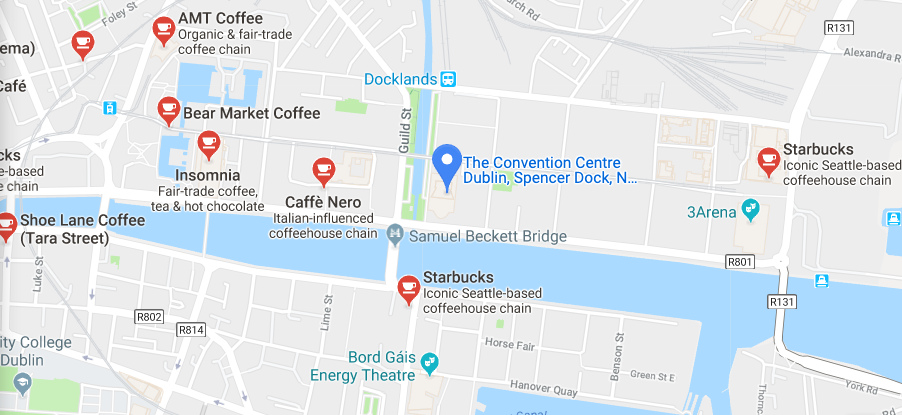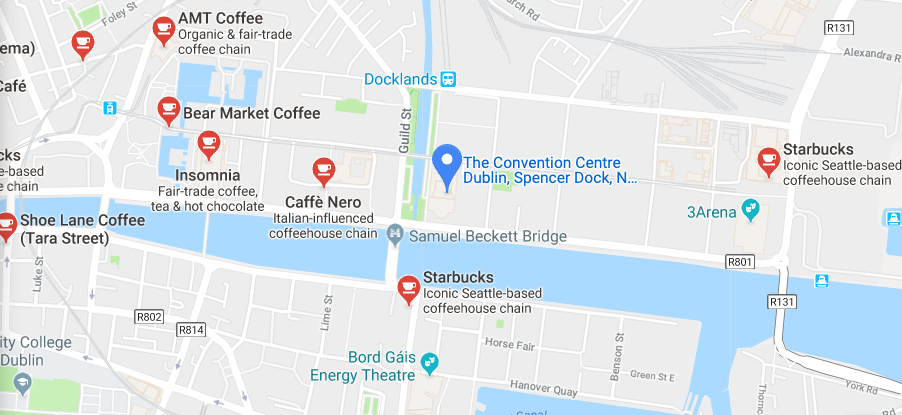 Here are some restaurants/pubs Dublin 2019 members have visited and recommend.
The Ferryman is just across the Samuel Beckett Bridge (about a 4 minute walk away) from the CCD, opens at noon (12:30pm Sun) & has a carvery for lunch!
Urban Brewing/Stack A Restaurant/Taps & Tapas, 1 Custom House Quay, Dublin, take a right from the front door of the CCD, walk less than 3 blocks, 2 restaurants & a brewery (with tours), Taps & Tapas open for brunch Sunday afternoon.
Brew Dock, 1 Amiens St, Mountjoy, Dublin 1, about 1km from the CCD, a GalwayBay brewpub open daily.
Ryan's Bar (formerely Robert Reade), 19 Store Street, Dublin 1, about 1.1 km north east of the CCD, between Connolly Station and O'Connell St., open daily for lunch & dinner, Irish music on Fridays.
Mulligan's, 8 Poolbeg St, traditional pub just 1.2 km from the CCD – take a right out of the CCD, take the first bridge across the Liffey past the Custom House, walk a short block then take a right on Poolberg St.
Le Bon Crubeen, 81-82 Talbot St, Dublin 1, D01 CD34, about 1.2 km from CCD on north side of the Liffey, open daily for lunch and dinner, Irish (Crubeen is a pigs feet dish).
J. W. Sweetman, 1-2 Burgh Quay, a great brewpub and restaurant, on the south side of the O'Connell Bridge, just 1.3 km (about a mile) from the CCD
101 Talbot, 101 Talbot St, Dublin 1, north side of the Liffey, about 1.4 km (just over a mile) from the CCD, open Tuesday-Saturday for lunch & dinner, Irish, moderately expensive, but cheaper for lunch & before 7:15pm.
M & L Szechuan Chinese, 13/14 Cathedral St, Dublin, D01 K8K3, 1.6 km (a little over a mile) from the CCD, north side of the Liffey, close to O'Connell St.
The Clockwork Door, 51 Wellington Quay, Temple Bar, a different kind of spot in Temple Bar that offers coffee, hot chocolate, games & rooms for people to make music, 1.6 km from the CCD
The Winding Stair, 40 Lower Ormond Quay, 1.6 km west of the CCD, north of the Liffey, near Ha-Penny Bridge, elegant dinner spot, highly recommended, reservations needed
KC Peaches, 27-29 Nassau St. (closest to CCD is 1.7km away, there are other near Trinity College), natural, local foods for breakfast, lunch and dinner
Tea Garden, 7 Lower Ormond Quay, tea served in an Oriental setting, 1.9 km from the CCD, just north of the Liffey.
Token, 72-74 Queen Street, Smithfield, Dublin 7. Token is an arcade, a bar and has great food about two blocks from the Smithfield Luas Red stop, 1.9 km from the CCD just north of the Liffey. Open to people 18 and over.
The Brazen Head, 20 Bridge Street Lower, a pub that was established in 1198 (one of the oldest in Ireland), near Christchurch Cathedral, 2.6 km west of the CCD just south of the Liffey. They also have a folktale dinner every night.
Bewley's Cafe 78-79 Grafton St., 2km southeast, just east of Trinity, cofee, tea, bakery, open 7:30am weekdays, 8am on weekends.
Brother Hubbard North, 153 Capel, 2.1 km away, just north of the Liffey, breakfast-lunch-dinner, excellent weekend brunch, evening menu focuses on Middle Eastern small plates.
Guides to Ireland
It's helpful to buy and download at least one tour book for your smartphone.
Tours
Multi-day Tours
Con-Tours 2019 Ireland Tour, led by Ron & Val Ontell, visit Derry, some Game of Thrones sites, Castle Bunratty, Cliffs of Moher, Limerick, Cork, Waterford & more, runs August 2-13
Hillwalk Tours If you want to hike a little (about 6-8 miles a day), have someone else to deal with your luggage, and stay in cozy B&Bs along the way, Hillwalk Tours is the way to go.
Even in the summer, you can sometimes still find late deals on accommodations through hotels.com, B&B Ireland and HomeAway.
Touring Tuesdays
Irish fans have written a number of blog posts describing great places in Ireland to visit in our Touring Tuesdays series. Browse through the entries and see what excites you! We've created a map available that pinpoints the locations of the Touring Tuesday stops, so you can get an idea of what is nearby where you would like to visit!