And so we reach the end of Rob Hansen's retelling of Irish fandom until the mid 1960s, with the final part of Then. We'd like to thank Rob for allowing us to serialise this edited version of Then, which focuses specifically on Irish fandom, and have very much enjoyed recalling our heritage; both rocky and smooth, over the last few months. Links to all other episodes are at the bottom of the page.
8. Endings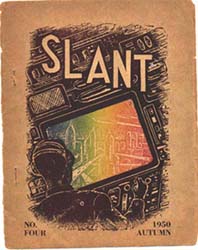 For Irish Fandom an era drew to a close in May 1965. As Walt Willis explained:
"On 6th May the old red brick house at 170 Upper Newtownards Road, Belfast, which had
been the H.Q. of Irish Fandom for nearly 20 years, finally reverted to the mundane plane
of existence. At a house-cooling party the occasion was marked by a simple but moving
ceremony attended by all Irish fandom. In the fan attic the last ghoodminton service was
solemnly performed by Bob Shaw. Symbolically, it was not returned. Instead the last
shuttlecock was picked up by John Berry and reverently removed to its final resting
place, a time capsule donated by Sadie Shaw. Also in the glass, cylindrical two pound
capsule were deposited a copy of THE ENCHANTED DUPLICATOR (1st edition), some hyphens
in printing type, used for SLANT, a dollop of duplicating ink, James White's first bow
tie (symbolising the professional element of IF) and signatures of the great fans and
good friends who had stayed at Oblique House during the years… The time capsule was
then buried in the front lawn, underneath the cherry tree, in earth with which had been
mingled the sacred soil of South Gate, donated by Rick Sneary. A fannish era had ended."
LONCON II, the 23rd World Science Fiction Convention, was held at the Mount Royal Hotel in Marble Arch, London, over Bank Holiday Weekend, 27-30th August 1965. Afterwards, the Willises hosted overseas visitors at their new home – 'Strathclyde' – in Donaghadee.
(Full coverage of the con and photos from fannish visits to Strathclyde afterwards, can be found here)
In Belfast, around mid-1970, Bob Shaw and James White were responsible for the birth of a new Irish fan group. As Shaw wrote at the end of the year:
"At the moment I'm congratulating myself on having successfully launched a brand new
Belfast fan group which has about ten members up to the present. The new group is
coexistent with the old Irish Fandom, but organised along different lines. It came
about when James White and I got the feeling that we ought perhaps to get some new
blood into Irish Fandom. The IF system is one of rotational meetings in members'
houses, but as this wouldn't work out too well for a larger group we decided to
emulate the old London Circle idea of meeting in a pub. We selected a place
called White's Tavern…."
Shaw had managed to persuade the columnists in local newspapers to include mentions of the group, but these only brought in one new fan: Ed Dilworth. Fortunately, Dilworth had the idea of putting up notices in Smithfield bookshop, then one of the main SF outlets in Northern Ireland, which eventually brought in others such as Frank McKeever, Jim Lavery, Rodney Beck and Tommy McDermott. The group, called 'New Irish Fandom' here to distinguish it from the existing group, met at White's Tavern every Thursday night and George Charters occasionally joined them there. So did others, as James White recalls:
"Three Army fans joined us for a while, two blokes and a woman soldier who was the
girlfriend of one of them. The other was married (I can't remember any of their names)
and lived close to our place in Riverdale, on the adjoining Ladybrook estate. He was a
clerk in the paymaster's office in Lisburn, and he and his wife came to visit us several
times (Ye Ghods, in Andytown, and without even an armoured car!) but when The Situation
began to deteriorate they were moved away to a safer district somewhere and we lost touch."
Though no longer really active, Walt Willis still maintained some contact with fandom. In November 1972 the American newszine LOCUS carried a letter from him, under the pen-name used on the book he had written a few years earlier, about the situation in Northern Ireland:
"My name is Walter Bryan. I wrote a book called THE IMPROBABLE IRISH, for Americans who
love Ireland. To you I say now, Ireland needs your help. In Ulster at this moment people
of the two great Irish traditions are being driven by terror into a civil war which could
destroy Ireland more cruelly than the Famine. Both sides are caught in the same historical
trap, of political parties based on suspicion and fear. The great majority of Protestants
and Catholics who want peace and friendship are lost for leadership and hope. The fast
growing Alliance Party, in which Protestants and Catholics work together for a new Ulster,
can give that leadership and hope, but it must make its impact in time for the local
elections in late November. Please send what you can to the Alliance Party, Walter Bryan
Appeal…."
TYNECON '74, the 1974 Eastercon, was held at the Royal Station Hotel in Newcastle over the weekend of 12th – 15th April. Guest of Honour was Bob Shaw, who gave the first in a series of what were to become annual 'Serious Scientific Talks'. Wonderfully amusing, they were one of the few programme items that could clear the bar at an Eastercon.
MANCON 5 was held on the campus of Owen's Park University in Manchester over the weekend of 16th – 19th April 1976. The con is regarded by many survivors as the worst Eastercon they ever attended. This was due not only to the collapse of the programme and the total absence of any signs of organisation, but also to the grimly awful venue. When similar situations had arisen in the past fans had at least been able to console themselves by falling back on the bar and the comfort of the con hotel, but the harsh conditions of a university campus precluded this. Walt Willis, attending his first convention in 11 years, was less critical than most, perhaps seeing little difference between the conditions at Owen's Park and those at the conventions he remembered from the 1950s. What he did notice, however, was that:
"It was stranger and more poignant that I had to go to Manchester to meet for the first time
two young Belfast fans from opposite sides of the barricades".
More poignant still when you realise 'the Troubles' were responsible for finally finishing off Irish Fandom. In 1975, in an American fanzine, he had written:
"What no feud could ever do has been accomplished by the IRA, and Irish Fandom has disintegrated
as a group. It was nothing to do with the political polarisation of the Ulster community, though
both sides are represented in Irish Fandom: it was simply that travelling outside one's own
district became too chancey".
It was also in 1975 that James White wrote 'Exorcists of IF' for the American fanzine MOTA. It's as fine an epitaph for the group of Belfast fans who called themselves Irish Fandom as one could wish for. You can read it here in an online version of HYPHEN #37, the one-off mid-1980s revival of that zine, which reprinted it:
Walt & Madeleine attended a few more cons in later years – notably the 1985 Eastercon in Leeds and 1992's TROPICON in Florida – and as SF pros Bob Shaw and James White continued to be convention regulars, but that was more or less it for the group that had started in Belfast in 1947. Sadly, its members are all gone now, gone but not forgotten.
– Rob Hansen
'Then' on the Dublin 2019 Blog:
Prologue
Part 1 Belfast Rising
Part 2 Going International
Part 3 Hoaxes and Cons
Part 4 Transatlantic Travels
Part 5 Loosening Up
Part 6 New Blood
Part 7 The Generation Gap
Rob Hansen's Then (A work always in progress) at Ansible.