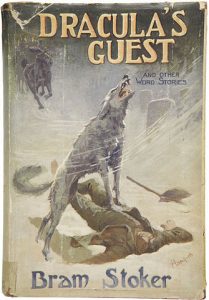 Welcome to Irish Fiction Friday, where we showcase some of the best SFF that Ireland has to offer, to encourage you to support our bid for Worldcon in 2019.
Today's spooky entry for Friday the 13th highlights a lesser known work by one of the fathers of the horror genre: Bram Stoker. He was born in 1847 on the north side of Dublin, and during his life was primarily known as the personal assistant of actor Henry Irving and business manager of the Lyceum Theatre in London. Stoker wrote his most well-known work, Dracula, in 1897, although it did not receive its iconic status until film adaptations began being made.
Dracula's Guest was published as part of collection by his widow in 1914, two years after his death. It is thought to be the deleted first chapter from the original Dracula manuscript, and his widow noted in the preface to the collection:
"To his original list of stories in this book, I have added an hitherto unpublished episode from Dracula. It was originally excised owing to the length of the book, and may prove of interest to the many readers of what is considered my husband's most remarkable work."
The collection includes several other short stories by Stoker, perfect for curling up with on a dark evening.
You can read the full collection at Project Gutenburg.